The holiday shopping frenzy has begun and it's your time to capitalize on the busiest season of the year for e-commerce. There's so much to do and so many opportunities for your brand to grow that it can feel overwhelming. Where do you even start? The Artist Shops Holiday Checklist is here to guide you through the hectic season and help ensure your holiday promotions are a success.
The strategy? Divide and conquer. We split this year's checklist into four simple to-do lists in order of priority:
This allows you to concentrate on what's most essential first before moving on to ancillary tasks that tie your holiday promotions and messaging together.
Once you're finished reading this post, download the PDF version of the Artist Shops Holiday Checklist featuring links to resources that will help you with each bullet point.
---
❄️ 5 THINGS YOU MUST DO ❄️
For the love of Krampus, if you do anything this holiday season, make sure you complete these 5 essential tasks. They're the foundation of any promotional plan for the holidays.
1. Update your product lineup. ✅
Highlight your most giftable and in-season products in your Homepage Collection and promotional messaging. Starting off, Regular T-Shirts are the top-selling product across all Artist Shops and one of the safest gift ideas. But don't forget to emphasize winter essentials such as Sweatshirts, Hoodies, and Blankets.
Smaller, more affordable items like Mugs, Stickers, Buttons, and Zip Pouches make great stocking stuffers. Puzzles and Yoga Mats are also unique offerings that may catch the eye of your followers.
2. Opt into managed pricing (or plan your sales in advance). ✅
Not a marketing expert? That's okay, because we are! Opt into managed pricing and Threadless will automatically run sales in your shop for you. Based on years of customer data, these special promotions are strategically designed to maximize your sales during the busiest shopping season of the year.
For each limited-time promotion throughout the holidays, we'll temporarily adjust the pricing of specific products in your shop. All you have to do is promote the sale to your followers.

If you'd prefer to manage your holiday promotions on your own, make sure you plan them well in advance so you can dedicate more time to making new art and promoting it.
3. Create and schedule promotional social media posts through December. ✅
You don't want to be glued to social media during the holidays when you should be relaxing and enjoying yourself. Create and schedule as many of your promotional posts as you can through December so there's less to do when your sales launch.
Create promo images, write captions about holiday shopping, and map out your social media calendar as soon as possible. Don't wait until the last minute!
4. Promote FREE SHIPPING. ✅
Through December 15, 2022, for all orders over $99, your customers will get free US shipping or $10 flat-rate international shipping if your Artist Shop is opted into managed pricing. Free shipping is a major selling point for holiday shoppers looking to stay under budget, so don't forget to mention it in your promotional messaging to your followers. See checkout for details and restrictions.
5. Share holiday shipping deadlines. ✅
The last thing your customers want is to purchase a gift from your shop and not receive it on time for the holidays. Let your followers know when shipping deadlines are approaching by sharing the image below.
---
❄️ 5 THINGS YOU SHOULD DO ❄️
Once you've completed the most essential tasks, these tips will help you enhance the shopping experience for your customers and increase activity in your shop.
1. Opt into managed email. ✅
Managed email helps you expand your reach, connect with your audience, and increase your sales throughout the season. This setting in your shop gives Threadless permission to automatically send marketing emails to your existing customers to help you create awareness and grow your sales.
These emails feature your logo and cover banner along with your shop name to customize the email marketing communication to your brand.
To activate managed email, go to your shop settings and turn on "Let Threadless send email marketing communications to my customers."
2. Add Threadless Causes designs. ✅
If you want to make a positive impact throughout the holidays, Threadless Causes lets you donate a percentage of your earnings from any designs you select in your shop to a Cause and charity of your choice. When those designs sell, Threadless matches the donation and sends it directly to the charity. This is a great way for you and your customers to participate in GivingTuesday!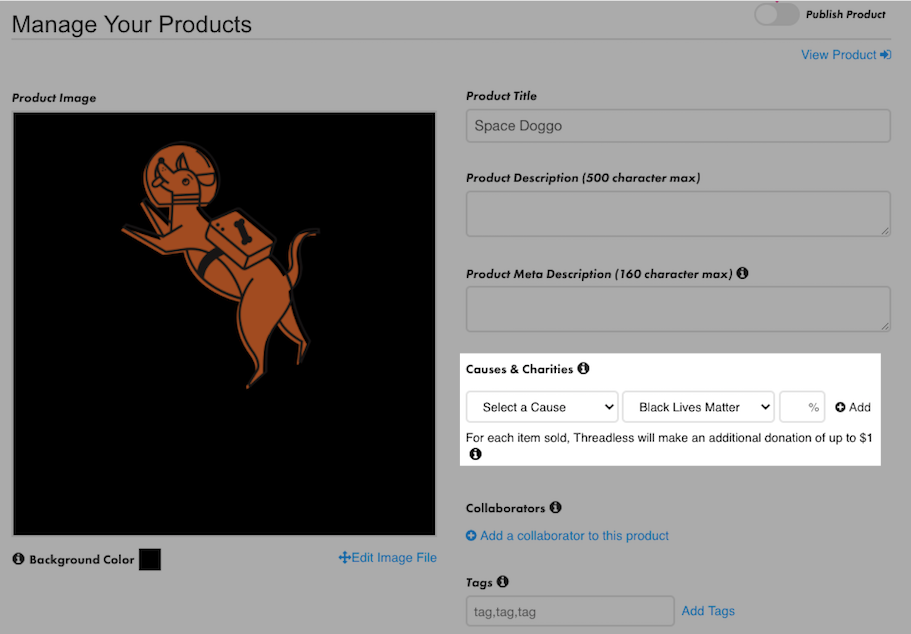 3. Set up your About Page. ✅
Your About Page is a great spot to share your story and what inspires you. This helps you connect with your followers on a human level, which could make them more inclined to buy from you. But that's not the only benefit.
An About Page helps Google index your shop, making it easier for users to find you on SERPs (search engine results pages). Be sure to incorporate SEO-friendly keywords and add links to your website and social media. This is essential to growing your following.
4. Promote Gift Cards and Promo Codes. ✅
As holiday shipping deadlines pass, promote Gift Cards as a quick and easy gift option for last-minute shoppers. Gift Cards are not only convenient for your customers, but they also open up opportunities for you to increase your brand awareness, sales, and growth through the holiday season.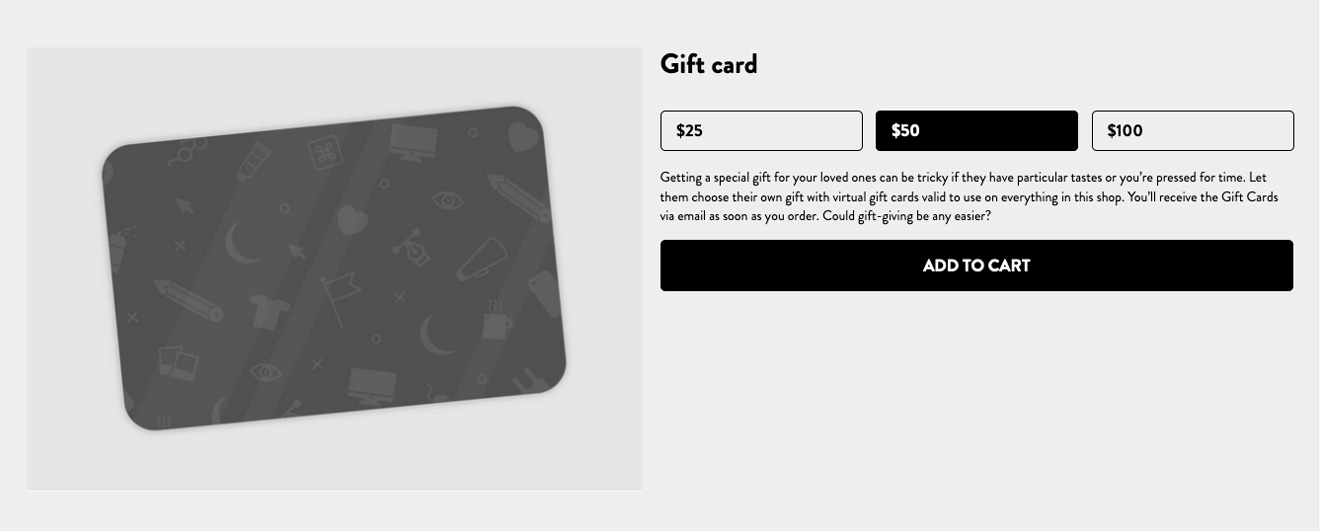 Custom Promo Codes are another feature that gives your followers more incentive to buy. Request your own codes and share them on social media to attract new and returning customers to your shop.
5. Create themed Gift Guides. ✅
The Collections feature lets you create a unique landing page in your shop for designs and products that share a common theme. Use it to build a general holiday collection or more specific gift guides that'll help shoppers find what they need quicker. Themes you might consider: "Secret Santa Gifts," "Gifts for Pet Parents," "Stocking Stuffers," etc.
---
❄️ 5 THINGS YOU COULD DO ❄️
These tasks will make your holiday promotions feel more cohesive and help establish your shop as a go-to for gift shopping.
1. Order product samples. ✅
Did you know you can purchase product samples from your own shop for just the base cost of the item? Order seasonally relevant products so you can…
2. Snap lifestyle photos for your homepage and social media. ✅
Holiday-themed lifestyle photography helps your customers envision your products as gifts. Plus, you can get many uses out of your snapshots. Feature them in your Homepage Collection, your email newsletter, and posts on social media.
3. Update your shop banner. ✅
Your shop banner is one of the first things your visitors see when they land on your homepage. Give it a refresh to signal to your customers that you have something new to offer them for the holiday season. You can also use your banner to deliver information about promotions, free shipping, or any other details that may interest your followers.
4. Create an interactive social media post. ✅
Likes, comments, and reshares help you reach a wider audience and gather useful data on what your followers like about your products. To drive engagement, create an interactive post such as a poll. Ask a holiday-related question like "How soon is it okay to listen to Christmas music?" or "Is Die Hard a Christmas movie?" and watch the debate unfold in your comments!
5. Add a limited-time design to your shop. ✅
Tell your followers that once the holidays are over, the design will disappear FOREVER. (Or at least until next holiday season.) Limited availability creates a sense of urgency that motivates customers to shop now while they still can.
---
❄️ 5 WAYS TO BOOST TRAFFIC ❄️
In order to generate more sales, you have to get customers in the door. Here are a few ways you can increase traffic to your shop and improve your chances for conversions.
1. Add new designs as often as possible. ✅
This is the most effective way to keep your customers engaged with your Artist Shop. Our data shows that when shop owners stop adding new designs, their sales typically stagnate or decline. If your shop is opted into the Threadless Marketplace, regularly adding new designs will also make you more visible in search queries filtered by "New." This could expose your shop to new customers!
2. Make a "link in bio" landing page. ✅
A "link in bio" landing page creates synergy between your social media accounts and your Artist Shop. From a single, easily shareable web link, a landing page enables you to list out multiple links to your shop and any other site featuring your content. Using this landing page as your bio link will allow you to more effectively direct traffic from your social media to the specific products and gift guides you want your followers to see.
3. Run a social-media giveaway. ✅
Who doesn't like free stuff? Giveaways are a great way to stir up excitement and grow your fanbase. Ask your followers to like, comment, and share your post for a chance to win prizes such as a custom promo code or the leftover product samples you ordered earlier.
4. Share works-in-progress to build anticipation for new designs. ✅
We're all curious how you make your art! Post sketches or time-lapse videos of you creating a design that will be available for purchase. Then, in a followup post, share a direct link to the finished product in your Artist Shop. For great examples of work-in-progress videos, visit shop owner Ink Tuesday on TikTok.
5. Reach out to a social media influencer for a potential shout out. ✅
Whenever anyone shares your work on social media, they're exposing you to a new audience who may have never discovered you otherwise. Getting a social media influencer to talk about your products gives you an opportunity to convert a portion of their audience into new followers. It may be tough to convince an influencer to give you a shout out during this busy time, but it's worth a shot! Here are some tips on reaching out.
---
Download the Artist Shops Holiday Checklist
This PDF version of the Artist Shops Holiday Checklist below includes links to resources that'll help you with each task. Keep it on your desktop for reference or print it out and post it at your workstation.
---
Related Posts