Throughout the holiday season, it's important to remind your followers about holiday shipping deadlines so they receive their orders on time. But what happens when those deadlines pass? Are they out of luck? Do you stop promoting your Artist Shop? Of course not! Gift Cards and Promo Codes are a great way to attract last-minute shoppers as the season winds down.
Gift Cards are the safest, most convenient gift option you can offer holiday shoppers. That's probably why, according to Fiserv, 60% of consumers will turn to Gift Cards if they cannot find the products they want.1 Let's talk about how the Gift Cards feature in your shop can benefit both you and your customers.
---
Everything to Know About Gift Cards
The Gift Cards setting is automatically turned on by default in all Artist Shops. What this feature does is adds a tab to your homepage navigation where your customers can purchase Gift Cards with values of $25, $50, or $100.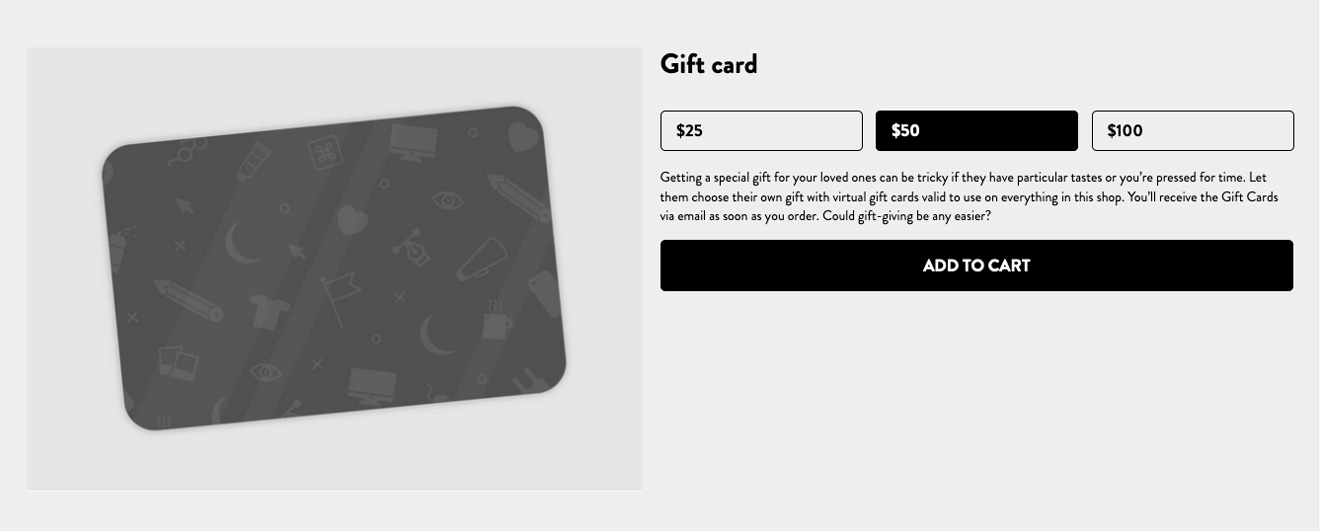 All Gift Cards purchased from your shop feature your branding and a direct link to your shop. They're also valid to use in all other Artist Shops and the Threadless Marketplace. Your customers can deliver your Gift Cards to the recipient three different ways:
Print out and deliver in-person. (Great stocking stuffers!)
Email to the recipient's inbox.
Copy the gift code and share it.
Please note that you will only receive earnings from Gift Cards when they are used as payment in your specific Artist Shop. For more information, visit our Artist Shops Help Page.
How to Promote Them to Your Followers
Gift Cards are always a reliable fallback when holiday shoppers are pressed for time, but they're much more than just a last-ditch gift option. Many shoppers prefer Gift Cards over wrapped gifts because they…
Relieve the stress of finding the right gift for folks who are difficult to shop for.
Make it easier to stay on-budget for the holidays.
Allow recipients to buy whatever they want at little to no cost to them.
Eliminate the time constraints and unpredictable shipping of online shopping.
These are some of the selling points you can incorporate into your messaging when you promote your Gift Cards on social media and in your email newsletter.
How Gift Cards Benefit Your Shop
Gift Cards present just as many benefits for your Artist Shop as they do for your customers. Here are just a few of the ways they help grow your brand.
✓ They're a form of word-of-mouth advertising. Whenever your customers share your shop with their friends and family, they become ambassadors for your brand. Gift Cards are a vote of confidence for your art and merchandise.
✓ They drive traffic to your shop. When your customers send your Gift Cards, they invite a new visitor to your storefront who may become a loyal customer themself.
✓ They boost your revenue. According to a report by the Blackhawk Network, up to 90% of consumers are willing to spend more than the dollar amount on a Gift Card depending on the value.2
---
Stoke Your Sales with Promo Codes
Another strategy to attract last-minute shoppers and help them make purchase decisions faster is with Custom Promo Codes.
Not only do Custom Promo Codes help boost conversions in your shop, but they can also get customers to spend more. A recent study by Blippr found that online shoppers who use coupon codes spend 24% more than shoppers who don't use them.3
As we approach the holiday shipping deadlines, share a Custom Promo Code in your promotional messaging to give your followers—especially the procrastinators—extra incentive to shop now before it's too late.
How to Set Up Custom Promo Codes
Our team is available to create any Custom Promo Codes for your Artist Shop, whether you want to set up a promo code right away or schedule one for the future. When you request a promo code, you can customize it in the following ways:
Discount can be any amount between 5% and 15% off your Regular Prices.
Code can be a custom word or name to fit your brand.
Expiration date of the code can be a set timeline or open-ended.
Request a single, global use code or any amount of individual use codes.
NOTE: Your shop must be opted-in to managed pricing to use Custom Promo Codes. Visit our Artist Shops Help Page for more detailed instructions on setting up Custom Promo Codes.
---
For more tips on how to attract last-minute shoppers and gearing up for the holidays, read the 2022 Artist Shops Holiday Checklist.
---
Footnotes: 1. Fiserv – Q3 2022 Gift Card Gauge | 2. Blackhawk Network – New Report from Blackhawk Network Examines Latest Consumer Gift Card Preferences and Use Cases in the U.S. | 3. Blippr – Coupon Code Stats
Related Posts