For more than 20 years, Threadless has helped hundreds of artists grow their art into successful brands. Over that time, our team has found that Artist Shop owners who enjoy the most success generally follow three essential steps: create, promote, and repeat. The Promo Toolkit is here to help you with the step that artists appear to stumble on most: promotion, particularly on social media.
It's no mystery why many artists struggle with this step. First off, promoting your own merch on social media might not be something that feels natural or comfortable for you. Secondly, it takes a significant amount of time and effort to create promo assets from scratch every time you want to promote something new.
The Promo Toolkit helps you overcome those obstacles by gathering the Artist Shops resources you need to quickly whip up a promotional post on Instagram, Facebook, and other social platforms. Bookmark this page so you can start creating assets whenever your shop has a sale, debuts a new design, or launches a new product.
---
TABLE OF CONTENTS
---
Part 1: Promo Image Creation
The visuals you share on social media are what's going to grab your followers' attention first as they scroll through their feeds. The tools and resources in this section will make it easier for you to create high-quality promotional images for your Artist Shop when you're ready to announce sales, new designs, and more.
---
Promo Tools
Using the Promo Tools feature in your Artist Dashboard, it only takes seconds to download ready-to-share images of your designs on any product you offer in your Artist Shop.
If you'd like to incorporate your own branding and colors, we recommend editing these images further with your preferred image-editing software. They're great for assembling product arrays like this one from illustrator Jack Teagle:
---
Customizable Lifestyle Overlays
Lifestyle photography helps your followers envision themselves using your products in their everyday lives. If you have a smartphone with a decent camera, we recommend snapping and sharing pictures of your friends modeling your merch.
However, if you don't have the time or resources to take your own lifestyle photos, you can edit your designs into our Customizable Lifestyle Overlays using your preferred image-editing software. Our collection of overlays features all sorts of professionally shot apparel, accessories, and home goods.
Alternatively, you can also use a third-party service like Placeit to create lifestyle images with a wider selection of models.
---
Instagram Template
Our Instagram Template for Adobe Photoshop and Illustrator is loaded with an array of promotion-related icons, text layers, and elements you can adjust to your liking. Drop in your product images and lifestyle photos, then switch up the color scheme to suit your brand. This template is yours to edit however you see fit!
---
Premade Promo Images
If you've activated managed pricing and Threadless is running sales in your Artist Shop for you, keep an eye out for our email newsletter. When a sale launches in your shop, we'll send out ready-to-share promo images featuring important details such as sale prices, discount percentages, and the expiration date.
These premade images will not feature your branding, however, we typically share a variety of graphic styles so you can pick the one that best fits your brand's aesthetic. We recommend posting these within a gallery of your own designs and product images.
---
Part 2: Prewritten Captions for Promotional Posts
While promo images attract attention to your posts, your captions enable you to funnel traffic from social media to your Artist Shop. Every time you promote your shop on social media, always include the following in your captions:
A link to your shop. Depending on the app you're using, you may not be able to include hyperlinks in your posts. In those cases, you should direct followers to your "link in bio" page. More on that soon!
Relevant hashtags. This helps non-followers discover your posts and may help you grow your social-media fanbase.
If you struggle coming up with words for your captions, or just want a head start, feel free to use the prewritten captions below. Use them verbatim or tweak them to incorporate your brand's unique voice.
---
Sale Captions
Announcement: SALE ALERT. For a limited time, all tees in my Artist Shop are as low as $XX, and everything else is on sale! Now's the time to stock up on my newest and most popular designs. Link in bio. #HASHTAG1 #HASHTAG2 #HASHTAG3 #HASHTAG4
Reminder: Don't miss your opportunity to snag your favorite designs on $XX tees! The sitewide sale ends on DATE at XX:XX AM/PM CT. Link in bio. #HASHTAG1 #HASHTAG2 #HASHTAG3 #HASHTAG4
Last Chance: Last chance! Head to my Artist Shop to grab tees for as low as $XX. Everything else is also on sale, too. You have until XX:XX AM/PM CT today. Link in bio. #HASHTAG1 #HASHTAG2 #HASHTAG3 #HASHTAG4
---
New Design Caption
I just released a new design in my Artist Shop! Get it on your favorite t-shirt style and a variety of other apparel, accessories, and home decor. Thanks for your support! Link in bio. #HASHTAG1 #HASHTAG2 #HASHTAG3 #HASHTAG4
---
New Product Launch Caption
New [PRODUCT NAME/S] featuring my original art are now available in my Artist Shop! Click the link in my bio and add them to your collection today. #HASHTAG1 #HASHTAG2 #HASHTAG3 #HASHTAG4
---
Shopping Holiday Captions
Black Friday: I just launched my biggest sale of the year for Black Friday! Tees are as low as $XX and everything else is up to XX% off at my Artist Shop. Pick up gifts for your loved ones or just treat yourself. Link in bio. #blackfriday #HASHTAG2 #HASHTAG3 #HASHTAG4
Cyber Monday: Stop by my Artist Shop for epic Cyber Monday deals! Tees are as low as $XX and everything else is up to XX% off. Finish off your holiday shopping early. Link in bio. #cybermonday #HASHTAG2 #HASHTAG3 #HASHTAG4
---
Part 3: "Link in Bio" Landing Page
Social media apps including Instagram and TikTok restrict you from including outbound hyperlinks in the captions of your posts. They also only allow one link in your bio, which means you have to choose between your personal website, Artist Shop, and any other page featuring your work. That's unless you create a "link in bio" landing page with a service like Linktree.
From a single, easily shareable web link, a landing page enables you to list out an unlimited number of links to your shop and anywhere else you choose. We highly recommend creating one of these pages and using it as your bio link to direct your social-media followers to the specific products and content you're promoting.
---
Part 4: Put It All Together (Examples)
To help you visualize how all of these different elements come together to create attention-grabbing social-media posts, we found a handful of real-world examples by our Artist Community. Notice how these posts feature strong imagery, detailed sale information, and directions for where fans can find the featured products.
Hillary White Rabbit promoting last year's Black Friday Sale on Instagram:
Erin Noon Kay, CEO of Claiming Disability LLC, promoting her Disability Pride Tees on TikTok:
Glitch Goods promoting their Spring Sale on Twitter:
Just a few more hours to score our best deal of the season – ALL regular tees just $13! Head to https://t.co/2mfKZ59DbD before 3pm PT today and you can have some shiny new shirts to show off like these beautiful people: pic.twitter.com/aGu4rdy1W3

— Glitch Goods (@glitch_goods) March 24, 2023
von Kowen promoting her new design, "Antlers and Boughs," on Instagram: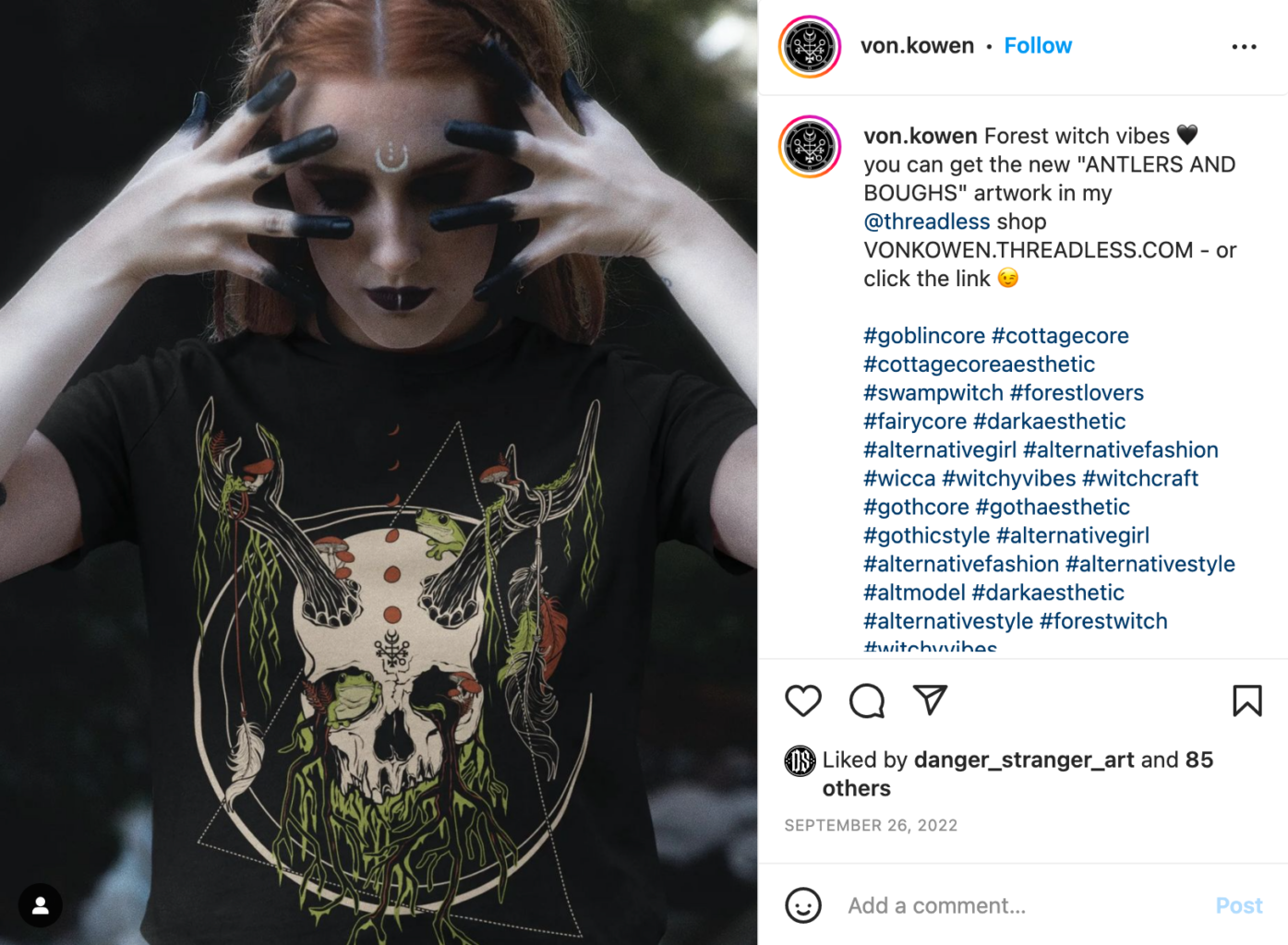 ---
Part 5: Find a Cadence That Works Best for You
The more quality content you share on social media, the more opportunities you'll have to grow your following. Making regular updates to your Artist Shop gives you more content to share and helps keep your audience engaged. Every time you add a new design, debut a new product, or launch a sale, post about it. Your followers won't know what's going on with your shop unless you tell them!
We recommend posting about your art on a daily basis. That doesn't mean promoting your Artist Shop for every single post. That would be a quick way to lose your audience's attention. Instead, keep delivering the content you know your followers enjoy. Share works in progress. Make a video of yourself unboxing product samples. Poll your followers on their favorite designs. In-between all that content, drop in posts promoting your shop.
If pumping out daily, spur-of-the-moment content just doesn't work for your schedule, you might benefit from taking a more structured approach. Creating a social media calendar and scheduling posts in advance could help you get ahead when time is a factor.
---
Part 6: Additional Resources
Now that the Promo Toolkit has supplied you with the basic tools and resources you need to quickly build social-media posts, you're ready to step up your social-media marketing. At Creative Resources, you'll find dozens of articles on how to promote and market your Artist Shop using popular apps including Instagram, TikTok, and Facebook. Here are some articles to get you started:
---
Related Posts