Since launching in 2016, the video-sharing app TikTok has amassed more than 1.2 billion users worldwide and has been downloaded more than 3 billion times.1 In other words, it's a pretty big deal. While older generations brush off TikTok as an app reserved for Zoomers, it actually has a much larger influence on culture than you might assume. It's where people go to see what's trending in the world, and it has the potential to expose artists to millions of new fans with a single post. If you're an Artist Shop owner, now is the time to learn how to promote your merch on TikTok.
If you're looking to grow your fanbase quickly and increase your brand awareness, these 10 best practices will help get you started. Keep in mind, the more you promote your merch on TikTok and other social media platforms, the better chance you'll have of increasing sales and attracting repeat customers.
---
1. Link to your Artist Shop in your bio.
When TikTok users land on your profile, the first thing they'll see at the very top is your bio. Similar to Instagram, TikTok only allows you to include one external link in your bio, so make it count! You have two options:
Link directly to your shop. If you plan to use TikTok to exclusively promote your designs, then this is a good option for you.
Link to a landing page that includes a link to your shop. We recommend using a third-party service such as Linktree to create a page where you can link to all of the sites your fans can find you. This will create synergy between your social media accounts and help build your following on multiple platforms at once.
Additionally, it helps to include a call to action directing visitors to your shop. Use language such as "New merch in my Artist Shop!" in your bio to grab their attention.
---
2. Find a subculture that fits your aesthetic, then target it.
On most social media platforms, users typically engage with the accounts they already follow. What makes TikTok so unique is that people spend most of their time on the For You page. This is where the app's algorithm curates a stream of recommended videos for each user based on the content they interact with most. If your videos speak to an existing subculture your brand vibes with, there's a better chance the algorithm will show your videos to that niche audience, leading to meaningful engagement.
It's also important to note that TikTok subcultures reach their intended audience by using specific hashtags. When you create content for a particular subculture, don't forget to include the appropriate hashtags in the caption of your video. This will make it easier for the community to find it. Here are some examples of subcultures that are popular on TikTok today: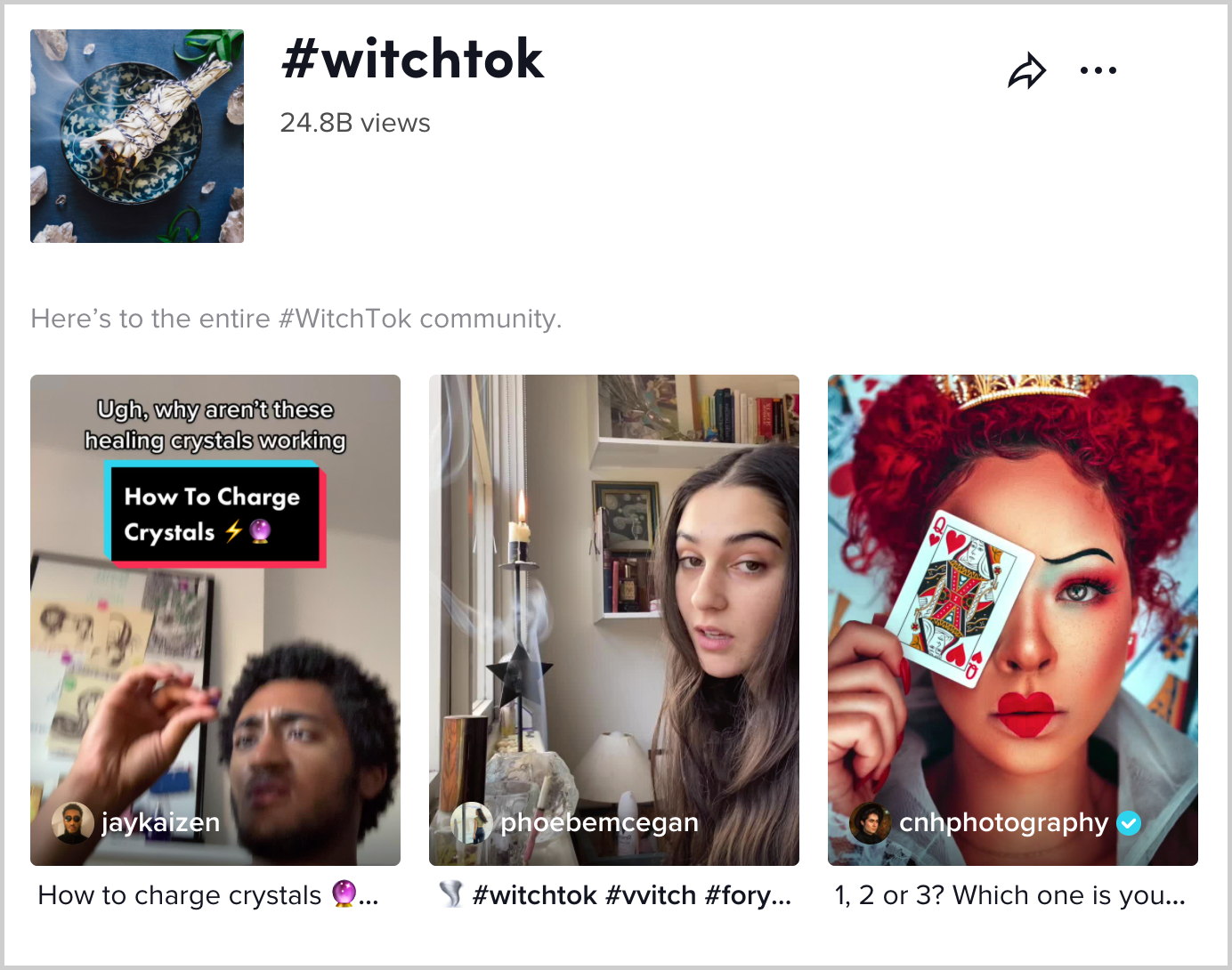 Read more about subcultures from the experts at TikTok.
---
3. Make posting a daily routine.
According to a social media report by App Annie, TikTok surpassed YouTube in average watch time in the United States in 2021. With so many users logged into TikTok every day, you'll only increase your chances of going viral by posting on a daily basis. When that magical moment finally happens, maintaining a steady schedule will help you sustain your success and build your momentum. This will also establish your cadence with your followers so they know when to come back for more content.
As an artist, you might be thinking, "How am I supposed to create a new piece of art to share every day? Masterpieces take time." The short answer is…you don't have to. Fans of your art would love to learn more about your creative process, see your behind-the-scenes footage, and get your insight on art-related topics. Here are different styles of video you can experiment with:
Film a time lapse of you creating a piece from start to finish.
Shout out fellow creators who inspire you.
Compare an initial sketch with the finished piece.
Show a work in progress. Let it unfold over multiple videos.
Review your favorite art products.
Share images and videos of your followers wearing your merch.
Over time, you'll be able to sense the type of content your audience prefers by the number of likes, reshares, and comments. Find out what works and create similar videos to see if you can repeat your success.
---
4. Record videos about your merch.
Whenever you add a new product or design to your Artist Shop, it's another opportunity for you to reach out to your followers. Show your merch, talk about your merch, and don't forget to tell everyone where to find your shop. Noodle, the TikTok–famous pug, and his owner, Jonathan, hit all of the marks with such great enthusiasm in the video below.
TikTok videos are also a useful tool for promoting any sale you're running in your Artist Shop. Include key information such as sale prices, promo codes, and any other details your customers would want to know. Then, create a sense of urgency by referencing the sale's deadline. For example, shop owner Yonson Carbonell included a caption that reads "Grab them while you can" in the video below.
---
5. Record videos of you and your friends wearing your merch.
This is a subtle and clever way to promote your merchandise in videos that aren't explicitly promoting your merchandise. Claiming Disability LLC founder and CEO Erin Noon Kay often wears her own t-shirts in TikTok videos as a way to shed more light on issues that impact disabled people.
NOTE: If you're an Artist Shop owner, you can purchase samples from your own shop for just the base cost of the item. Buy samples to use in lifestyle photography or promotional TikTok videos.
---
6. Get ideas from your followers.
When a graphic artist shares their original art on social media, the best comment they'll ever receive is "I want that on a t-shirt!" If you get positive feedback like this, be sure to add the design to your shop as quickly as possible. And don't forget to reply to the commenter to let them know the shirt is available for purchase. This is one of those rare scenarios where a comment section doesn't resemble an internet hellscape.
In a similar event, drag artist and shop owner The Mannequin responded to the growing interest surrounding their "Makeup Wipe" design by making it available on a wider range of products. Give the people what they ask for!
---
7. Participate in hashtag challenges.
Riding the wave of TikTok trends will help you generate fresh content and improve your chances of landing on the For You page. There's always a hashtag challenge that's catching fire, but the trick is to participate while it's still popular and relevant. When you think of hashtag challenges, you might picture dancing in front of a ring light. You can do that if you'd like, but there are plenty of TikTok challenges that are related to art, such as #dtiys (Draw This In Your Style).
Shop owner Geekly Whimsical recently participated in #wipwednesday by sharing brief footage of a piece they're currently working on. Challenges like these can give your followers a heads-up on new designs coming to your Artist Shop in the near future.
Go to the Discover tab in the TikTok app to see which hashtags and challenges are currently trending.
---
8. Incorporate trending sounds and music.
This is another strategy you can use to promote your merch on TikTok while tapping into the platform's algorithm. According to TikTok, 67% of users prefer to see videos from brands featuring popular or trending songs on TikTok. That's why the app pushes videos that feature trending music and sounds, which rack up millions of views every day. Incorporating them into your merch videos will help draw attention to your brand and get you love on the For You page.
In the video below, Ink Tuesday uses the song "Do It To It" by ACRAZE to match the energy and pace of the video's edits.
View a list of the top trending sounds by tapping the "+" icon at the bottom of the TikTok homescreen. Then, tap "Add sounds" on the Record Video screen. Make sure to pick a sound that suits the vibe of your video. If your music selection feels completely random, it could put off the viewer.
---
9. Eff it! Do it live!
TikTok's live stream feature is only available for users who have more than a thousand followers and are over the age of 16. Once you've met the requirements, use live streaming as a way to connect with your followers in real time and get the word out about your Artist Shop. Ink Tuesday discovered that going live actually helped increase views on their pre-recorded videos. Here are some tips to consider when you host a live stream:
Announce the date and time you're going live in the captions of your pre-recorded videos so followers know when to tune in.
Introduce yourself to your audience. Users may stumble upon your stream from the For You page and might not know who you are.
Have a plan of what you want to say beforehand. If you're promoting merch, talk about what you're offering in your shop and have samples on hand that you can show.
Engage with viewers. Say hello to people joining your stream and answer questions in the comments. This will encourage viewers to comment and interact with your content.
Remind viewers to follow your account. They might be tuning in, but that doesn't necessarily mean they follow you.
---
10. Get your community involved.
Regularly interacting with your followers will make them feel like they're an important part of the online community you're building. It'll also increase your chances of getting likes, comments, and reshares, which the TikTok algorithm loves, of course. Respond to every comment you can and share images and videos of your fans wearing your merch often. This will excite your loyal followers and encourage others to engage with your content for a potential shoutout. Make yourself accessible!
---
Now you're ready to promote your merch on TikTok! Come back to Creative Resources for more tips on using social media as a promotional tool. Promotion is and always will be essential to your success as an Artist Shop owner.
LEARN MORE ABOUT SOCIAL MEDIA PROMOTION
---
Footnotes: 1. Business of Apps – "TikTok Revenue and Usage Statistics (2022)"
Related Posts