E-commerce takes the danger out of holiday shopping. Consumers no longer have to camp outside of department stores in the cold for the sake of getting a good deal, or literally duke it out with fellow shoppers over a hotly anticipated product. If they choose, they can get all of their holiday shopping done with just a few taps on their phone. According to the National Retail Federation (NRF), e-commerce accounted for 20.1% of total holiday sales in 2019. Experts predict that percentage will rise in 2020 due to recent shopping trends coupled with the ongoing pandemic. That means it's important now more than ever to prep your Artist Shop for the holidays.
Although the number of online shoppers will likely increase dramatically, you can't assume they will automatically find your Artist Shop, let alone purchase anything. Read on for strategies on how to maximize your shop's performance during the busiest shopping season of the year.
1. Deck your shop with boughs of holly.
During the holiday season, brick-and-mortar shops lure passersby with dazzling store displays depicting their own version of a winter wonderland. You can create the internet-equivalent of that effect by tinkering with the visuals on your homepage and throughout your shop. This will let visitors know you have something special in store for them for the holidays—literally.
Create a custom banner. The top banner on your Artist Shop is one of the first things visitors will see. Consider adding holiday imagery—maybe a string of lights or a snowy landscape. But more importantly, use that space to share helpful information about your sales, your promotions, and shipping times. These factors alone can motivate visitors to make a purchase, so putting that information upfront will only benefit your shop.
Make festive lifestyle photography. Order samples of products you want to feature, then use them to shoot seasonally relevant lifestyle images. Think of creative ways to stage your products. You can stuff them in stockings, arrange them under a tree, or have someone model them outside in the snow. Unlike basic flat lays, lifestyle images can help customers envision your products as gifts and make them more alluring.
Revamp your homepage collection. As you've noticed, the product grid on your homepage now includes a total of four product images per row. This update not only gives your Artist Shop a more traditional e-commerce layout, but it also gives you an opportunity to showcase more of your products. Fill up your homepage with new lifestyle images (see this great example), and consider displaying your most popular designs in holiday colors.
2. Create holiday-themed products and collections.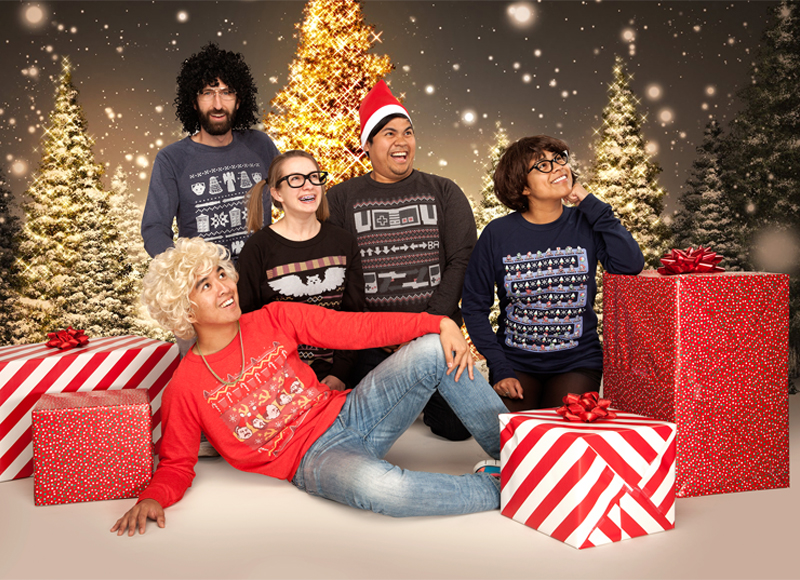 How would you describe the overall user experience of your Artist Shop? Will holiday shoppers be able to quickly and easily find giftable products that are relevant to the season? If the answer is "no," then it's time to add new designs and organize your products into collections, which also serve as gift guides.
Make limited-time designs. This is the time of year when people are most willing to spend money on products related to the holidays. To build a sense of urgency, consider creating holiday-centric designs and making them only available for a limited time. Then, let your customers know these designs exist by sending emails and posting on social media.
Ensure your product lineup is complete for the holiday season. Black tees are a bestseller and always a safe bet for both men and women. However, winter is coming soon and you should give customers options for staying warm, such as longsleeves and sweatshirts. Aside from apparel, greeting cards, mugs, art prints, and stickers also make great gifts and stocking-stuffers. Don't forget to add some of the newest products available in your Artist Shop, like face masks and neck gaiters!
Organize your holiday products into collections. This makes them far easier for shoppers to find. Consider grouping all of your holiday-themed items into one big "Holidays" collection, or smaller collections categorized by specific holiday (Hanukkah, Christmas, etc.), theme ("Secret Santa Gifts"), or even price ("Gifts Under $25"). Make sure to name your collections intuitively to effectively guide customers toward what they're looking for.
3. Plan out your holiday email schedule.
According to digital marketing entrepreneur Neil Patel, most email-marketing campaigns account for approximately 23% of a brand's sales. That's a percentage you just can't ignore, especially during the holidays. Maintaining a regular email cadence will help keep your shop in the minds of your customers. It'll also allow you to share important details about your holiday offers and more.
Create an email-marketing calendar. Use an email service provider (ESP) such as Mailchimp or Klaviyo to easily schedule emails at least a month ahead of time. Plot out exactly when you want to send out holiday sale announcements and related content, and prepare them early so you won't have to scramble to send poorly written, last-minute emails to thousands of customers.
Send out a regularly scheduled newsletter. This is a great place for you to share gift guides, details about promotions, and previews of new gift items you're going to add to your shop. Use your newsletter to build anticipation for the holiday season and motivate your customers to get their shopping done early.
Remind your customers about shipping deadlines! Last-minute shoppers must know exactly when they need to make their order to ensure their gifts arrive on time for the holidays. Consider drafting an email dedicated solely to shipping to keep your customers in the know of precisely when is "too late."
4. Use social media as your promotional megaphone.
In NRF's Annual 2020 Holiday Survey, approximately 53% of consumers indicated that a sale or promotion would convince them to start shopping earlier than usual. "Earlier than usual" is now. As soon as you've made holiday designs and gift guides available in your shop, promote them where they'll get the most visibility—on social media. According to a FameMass study in 2019, people spent an average of 2 hours and 23 minutes per day on social media, making it fertile territory for you to cultivate new customers during the holidays.
Make a social-media calendar. It doesn't have to be overcomplicated. A basic Google Calendar is all you need to plan out promotional posts on Instagram, Twitter, and Facebook. Here's an example of a simple social-media calendar that we put together.
Schedule your posts to automatically publish at predetermined times with services such as Hootsuite or Buffer. Although they typically cost money to use, they offer the convenience of managing all of your social posts in one place rather than in each separate platform. This will save you time and energy.
Create opportunities for engagement. Those holiday-themed lifestyle photos we mentioned earlier will look great on social and should generate buzz around your promotions. However, you can create an even stronger rapport with your followers with interactive posts. For example, you can do a poll on favorite Christmas movies or ask customers what annoys them most about the holidays.
5. Don't be shy. Tell your story.
"People buy from those they like and can relate to," said sales trainer Adrian Miller in Entrepreneur. Revealing a little about yourself in a well-written About page can also humanize your brand. If customers feel like they know you, there's a better chance they'll purchase from your shop. So brush up your About page for the holidays!
Make a personal connection with customers. To get started, you can briefly explain your journey to becoming an artist or delve into what inspires you, whether it's nostalgia, horror films, or self-deprecating humor. Also, be sure to include links to your social-media pages so customers can find you and see your holiday promotions.
Increase traffic to your Artist Shop. Your About page is a great place for keywords that can improve your SEO performance and attract new customers. Think about commonly searched words and phrases that relate to your style of art, and be sure to include those in your story. Examples may include "retro art," "pop culture," or something more specific such as "fashion for pet owners."
Set your sights on getting featured on Threadless. Completing your About page ensures that we know your social handles and preferred website, and will increase your chances of getting featured on our official social-media pages.
---
These tips will help put your Artist Shop on the path toward a successful holiday season, but there's always more to learn. Read more of our Creative Resources for in-depth guidance on optimizing your shop with how-to tutorials on everything from properly tagging your designs to growing your email-marketing list.
Related Posts