We at Threadless want to introduce your art to millions of folks around the world. Not just because it gives us the warm fuzzies in our tum-tums (it totally does), but because it helps you—an independent artist—succeed. That's the sole reason why Threadless exists. All of the visuals you see on our homepage, social media, blog, and email newsletters feature original designs made by our diverse community. We use our platforms to put your art in front of people who want to appreciate, share, and buy it.
So how do you become an Artist of the Day on our homepage or get featured in our email? There are several actions you can take right now to make your Artist Shop stand out and increase your chances of a feature.
1. Opt your Artist Shop into the Threadless Marketplace.
A majority of the designs we feature come directly from the Threadless Marketplace. By opting into the Marketplace, your shop's products are eligible to appear in Threadless search, and customers can find your designs as long as they are tagged appropriately. Read this guide to tagging to ensure your designs will queue in a search on Threadless.
Having designs in the Marketplace increases your chances of getting featured in promotional emails, social media posts, and on the homepage. It could also boost your sales over time. In 2020, shops opted into the Marketplace had a 104% lift in sales compared to shops not opted in.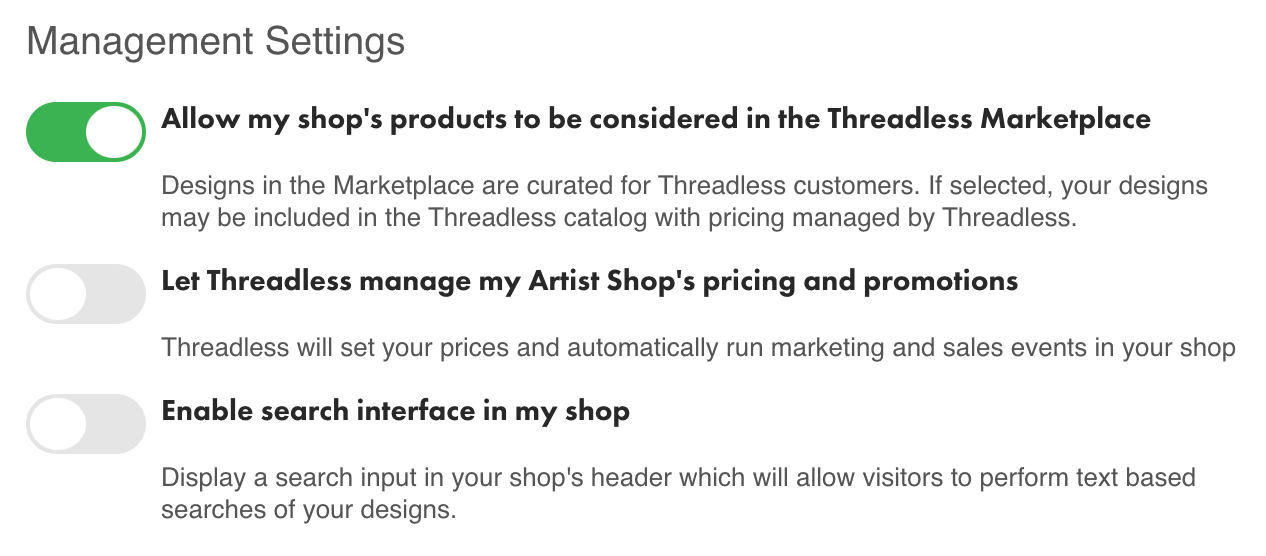 2. Add 1–2 new designs to your shop each week.
In addition to opting into the Threadless Marketplace, you should regularly update your shop with new designs. Each week, we receive thousands of designs for consideration in our catalog. The more designs and products you add, the more chances you'll have at getting your art featured. If your shop specializes in only one type of product (e.g. Face Masks), make sure you're adding even more new designs on a weekly basis to keep your selection fresh.
3. Tell us your story in your About Page.
How do you describe your art? What inspires you? What led you to become an artist? We want to know more about you so we can share your story if and when we feature your art. Your About Page also allows you to connect with your fans on a more personal or even emotional level. If you have a particularly extraordinary story, we may even want to interview you for the Threadless Blog!
Don't forget to add links to your social media profiles and website. If we share your art on our social channels, we want to tag your preferred profile.
4. Show us your talent in Design Challenges.
Design Challenges allow us to curate designs centered around specific themes. Challenges have been around since the beginning of Threadless, and continue to be a way we keep the Threadless Marketplace fresh. If you submit to a Design Challenge and win, you'll get a cash prize and we'll print your design. You'll also receive earnings every time your design sells, and it will be immortalized on the challenge's page.
Even if you don't win, there's still a chance that your design will make it into the Marketplace. Plus, hundreds of Threadless community members will see and score your design, and be able to discover your shop. More traffic means more potential for sales!
5. Join us in fundraising for great charities.
With Threadless Causes, you can use your art to fundraise for charities doing critical work around the globe. This Artist Shops feature enables you to donate a percentage of your earnings from the sale of any design you select in your shop. You also choose the Cause and charity to support. Additionally, Threadless is matching collective donations up to $100,000 for each Cause!
We routinely feature Causes designs on social media, via the Threadless Blog, and in our email newsletter. If you decide to join us in our fundraising efforts, you'll increase your chances of a feature. Refer to our Help Page for more information on adding Causes to your designs.
6. Make your Artist Shop look frickin' awesome.
We're always looking for examples of great-looking Artist Shops to share with our community. There are so many ways you can customize your shop to make it uniquely yours. We highly recommend doing the following:
Upload a shop logo and custom banner. These images set the tone for your shop and are the first things your visitors see. Use them to showcase your art style and establish your brand's personality.
Curate your homepage collection. Include a mix of new and popular designs and products. Also use custom imagery such as lifestyle photos to grab attention. If you don't have the time or resources to snap lifestyle photos yourself, edit your designs into our lifestyle overlays. Or, make lifestyle images using Placeit. We've even arranged for you to get 20% off a monthly subscription using this link.
Make themed collections. Treat them as curated gift guides enabling curious shoppers to quickly find what they want. Consider creating collections based on specific subject matter, art styles, holidays, and types of shoppers.
Customize your Department Names. You can edit any of the five default Department Names to make your shop gender neutral, add additional branding, and/or highlight specific products. Refer to our Help Page for more information.
7. Promote your shop often on social media.
The more you promote your Artist Shop on social media, the more chances you'll have at getting reposted. Reposts can present your shop to new audiences unfamiliar with your work. Here are a few tips on how to get reposted by Threadless on social media:
Be sure to tag us with our handle @Threadless on Instagram and Twitter so we can find your post.
Include custom imagery of your designs. Lifestyle photography in particular allows potential customers to envision how your products will fit in their everyday lives. Share pictures of your friends, family, and customers wearing your stuff to build excitement and grab attention.
Write a caption for your post. Tell us a little bit about your designs and make sure to link or direct followers to your Artist Shop (e.g. Link in bio!).
8. Tell your story in a Creative Resources blog post.
Do you have a unique story to tell about your art and Artist Shop? If so, apply to be a guest writer for our Creative Resources blog. This is a unique way to not only feature your art, but also share your experience of making and selling art on our platform. It always feels more real and impactful when an artist shares advice with fellow artists. Email us your ideas at bloggers@threadless.com.
---
Don't have an Artist Shop yet? Artist Shops provides the best and easiest platform for you to sell your art in your own customized online store—for free. The sooner you set up your shop, the sooner we can promote it to the world!
Related Posts