Every year, the holiday season brings a surge in consumer spending, with shoppers eagerly searching for unique and memorable gifts. According to the National Retail Federation, more than half of surveyed shoppers also plan to do their holiday shopping online.1 This festive period offers a prime opportunity for Artist Shop owners to capture the attention of these customers with specially curated holiday collections.
By utilizing the Collections feature in your shop, you can curate a dedicated landing page showcasing your holiday-themed designs and products. Imagine creating a holiday collection that not only embodies the spirit of the season, but also serves as an easily promotable gift guide on social media. For creative inspiration, let's explore some standout holiday collections by some of the top Artist Shops.
---
What makes it awesome? Nathan W. Pyle's Strange Planet has captured the hearts of many with its quirky, alien-themed humor. His holiday collection is a perfect blend of the familiar and the festive. By reimagining his popular designs with a holiday twist, Nathan offers his fans a way to enjoy the season while staying true to the beloved Strange Planet style.
---
What makes it awesome? Hillary White's collection is a testament to how artists can seamlessly weave their signature styles with holiday themes. Known for her retro designs featuring street animals, her collection stays true to her roots while embracing the holiday spirit. She proves that you don't have to compromise your artistic integrity to create seasonal appeal.
---
What makes it awesome? This holiday collection from Cut the Rope brings the playful and educational essence of its physics-based puzzle games into the festive season. Featuring their adorable Om Nom characters partaking in traditional winter activities, this collection extends the game's reach into the realm of holiday merchandise.
---
What makes it awesome? Archie Comics has been a staple in American pop culture for decades. Their Christmas Collection is a vibrant mix of nostalgia and holiday fun, showcasing classic characters in festive scenarios. The addition of ugly sweater designs reflects a keen understanding of holiday trends.
---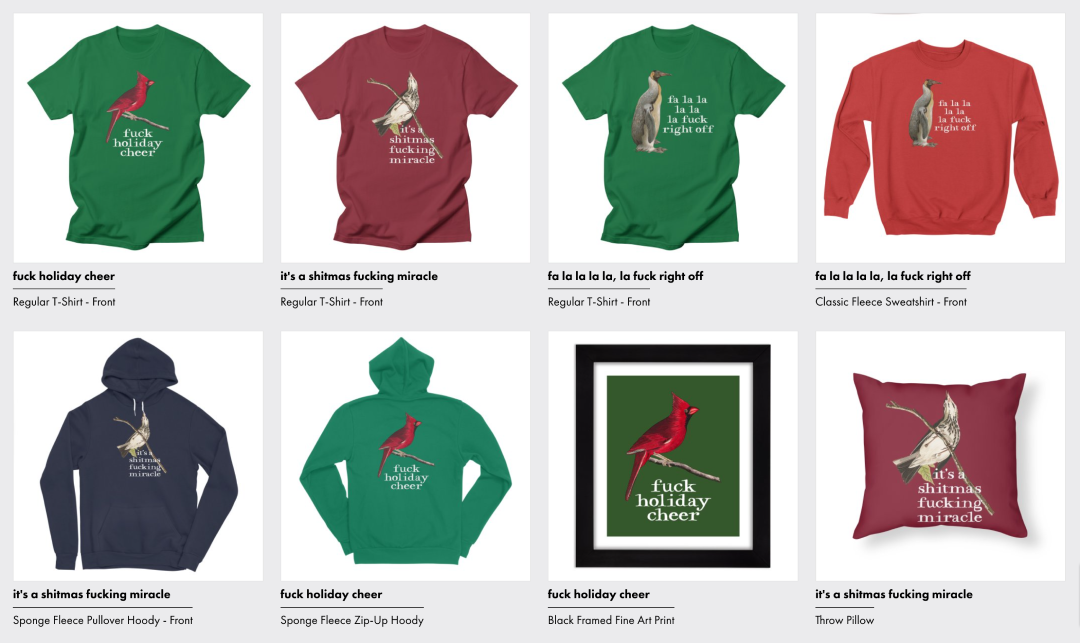 What makes it awesome? Aaron Reynolds' Effin' Birds stands out for its stark contrast to the typical holiday cheer. This collection's blend of elegantly drawn birds with unexpectedly humorous captions offers a unique and amusing take on holiday themes, providing a perfect option for those looking for gifts with a twist.
---
What makes it awesome? Genevieve Santo's Le Petit Elefant holiday collection pays a heartwarming homage to her Filipino heritage. Designs including "Pasko String Lights" offer a beautiful blend of cultural celebration and festive charm, making it a unique addition to the holiday market.
---
What makes it awesome? Since her debut as a greeting card character in the 1970s, Strawberry Shortcake has been a symbol of joy and kindness, encouraging girls to create a brighter, sweet-smelling world. Her collection features a charming all-over pattern with candy canes, strawberries, and an assortment of candies. It captures the essence of a whimsical winter wonderland, plus, it looks great on a variety of products. That's what makes patterns a solid option for your Artist Shop.
---
Now that you've seen a handful of Artist Shops that channel the spirit of the season in their own unique ways, it's time to build your own holiday collections! Remember to stick to the aesthetics and tone that resonate most with your fans. For more information on how to create your own holiday collection, visit our help page for collections.
---
FOOTNOTES: 1. National Retail Federation – Retail Holiday and Seasonal Trends
Related Posts