At Threadless we are always looking for opportunities to make our apparel selection more inclusive to all body types. Back in March, we announced the launch of our feminine-cut Scoop Neck Regular T-Shirts. Now, we're happy to introduce our new unisex Classic Fleece Sweatshirts, Pullover Hoodies, and Zip-Up Hoodies, available in sizes up to 5XL! If you have an Artist Shop, you can immediately add these new products.
Making your shop size-inclusive is important for a variety of reasons. First off, it allows more people to wear and support your art. Secondly, it improves the shopping experience for customers who may have a hard time finding apparel they know will fit them comfortably. When you add Classic Fleece to your shop, be sure to tell your followers the good news—but first learn about what makes Classic Fleece so special. Read on for product education on each style, as well as a quick run-through on how to add these products to your shop.

A Closer Look at Classic Fleece
You don't need us to tell you that fleece is a year-round essential. Chances are your customers have at least a few sweatshirts and hoodies they wear on a regular basis.
Our Classic Fleece offers warmth during brisk, early morning walks around the neighborhood, and are great for layering under a jacket in cold weather. They're even cozy to wear around the house, especially if Mr. Freeze keeps cranking up the AC. Consider this kind of messaging when you're crafting your next Instagram post telling folks about the new product in your shop! Learn more about our three new fleece styles, made from a comfortable blend of cotton and polyester.
Classic Fleece Sweatshirt
Classic Fleece Pullover Hoody
Classic Fleece Zip-Up Hoody
How to Add Classic Fleece to Your Shop
There are two different ways you can manually add Classic Fleece to your Artist Shop. Follow the instructions below.
Method 1: Add Them as New Products
1. Open the Product Creation Tool, upload your new design, and fill out the required fields.
2. In the Select Products section, filter down the products to Add Apparel, Home and Accessories→Apparel→Men's.
3. In the Men's dropdown, check the boxes for "Sweatshirt – Classic Fleece," "Pullover Hoody – Classic Fleece," and "Zip-Up Hoody – Classic Fleece."
4. Complete the product creation process.
Method 2: Add Them to Existing Designs
1. Navigate directly to the Classic Fleece Sweatshirt, Pullover Hoody, or Zip-Up Hoody product page in your Artist Dashboard.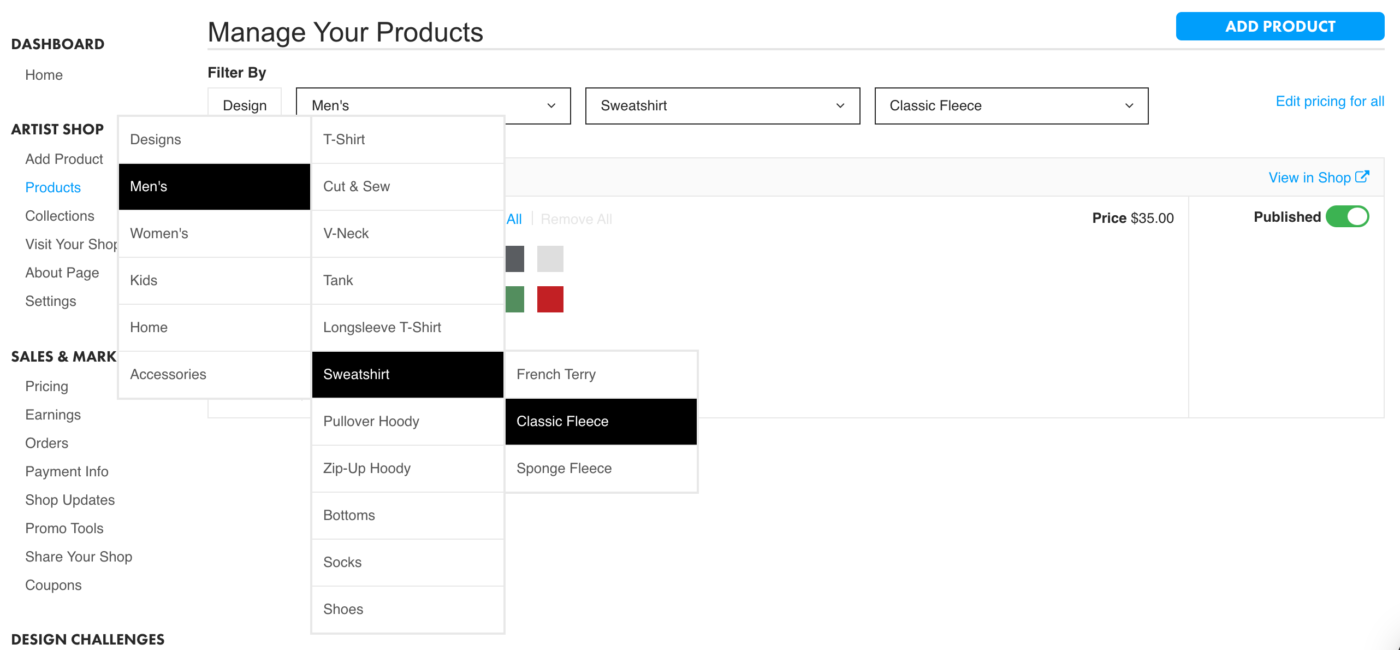 2. Go to one of your existing designs. Then, select the specific product colors you want to add, or click "Add All" to make all colors available for your design.
3. Click "Add Product." Repeat steps 1–3 for each Classic Fleece style.
After You Add Classic Fleece, Let Everyone Know!
Your friends, followers, and customers will be excited to know that your shop is now offering more size-inclusive apparel. Don't leave it up to them to discover Classic Fleece on their own. Here are a few ways you can get the word out about your new Sweatshirts, Pullover Hoodies, and Zip-Up Hoodies.
Add them to your Homepage Collection. This is one of the first things your visitors will see when they enter your Artist Shop. Read our Creative Resources post about the many ways you can customize your homepage.
Feature them in your email newsletter. Don't have one? That's okay! We can help. Read our posts on how to build the perfect newsletter and strategies for email marketing.
Post about them on social media. Use the promo tools feature in your Artist Dashboard to download images of your Classic Fleece Sweatshirts, Pullover Hoodies, and Zip-Up Hoodies. Then, share your new promotional images on social media. Don't forget to link to your Artist Shop!
---
Size-inclusive apparel is only one of the reasons why people love selling their art on Artist Shops. For over 20 years, we've partnered with hundreds of thousands of artists to promote and bring their independent art to millions of fans around the world. Your art deserves a trusted partner who cares. Our Threadless–powered platform allows you to fully customize your own online storefront. Plus, it's free to use and only takes minutes to start selling your art on hundreds of print-to-order products. Join Artist Shops today!
Related Posts