Summer is a time of warmth, adventure, and endless possibilities. As an Artist Shop owner, summer collections and product drops enable you to tap into the vibrant energy of the season. By aligning your shop with summer trends that suit your brand, you can capture the attention of a wider audience and evoke a sense of relevance and connection. This helps you establish a stronger rapport with your followers, which leads to increased engagement, repeat purchases, and a loyal fan base.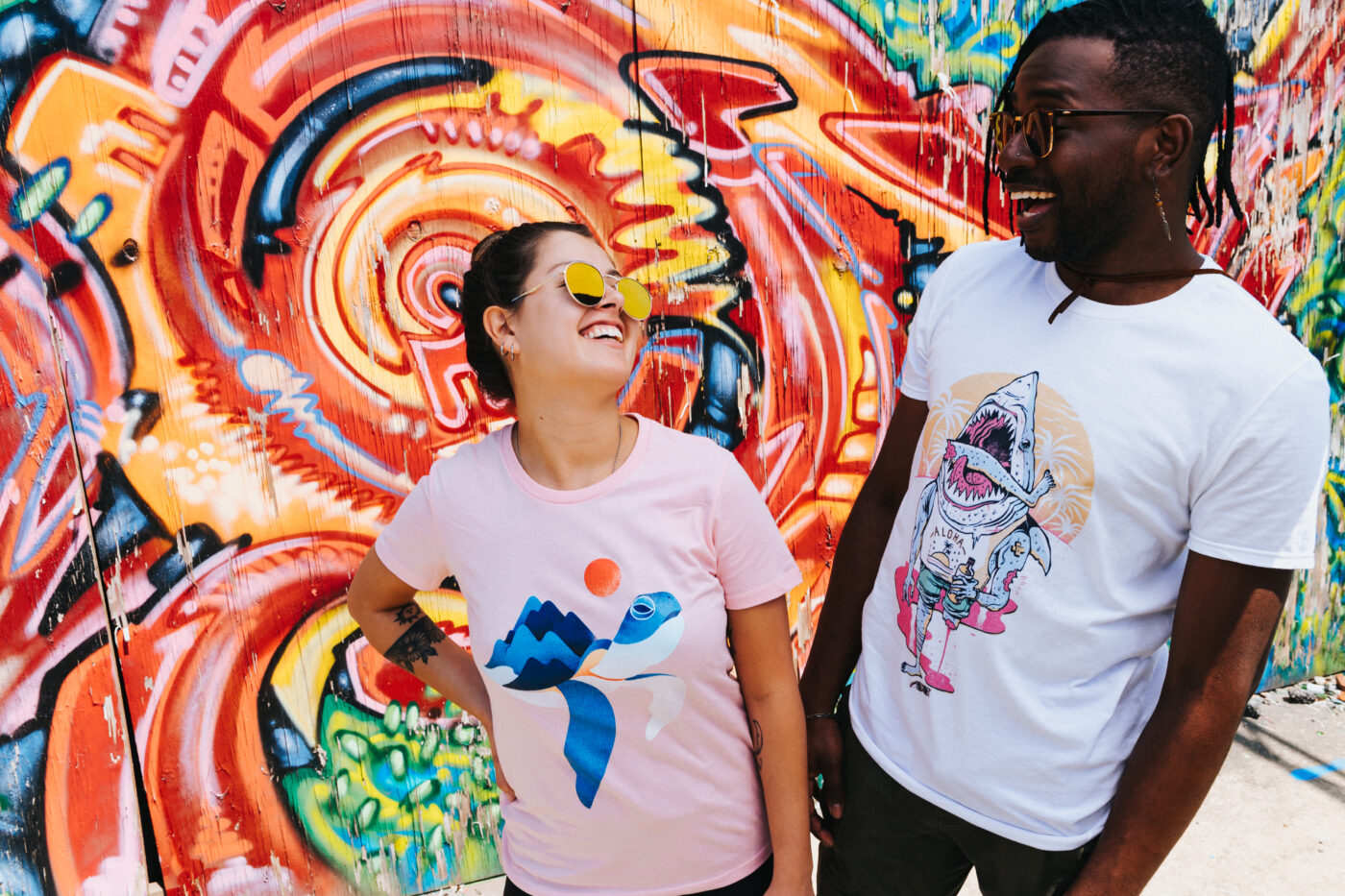 In this post, we'll provide tips on how to create successful summer collections and explore ways in which they help grow your brand.
---
TABLE OF CONTENTS
---
I. Identifying Summer Trends
The trick to spotting trends isn't really much of a trick. The online spaces you probably already frequent—Instagram, TikTok, apparel websites, digital magazines—are useful in determining the looks and styles that are currently grabbing people's attention. Rely on these platforms to explore fashion and design trends, paying attention to the most commonly used colors, patterns, and motifs. By staying informed, you can infuse your designs with a contemporary flair that resonates with your target audience.
Through our own market research, our team assembled a list of trends that have been gaining momentum this summer. You'll notice classic themes that are always popular this time of year, alongside emerging trends that are more unique to the last few years. Let's take a look at what's hot this summer.
---
Retro Revival
Did you notice the resurgence of Y2K-era fashions that swept over TikTok recently? Interestingly, younger generations tend to get secondhand nostalgia for trends they were too young to experience themselves. Many of these retro styles translate especially well to summer collections, from the trippy, neon-drenched psychedelia of the '60s to the vibrant color-blocking of the '90s. These types of retro patterns and motifs naturally bring a summery vibe to your shop.
---
Tie Dye
Speaking of retro styles, tie-dye t-shirts have made a major comeback and continue to be a popular trend in summer fashion. PRO TIP: If you'd like to replicate this style in your Artist Shop, you can create makeshift tie-dye shirts using our Cut & Sew T-Shirt template. First, create an original tie-dye pattern to fit the template. Then, drop your t-shirt graphic over the pattern. Using this method, you can create an entire tie-dye collection featuring your most popular designs!
---
Pastel Paradise
Soft and dreamy pastel colors continue to be popular for summer. Think delicate shades of lavender, mint green, baby pink, and sky blue. Using these colors in your designs will give them a serene and whimsical allure.
---
Botanical Prints
Botanical prints have gained significant popularity in recent years by capturing the essence of nature and evoking a sense of tranquility and harmony. With their versatility and timeless appeal, botanical prints have become a go-to choice for those who have a deep appreciation for the natural world.
---
Fruits and Summer Foods
As people seek to express their love for summer and embrace a sense of indulgence, graphic designs featuring fruits and other foods provide a delightful and visually appealing way to capture the essence of the season. These designs tap into the joyful and playful spirit of the season, bringing a sense of freshness and whimsy to various products and apparel.
---
Keep in mind, these are just a few of the summer themes that are trending in 2023. Through your own research, you may discover other emerging trends that better suit your brand's aesthetic and resonate with fans of your art.
---
II. Applying Trends to Artist Shops Products
Once you've identified summer trends that fit your art style and pique the interest of your followers, it's time to start making new designs inspired by those themes. During your creative process, envision how your art will look on products that are in-season. Create designs that will fit nicely on summer essentials such as t-shirts, tank tops, beach towels, and more. Here are a few approaches you can take while crafting your summer designs.
Match the Theme to the Product: For example, if you're making tropical-themed graphics and patterns, those would make a lot of sense on a tank top or beach towel. Or, if you're focusing on outdoorsy themes like camping or hiking, maybe design a backpack or drawstring bag. Use our product templates to ensure your graphics fit on these items the exact way you want them to.
Embrace Vibrant Colors and Playful Motifs: Use lively and energetic colors that symbolize the vibrancy of summer, along with playful and engaging motifs that resonate with the season's spirit. Create designs that look appealing on a variety of garment colors. The summer season tends to bring out bolder, more adventurous looks.
Experiment with Typography: Really drive home the message of your designs with words and fonts that align with the current season's aesthetics.
---
III. Creating Cohesive Summer Collections
The Collections feature in your Artist Dashboard allows you to make a unique landing page in your shop dedicated to designs and products that share a common theme. To maximize the impact of your summer collections, it's crucial for them to have a cohesive look and feel that enhances the shopping experience for your customers.
Here are three essential steps to follow while assembling collections for your Artist Shop.
---
Build your collection around a specific theme or concept.
Of course, it's perfectly fine to have a general summer collection. But narrowing down the theme to something more specific—like "beach essentials," "summer fruits," or "festival season"—will allow your collection to tell a more compelling story. Align your collection's theme with your brand's voice and target audience to establish a deeper connection and resonance.
---
To maintain consistency, develop a visual style that reflects your collection's summer theme.
One way to make your collection feel cohesive is to feature designs with similar colors. Establish a palette that complements your theme and evokes the emotions and sensations associated with the season. Use warm and energetic colors that symbolize the vibrancy of summer, such as shades of yellow, orange, and turquoise.
---
Optimize your collection for SEO with summer-inspired keywords.
Do not skip this step! By using relevant keywords and crafting compelling descriptions for your products and collections, you can attract organic traffic to your shop and increase your visibility on Threadless (if your designs are selected for the marketplace). Visit our Artist Shops Help Page for guidance on tagging your designs and optimizing your shop for SEO.
---
IV. Launching and Promoting Your Summer Collections
Launching your summer collection should be an exciting and buzzworthy event. Build anticipation among your audience by teasing the collection on social media and your website. Offer exclusive sneak peeks to create a sense of exclusivity. Leverage the power of social media platforms to showcase your designs and engage with your audience. Encourage them to share their excitement and generate buzz around your collection.
---
V. Embrace Creativity and Experimentation
As you embark on creating your summer collections, allow yourself to experiment. Summer is a season of freedom and exploration, so don't be afraid to push boundaries and try new things. Explore different artistic techniques, mix and match patterns and colors, and infuse your unique style into your designs. By embracing creativity and experimentation, you have the opportunity to create truly one-of-a-kind summer collections that stand out from the crowd.
---
The potential of summer collections is immense. By leveraging the power of seasonal trends and your artistic abilities, you can captivate your audience and make this season a truly successful one. Channeling popular trends (when it makes sense to—don't force it!) is an effective strategy for getting more eyes on your art and customers in your shop. So, get ready to dive into the world of summer-inspired designs, and watch your creativity bloom under the warm sun of artistic opportunity.
---
Don't have an Artist Shop yet? It only takes minutes to build your own stand-alone e-commerce merch store featuring your digital art on hundreds of popular products. (Did we mention our platform is FREE to use?) Sign up today and start building your own seasonal collections.
Learn more promotional tips and strategies at Creative Resources.
Related Posts