Halloween isn't just a one-night affair. For many, it's a season, a mood, a lifestyle. For Artist Shop owners, the haunted holiday offers a thrilling opportunity to connect with customers in the most imaginative ways. Creating Halloween collections taps into the enthusiasm of the season, drawing in shoppers keen on expressing their ghostly vibes.
Today, we're diving into the crypt to unearth some of the most spellbinding Halloween collections at Artist Shops. We hope their creativity will inspire you to haunt your own shops with wickedly awesome designs.
---
Matt Darling gets existential for Halloween.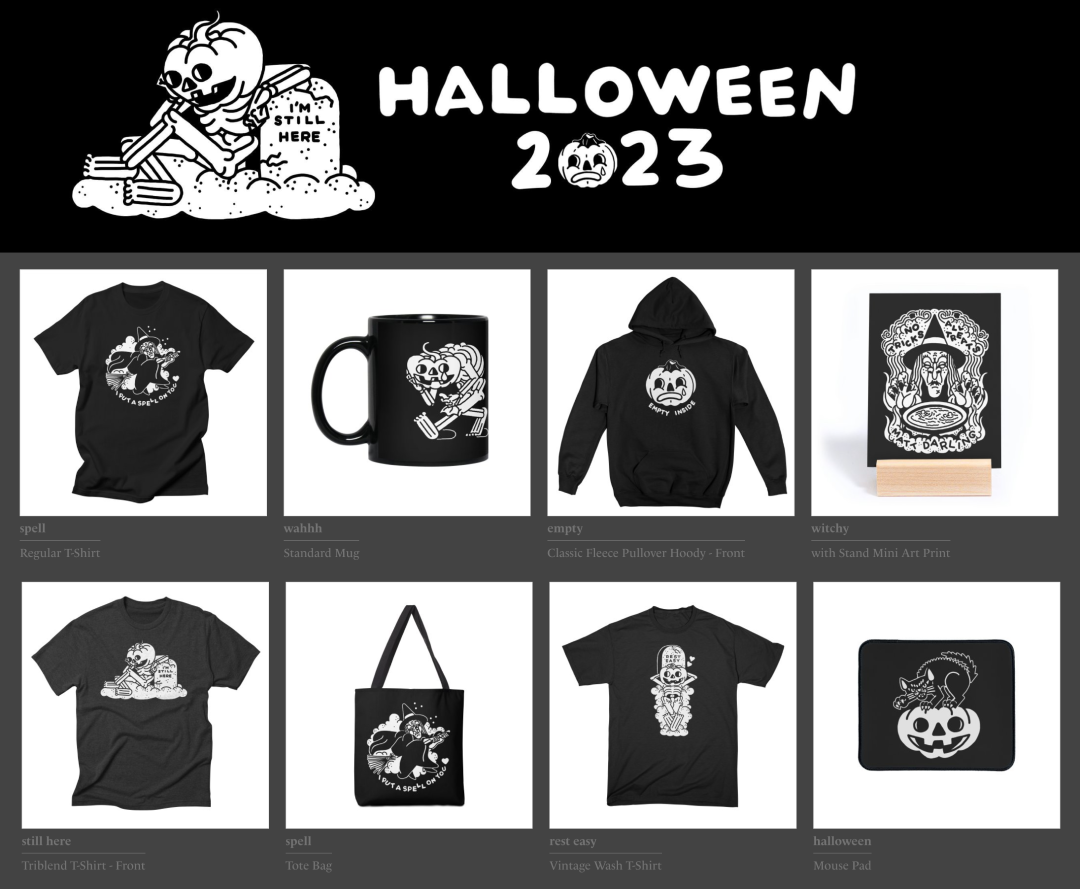 Matt Darling is the embodiment of turning darkness into light, both metaphorically and through their artwork. Known for existential themes and soul-bearing honesty, they take a similar approach for their Halloween collection. These designs turn classic symbols into art pieces that both haunt and inspire. This is an example of how to stay true to your style while also capitalizing on the trends of the season.
---
von Kowen balances darkness and quirkiness.
Some art styles just naturally lend themselves to spooky season, which is the case for von Kowen. Though her shop is already a graveyard of skeletons, black cats, and cult symbols, she updates her normal black-and-white color palette with orange and purple, and incorporates more explicitly Halloween imagery in her collection. Beneath the gothic layers lies a vein of dark humor that is both quirky and infectious.
---
Rob and Steph Sheridan celebrate Halloween 365 days a year.
Rob and Steph Sheridan's brand, Glitch Goods, effortlessly melds horror, sci-fi, and the intriguing world of glitch art. Their year-round Halloween collection focuses on the fall activities that many of us enjoy this time of year—watching scary movies, carving jack-o-lanterns, and decorating your 12-foot skeleton. This collection feels like a broken VHS tape found in an old haunted house (in the best way possible).
---
Pepe Rodríguez makes creepy seem cute with kawaii influences.
Pepe Rodríguez describes himself as a "graphic designerd" who has an obsession with Japanese art, pop culture, and generally spooky stuff. Those influences bleed into his Halloween collection, which features designs that portray retro monsters—including vampires, zombies, and witches—with a bubbly kawaii aesthetic. These reimaginings are the perfect balance of creepy and cute.
---
Hillary White Rabbit brings the '80s back from the dead.
Hillary White Rabbit's Halloween collection is a time machine blending retro elements with today's aesthetics. With a visual style that harks back to old comic books, movies, and 1980s pop culture, Hillary channels a sense of nostalgia while making every design feel freshly brewed for this year's Halloween.
---
Each of these artists brings their unique vision to the spookiest time of the year. Let their passion and creativity spark your own Halloween inspiration. Remember, the dark corridors of imagination hold endless possibilities.
Need help building Halloween collections in your Artist Shop? Learn how to use the collections feature in your Artist Dashboard and tag your designs with relevant keywords to optimize your shop for SEO. Tagging will also make it easier for Threadless shoppers to find your designs if you get selected for the marketplace.
Related Posts