A graphic tee's primary function is to clothe the wearer's body. An art print's primary function is to showcase the art itself. Of all the popular products you can sell at Threadless Artist Shops, art prints are the most natural way for your followers to showcase your art. With an extensive selection of high-quality wall art options for your shop, you can offer your fans a variety of print styles to fit their unique living space and preferences.
From space-conscious Mini Art Prints to sleek Acrylic Prints, every piece of wall art at Artist Shops is made from premium, if not museum-quality, materials. This commitment to quality ensures that the colors remain vibrant, the details crisp, and the longevity of your artwork preserved for years to come.
Let's take a closer look at the remarkable assortment of wall art options you can sell in your Artist Shop.
---
TL;DR Quick Guide
Don't have time to sift through the nitty gritty of all our wall art options? Here's a condensed overview of what each of these print styles offers your customers:
---
Mini Art Prints with Optional Stand
Mini Art Prints are a compact and versatile way to decorate small spaces with vibrant artwork. They're great for adding a touch of personality to cubicles, dorm rooms, or cozy corners. With the option to include a stand, these prints can also be displayed on shelves or desks, providing flexibility and enhancing the overall aesthetic of any room.
120lb premium hot press paper
Optional poplar wood stand
Available print sizes: 3″x4″, 4″x3″, and 4″x4″
Stand dimensions: 2.75″x0.75″
---
Mini Framed Art Prints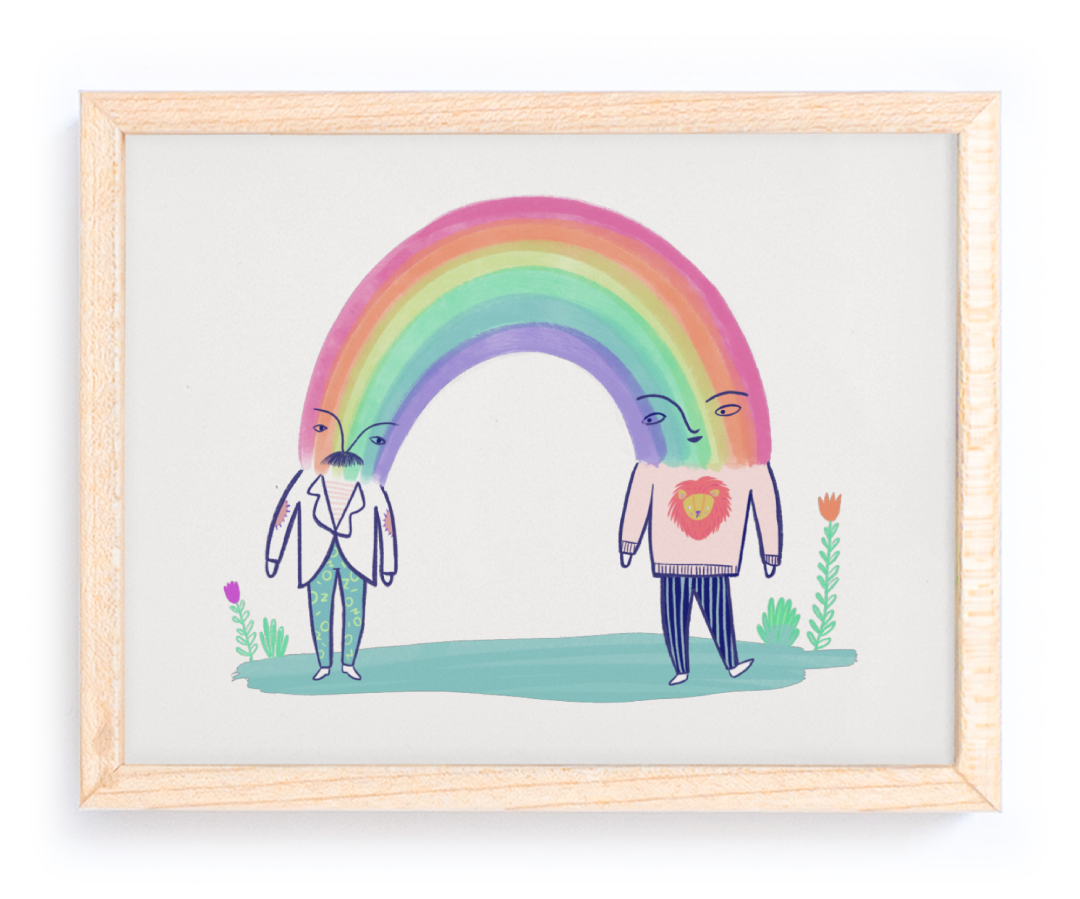 These handsomely framed miniature prints allow for cute and elegant wall arrangements that elevate any space. Their economical size is perfect for creating art displays in small nooks, clusters, or gallery walls, showcasing your art in a charming and sophisticated manner. Their 1.25″ deep frames also enable them to stand on their own.
Available frame colors: White, Black, Natural Hardwood, and Walnut Hardwood
Premium acrylic cover for UV protection
120lb premium hot press paper
Hole on the reverse side for hanging (hanging hardware not included)
Bespoke custom production with each order
Available sizes (including frame): 3″x4″, 4″x3″, and 4″x4″ (1.25″ deep)
---
Fine Art Prints
Fine Art Prints enable your customers to bring museum-worthy art into their homes. These prints use high-resolution printing techniques to ensure every intricate detail and vibrant color is faithfully preserved. With their archival-grade materials and professional finish, these prints not only transform walls into captivating galleries, but they're also a lasting investment that art enthusiasts can cherish for years to come.
100% cotton hot-press, acid-free white paper
Ultra-smooth finish
Dye sublimation heat transfer printing for crisp colors
Available print sizes range from 8″x10″ to 24″x36″
Available in portrait or landscape
---
Framed Fine Art Prints
Combining the beauty of Fine Art Prints with expertly crafted frames, these ready-to-display pieces exude elegance and sophistication. The frame not only enhances the artwork's aesthetic appeal, but also provides a convenient and hassle-free way for customers to showcase their favorite pieces.
100% cotton hot-press, acid-free white paper
Ultra-smooth finish
Dye sublimation heat transfer printing for crisp colors
1.25″x0.75″ wooden frame available in matte black or white
Available print sizes range from 12″x14″ to 30″x42″
Available in portrait or landscape
---
Canvas Prints
Canvas Prints naturally blend in with most decor styles with a classic look that's timeless. The texture and depth of the canvas material add a tactile element, bringing the artwork to life and creating an alluring visual experience. Their durable construction also enables them to be hung or displayed without the need for framing.
Digital glicée print on white canvas
Unprinted canvas edging
Archival ink with ultra-smooth finish
Dye sublimation heat transfer printing for crisp colors
Available print sizes range from 8″x10″ to 24″x36″
Available in portrait or landscape
---
Aluminum Prints
Aluminum Prints not only lend a modern and sleek aesthetic, but also ensure long-lasting durability. A unique printing process infuses your artwork directly onto a lightweight aluminum panel, resulting in vibrant colors, sharp details, and a metallic sheen that attracts the eye.
Super sleek and lightweight at 1/16″ thick
Bend- and water-resistant
Dye sublimation heat transfer printing for crisp colors
Wire or saw-tooth hook on the back for easy hanging
---
Acrylic Prints
With high-quality HD premium photo paper mounted to the back of a clear acrylic panel, these prints showcase every intricate detail with remarkable clarity and depth. Their contemporary look and feel instantly commands attention, transforming walls into immersive art displays.
Printed on high quality HD premium photo paper
Mounted to back of 0.25″ thick clear acrylic substrate
Arrives ready to hang
---
Tapestries
Tapestries deviate from the traditional art print with lightweight fabric in the place of paper or canvas, allowing your customers to mix up the textures in their art displays. With metal grommets on each corner, they're easy to hang and can cover a significant amount of wall space, infusing home decor with a touch of bohemian charm.
100% lightweight indoor polyester sheeting
Metal grommets on each corner for easy hanging
Available in three sizes: 26″x36″, 50″x59″, and 59″x89″
Machine washable
---
Skateboards with Hanging Hardware
Skateboards present your customers with a unique and dynamic way to showcase your art while adding an edgy touch to their space. These stylish pieces serve as both wall decor and functional skateboards. With the included hanging hardware, your customers can easily display these skateboards on their walls, creating a visually striking statement.
Unassembled clear, polycarbonite Sk8ology deck
Stainless steel hanging hardware
One-screw drywall anchor installation
Griptape, wheels, bearings, and trucks not included for decks only
---
Whether your fans are drawn to the timeless elegance of framed prints or the off-the-wall style of skateboard decks, you can meet their unique preferences with a diverse array of print styles available for your Artist Shop. The Threadless team is always exploring opportunities to expand the wall art options in your shop, so check back for updates!
Related Posts