The Managed Email Marketing setting in Artist Shops takes the time and effort out of email marketing so you can focus on what you do best: creating new designs for your shop. When you activate this setting in your Artist Dashboard, Threadless will automatically send support marketing emails to your existing customers to help you connect with your audience, increase your sales, and expand your reach.
To opt into Managed Email Marketing, go to your shop's Management Settings and turn on "Let Threadless send email marketing communications to my customers."
---
"But wait, isn't email marketing dead?"
Far from it. Despite social media becoming the preferred mode of communication for many online users, email marketing is actually a GROWING industry.
There are approximately 4 billion email users in the world today, and experts expect that number to rise to 4.6 billion by 2025.1 Many companies are actually planning to spend more on email marketing in the near future. That's because, according to data collected by Thrive My Way…
✓ The return on investment (ROI) for email marketing is 4200%. That number is not a typo.
✓ An average email campaign converts 40% better than a Facebook or Twitter post.
In other words, email marketing is still one of the most powerful and productive channels to grow your sales, better engage your current customers and fans, and reach new customers. It keeps your shop top of mind for your customers the next time they want to treat themselves.
---
Everything You Should Know About Managed Email Marketing
Through strategically timed emails and varied content, the primary function of Managed Email Marketing is to build stronger relationships with your existing customers and prospective shoppers who sign up for your newsletter. It drives engagement by targeting an audience that's interested in your work and most likely to buy from you.
---
What Managed Emails Look Like
Emails sent from Threadless to your customers feature branding pulled directly from your Artist Shop. This makes it especially important for you to fully personalize your shop with customizable features including a logo and banner.
The Anatomy of Managed Emails
Shop logo
Custom banner
Additional promo imagery, which can include a sale banner or design/product from your shop
Promo messaging
Call to action linking directly to your shop
Featured Shop: Glitch Goods by Rob Sheridan
---
Types of Emails Your Subscribers Will Receive
Delivering a wide range of content keeps your followers interested in your shop and helps prevent them from clicking that infamous "unsubscribe button." Managed Email Marketing not only sends emails about your sales and promotions, but also informs subscribers about the exciting new designs and products you add to your shop.
Here are some examples of emails that Threadless will send to your newsletter subscribers if you opt into Managed Email Marketing.
Targeted Sale and Promotion Emails alert your customers about upcoming or ongoing sales.
These communications are only activated for shops opted into managed pricing. Customer segments for these emails are curated to produce the best results for each offer.
Cadence: typically 1–2 emails per month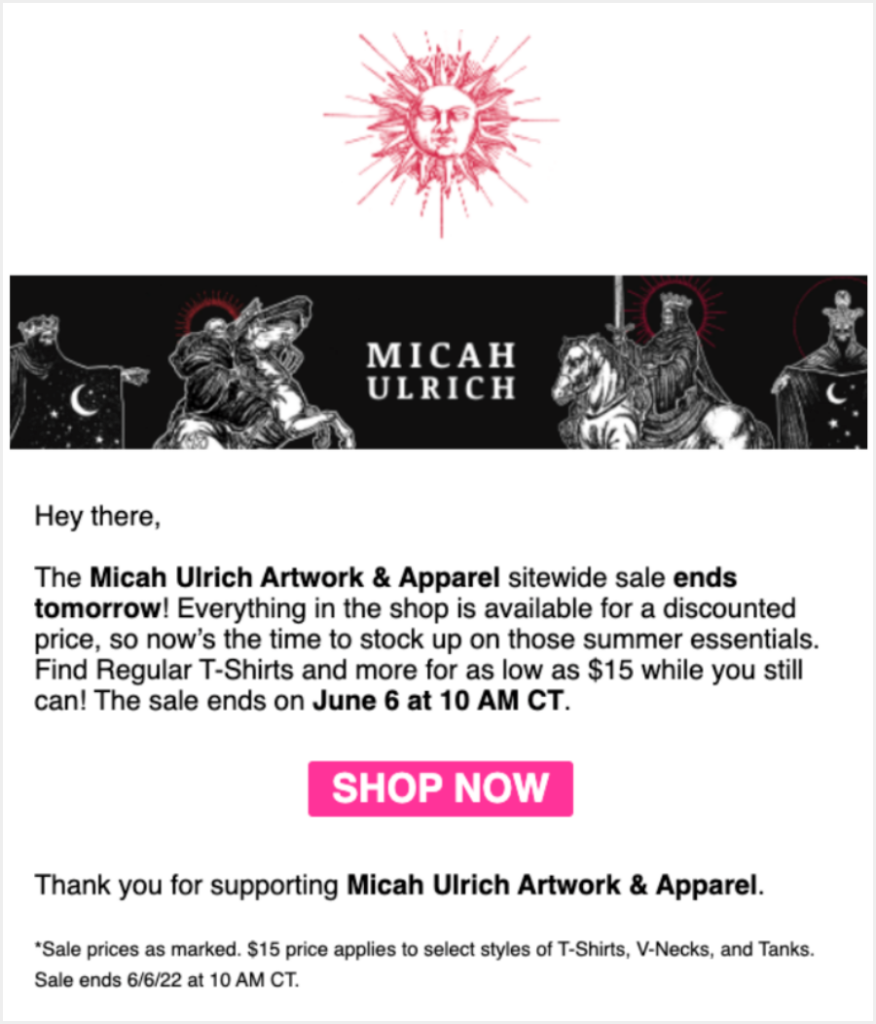 Featured Shop: Micah Ulrich
---
New Product Announcements share product education and links to new offerings in your shop.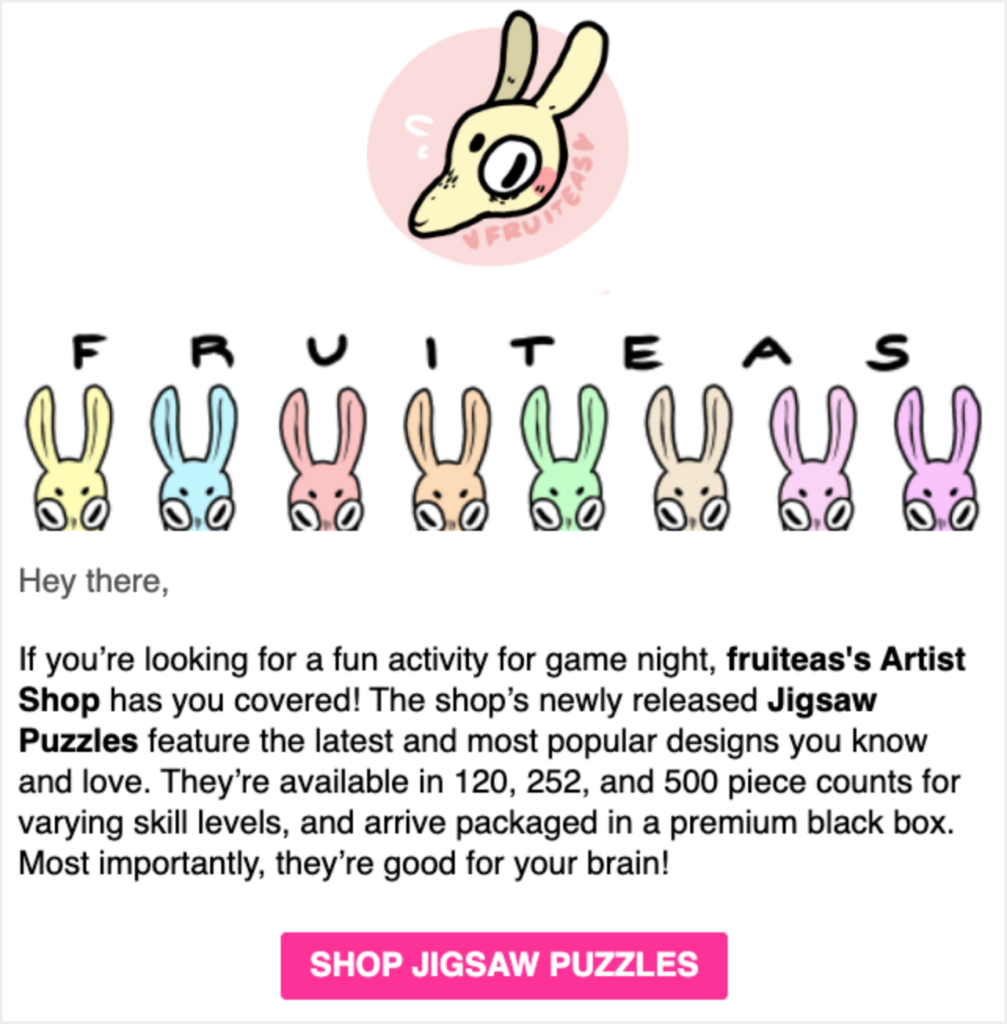 These emails are only activated if you have the new product style we're featuring added to your Artist Shop. Keep an eye out for new product launches!
Cadence: typically 1–2 months after a new product release
Featured Shop: fruiteas
---
New Design and Collection Emails highlight recent uploads in your shop and feature an image of the new design or collection.
We recommend adding 1–2 new designs each month and a couple of collections throughout the year for these emails to be the most effective.
Cadence: varies, typically 1-2 emails every 3 months
Featured Shop: lxromero
---
Automated Marketing Campaigns aim to increase conversions when visitors take specific actions in your shop.
For example, a Welcome Email will automatically send to your followers when they sign up for your newsletter. Other campaigns include Abandoned Cart and Abandoned Browse.
Cadence: triggered by your customers' browsing behaviors
Featured Shop: Tiny Bakery
---
Newsletter Signup Popup Brings in NEW Customers
If Managed Email Marketing primarily targets followers who've already purchased something from your shop, how exactly does it expand your reach? Good question! When you activate this setting, it adds a popup to your shop that encourages newsletter signups. That means anyone can sign up to receive your Managed Emails regardless if they've made a purchase or not.
Visitors who sign up on their own are extremely interested in what you do and are more likely to convert into new customers. Building your email list is one of the foundational ways to grow your business.
In addition to Managed Email Marketing, you can also integrate your own third-party email newsletter into your Artist Shop. Visit our Help Page for step by step instructions.
---
Come back to Creative Resources to learn more about Artist Shops features that help independent artists sustainably grow their business. Don't have a merch store yet? It only takes minutes to launch your own online shop and make your art available to buy on hundreds of products. Plus, Artist Shops is free to use!
---
FOOTNOTES: 1. Thrive My Way: 99 Important Email Marketing Statistics, Facts, and Trends 2022
Related Posts