After you've spent all that time making your homepage look awesome, tweaking your shop's SEO, and setting up all of your social media accounts, it can feel discouraging when your products aren't flying off the shelves like you want them to. So what's an Artist Shop owner gotta do to get more sales? That's the question of the century.
Back in 2017, our team shared 8 Reasons You Might Not Be Seeing Sales, offering tons of advice that's still helpful today. We're going to revisit many of those topics with fresh examples, new resources, and even more tips on how to fuel your shop's sales. VROOM VROOM.
---
1. Design around topics and themes that are trending right now.
Of course, making art that's timeless will benefit your shop in the long run, but riding the wave of current trends and topical themes can be an effective way of getting shoppers in the door. Our team has discovered over the years that designs relating to relevant pop culture or current events tend to sell really well.
One of the all-time-best examples is Shing Yin Khor's "Four Seasons Total Landscaping," which pokes fun at a highly publicized gaffe by Donald Trump's 2020 presidential campaign. While the embarrassing press conference was still fresh in everyone's minds, Shing created and tweeted out their funny t-shirt, and it ended up going viral. Not only did it become the year's top-selling Threadless design, but it also raised more than $170K for BIPOC voting rights organizations.
What we learned is that immediacy is key. Take advantage of trending topics while the internet is still buzzing about them. Creating designs around topical memes, references, or social movements opens you up to a wider audience. It also gives you opportunities to promote your designs using trending hashtags on social media.
Above are two more examples of art inspired by trending topics. Nic Squirell's "Peace for Ukraine" raises money for victims of the Russia-Ukraine conflict and is the top-selling design of the last 30 days.
Meanwhile, "No Bones Day" by Fox Shiver captures the essence of viral TikTok star and 13-year-old pug Noodle. If you were to promote this particular design on social, you could use the popular hashtag #nobonesday to target Noodle's fanbase.
---
2. Rally around a cause.
Through Threadless Causes, you can donate a portion of your proceeds from the sale of any design in your shop to a Cause and charity of your choice. First and foremost, this fundraising initiative is a way for you to spread good around the world with your art. But it can also benefit your shop in a variety of ways, including driving engagement.
Examples of Causes designs donating to charity
According to Forbes, shoppers under the age of 40 prefer to give back through where they shop. Promoting your Causes designs and sharing your fundraising mission can make your shop more appealing to younger generations who are especially motivated to help others. This not only encourages purchases, but also fosters long-term brand loyalty.
Additionally, the more Causes designs you add to your shop, the more likely you'll earn a feature in Threadless promotions (your shop must be opted into the marketplace). This type of increased visibility can potentially boost your sales.
During the week of Earth Day this year, Threadless promotions highlighted designs supporting our Environment and Animals Causes. You may have noticed that our homepage featured skitchism's "Okay," which donates to the World Wildlife Fund.
In addition to the marketplace, your Causes designs could appear in email newsletters, social media posts, or articles on the Threadless Blog. For example, Gintron's "Birds with Arms" recently appeared in a Threadless email promoting a sitewide sale.
---
3. Stick to a consistent style.
Most of the top-selling Artist Shops have one thing in common—a distinct, instantly recognizable style. If a new customer loves a design of yours enough to visit your shop, they'll most likely want to find more designs that have a similar aesthetic and tone. We've seen that consistency will not only help sales, but also make your brand more easily identifiable.
Here are a few examples of artists who keep their style consistent across most of the designs in their Artist Shops. If you're a fan, you know exactly what to expect when you visit these shops.
If you like to experiment with different art styles and themes that may not fit perfectly with your brand's overall aesthetic, that's totally cool too! You can group those designs into separate Collections in your Artist Shop.
---
4. Post high-quality content as often as possible on social media.
It's easier said than done, but you have to post more than just once every few days to stand out in social feeds. Keep in mind, posting often doesn't mean you have to share a new piece of art every day. That would be impossible.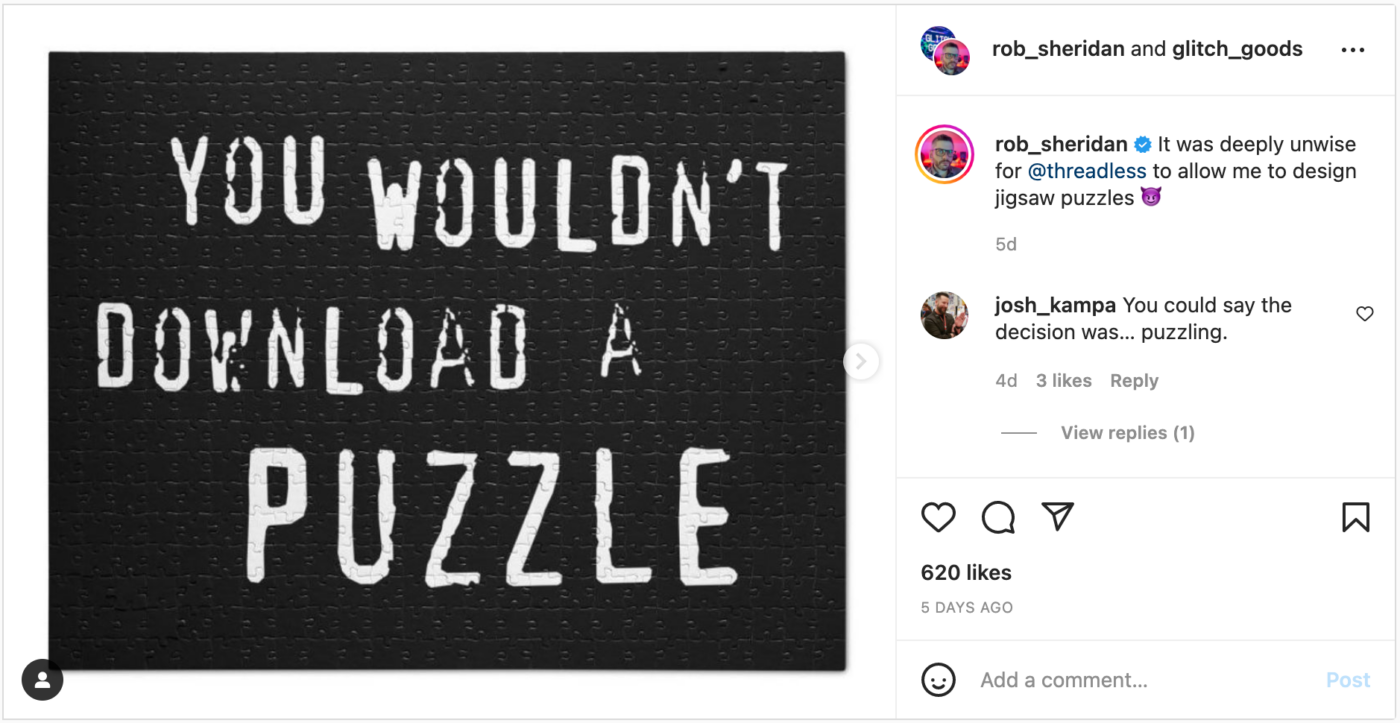 Instead, focus on making content that humanizes your brand and shows your audience things they'll enjoy. If they feel like they know you as a person, they'll be more willing to buy from your shop. Here are some ideas for driving engagement and keeping your audience interested in your feed.
Show a work-in-progress across multiple posts. Begin with a sketch and end with a finished work art. Then, link to the design in your shop.
Post polls. Pop culture-related questions like "Star Wars or Star Trek?" are a surefire way to get people commenting and engaging with your social accounts.
Run a giveaway. Who doesn't like free swag? Include instructions like "Leave a comment and share this post for a chance to win!" This will help generate even more engagement.
Observe special days. If it's National Cookie Day, that's the perfect time to post about that one cookie design in your shop.
Share images of followers wearing your merch. Fans are always stoked to get a shoutout. Plus, this is a way of showing that your products are worth purchasing.
Whenever you post about your Artist Shop, don't forget to tag Threadless for a potential repost. You can also add Threadless as a branded partner on Instagram if you'd like a chance for our social media team to boost your promotional posts as Branded Content ads.
Read more strategies on how to create engagement-worthy content on social media.
---
5. Participate in Design Challenges.
Design Challenges are a way for you to step out of your comfort zone, overcome creative blocks, and test your skills. Plus, each challenge is an opportunity for you to receive additional earnings.
Even if you don't win, submitting designs can help drive traffic to your Artist Shop. Hundreds of Threadless community members view and score submissions every day. If they really like your art, there's a chance they'll want to purchase your designs and seek out more, regardless if you win. Design Challenges are a fun way to discover artists!
---
6. Keep the new designs coming.
There are multiple benefits to adding new designs to your Artist Shop on a frequent basis. First off, it gives your followers a reason to continue visiting your shop to see what's new. Otherwise, they might lose interest and stop checking back. Our data shows that sales typically slow to a halt in shops that haven't published a new design in while.
Secondly, if you're opted into the Threadless marketplace, adding new designs on a frequent basis will make your art more visible in marketplace searches filtered by "New." Be sure to properly tag all of your designs with relevant keywords so it's easier for potential customers to find your designs and discover your shop.
Thirdly, every new design you add is another excuse to reach out to your followers on social media. You could even tease your new designs across a series of posts to build excitement before you officially drop them. Make it feel like a special event!
---
7. Don't be afraid to ask for feedback.
If your designs aren't selling, consider visiting our Threadless Artists Facebook group or forums to ask fellow Artist Shop owners for advice. Our upcoming server on Discord will also be a place where you can have discussions about our art. Keep an eye out for more details!
Our community is full of artists who are willing to help you figure out what's not working. For example, after submitting designs for years with minimal success, artist Nicholas Wolf went to the forums for help. Using the feedback he received, he submitted a new design that ended up winning a Design Challenge!
"I can understand peoples' hesitation to share something personal, but if there is one thing I cannot stress enough, it's that you can only soar so high on your own wings. We all have something to learn from each other, whether you're new at your craft or a seasoned master, and if you never allow yourself to be helped you will never achieve your true potential."

– Nicholas Wolf, Artist Shop owner
It's also useful to get ideas directly from your followers. If you post about a new product and your fans give you feedback like "I wish this was on a blue t-shirt," make it happen! Also, don't forget to reply to their comment with a link to the product they asked for.
For example, in response to a similar request, shop owner The Mannequin made their "Makeup Wipe" design available on a wider variety of products and posted about it on TikTok. Give the people what they want!
---
8. Grow your audience.
The bigger your following, the more people you can direct to your Artist Shop to generate more sales. Growing your audience isn't easy, but you can do it a lot quicker than you might think with the right strategies. Here are just a few tips:
Reach out to bloggers and influencers. This method has proven to be successful for many businesses. For example, Finch Co. quickly made over $300 after they got in touch with a blogger who writes about the same subject as one of their t-shirt designs. The blogger published a writeup on the t-shirt, and the sales started rolling in.
Collaborate with other artists. When you work with fellow creators, you gain access to their audience. This is a great way of attracting new followers.
Create contests and giveaways. Back in 2017, artist Earth to Monica grew from 8,000 followers to 18,000 on Instagram in just two months. One of the strategies she used was running giveaways. Today, she has almost 40,000 followers.
Run Facebook Ads. Is it still worth advertising on Facebook in 2022? The short answer is "heck yeah!" As The Social Shephard describes, Facebook has 2.74 billion monthly active users, making it the third-most visited website behind Google and YouTube. Facebook Ads enable you to microtarget the users who are most likely to purchase your products (ex. advertising your cat designs to cat people). As an added benefit, your ads will also appear on Instagram.
Always keep in mind, marketing your shop to the wrong audience won't get you more sales. As you employ these strategies, always consider your core audience. Identifying who you're selling to is key in deciding everything from lifestyle photo themes to hashtags you use to bloggers you reach out to.
---
9. Further establish your brand identity.
Fans of your art want to get to know you better and figure out what you're all about. You don't have to reveal your entire life story, but sharing glimpses here and there will humanize your brand and help foster longtime supporters. In addition to adding an About Page to your Artist Shop, having a blog for your brand is a great way to showcase your personality with fun posts, style guides, shop updates, and other forms of creative content.
For example, Justyna Dorsz, owner of Fox Shiver and TRUFFLEPIG, regularly updates her personal blog where she discusses her creative processes, offers tips for fellow shop owners, and shares general updates on her life. This allows us to learn more about the human behind all of those funny and adorable cat drawings.
---
10. Don't ever, ever, ever give up!
Just like with any business, running a successful Artist Shop involves lots of trial and error. Just because your shop isn't raking in the dough right now, doesn't mean it never will. Not everything is an overnight success.
Speaking of Justyna Dorsz, in a previous Creative Resources post, she described how she went from not getting any sales to making $1,000–$4,000 a month at Threadless. That process took time and patience, but she stuck with it and became a successful Artist Shop owner. In Justyna's words, "…don't ever, ever, ever give up."
---
Want to sell merch but don't have an online store yet? It only takes minutes to build your own Artist Shop and start selling your art on hundreds of apparel, accessories, and home goods. Plus, the platform is FREE to use!
---
The feature image of this post is an adaptation of an illustration by Katie Lukes, which originally appeared in 8 Reasons You Might Not Be Seeing Sales. Many of the concepts and ideas covered in this post are from the same Creative Resources article by Carlyn Hill.
Related Posts