When it comes to displaying your art on apparel, the Cut & Sew T-Shirt might just be your most versatile canvas. From the bottom hem to the collar, you can cover every inch with your own art. Think far outside the traditional chest print while designing your t-shirts. If you're curious about how the printing process works, it's all in the name "Cut & Sew." Our manufacturing partner first cuts and prints each piece of your shirt separately, then sews the pieces together to ensure seamless, accurately placed graphics.
To get the best results, you must fit your design onto the Cut & Sew T-Shirt template. Refer to our Artist Shops Help Page for instructions on how to set up and upload your design files.
Once you've gotten the hang of using the template, the design possibilities are virtually endless. Your ability to place graphics anywhere on the shirt unlocks an array of unique design elements. You could create a shirt that looks like Jackson Pollock splashed paint all over it. Or, you could make a soccer jersey with a logo on the front and numbers on the back. You could even design a mummy wrap t-shirt for a Halloween costume. The Cut & Sew world is your playhouse, and we encourage you to play fashion designer.
If you're looking for somewhere to start, we've curated a list of design elements we think look great on the Cut & Sew T-Shirt. You can also peruse the Threadless Marketplace for even more examples of how you can stylize this versatile garment.
1. All-Over Repeating Pattern
Zebra print, tie dye, plaid, polka dots, camouflage, paisley. These are all stylish patterns that have stood the test of time. Remix one of these tried-and-true classics, or create an entirely new pattern of your own. If you want your Cut & Sew T-Shirt to speak the loudest, consider mixing patterns together and using bold colors.
2. Left-Chest Logo and Full-Back Print
This is a classic print style you've seen before, no question. Lifestyle brands use it. Fashion brands use it. Even bands use it for their merchandise. The small left-chest print is the perfect spot for a logo or emblem. Meanwhile, the back of the shirt gives you plenty of real estate to showcase your best work.
3. Contrasting Collar and Sleeves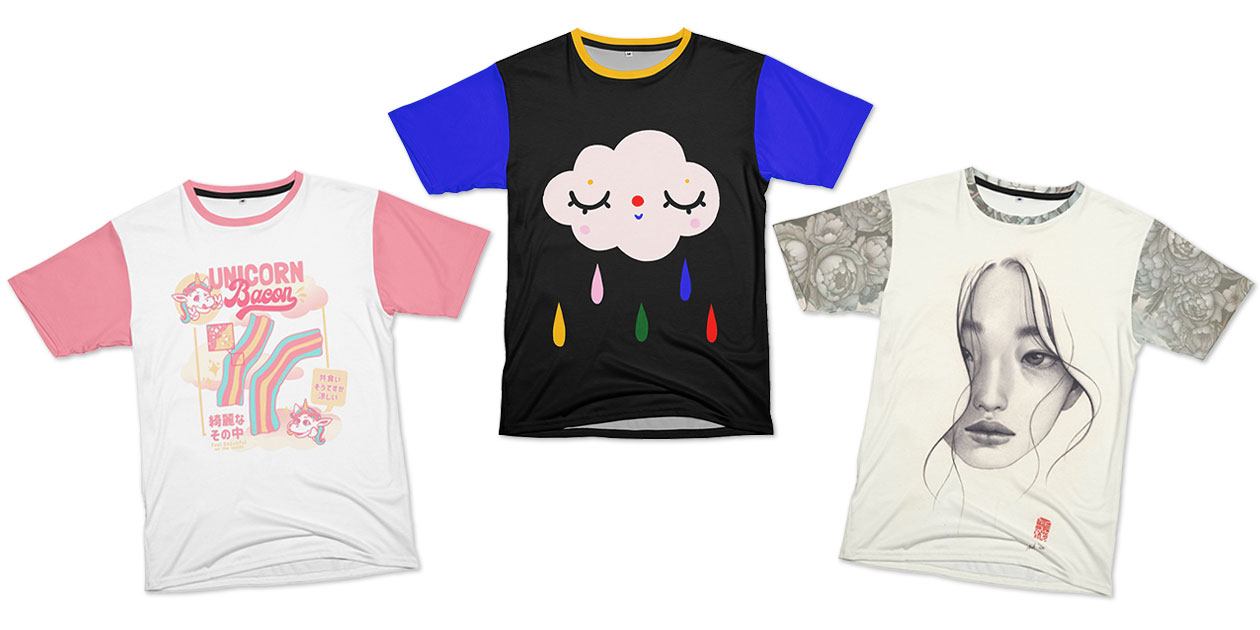 Similar to a ringer t-shirt, this throwback style harks back to fashions of the '70s and '80s. In addition to giving off retro vibes, a contrasting collar and sleeves direct eyes toward the center of the t-shirt. This is a great spot for one of your most popular designs.
4. Sleeve Graphics for Extra Flair
The sleeves on the Cut & Sew T-Shirt offer you an additional place for logos and other imagery. These complementary graphics can add a little flair to an otherwise basic shirt design with a standard chest print.
5. Wrap-Around Graphics
As we previously mentioned, you can put graphics anywhere on the Cut & Sew T-Shirt. This means you can create a design that wraps around the entire body of the shirt, uninterrupted. For example, FWMJ!'s "Black Sea" design shows a water scene that connects in an infinite loop around the shirt.
6. Low/Ribcage Graphics
Generally speaking, most t-shirt prints you see appear on the front and center of the chest. Creating a print design that instead stretches from the bottom hem to the ribcage automatically makes your Cut & Sew T-Shirt stand out from the rest. Plus, this type of large-scale graphic looks pretty damn cool.
7. All of the Above
You can mix and match any of the design elements above to create a Cut & Sew T-Shirt that will no doubt grab attention. Be as bold as you want to be, and let your imagination run wild.
---
Want to learn more about what makes the Cut & Sew T-Shirt so special? Read this Creative Resources post for in-depth details on the printing process, materials, and more. If you're interested in selling Cut & Sew T-Shirts but don't have an Artist Shop, sign up here. It only takes minutes to create your own online storefront and sell your art on hundreds of print-to-order products.
Related Posts