We're heading into uncharted T-Shirt territory. We're ecstatic to announce double-sided printing is now available for most styles of T-Shirt in your Threadless Artist Shop! Our artists have long requested alternative print locations for garments, and we're thrilled to offer this game-changing new feature. Double the print area means double the space to showcase your creativity! The ability for artists to add front, back, and crest prints to their tees exists exclusively within Artist Shops. No other print-on-demand brand offers the same level of creator control. We can't wait to see the inventive ways you design Double-Sided T-Shirts!
Alternative print locations are available for the following Apparel styles:
Regular T-Shirt
Women's Fitted T-Shirt
Extra Soft T-Shirt
Classic T-Shirt
Premium T-Shirt
Triblend T-Shirt
Ringer Tee
Women's Regular V-Neck
Just like with standard chest prints, setting up alternative print locations on new and existing T-Shirts is as simple as uploading an image file from your Artist Shop Dashboard. Refer to our Help Page for information on recommended file sizes and tips that ensure your Double-Sided T-Shirts look amazing.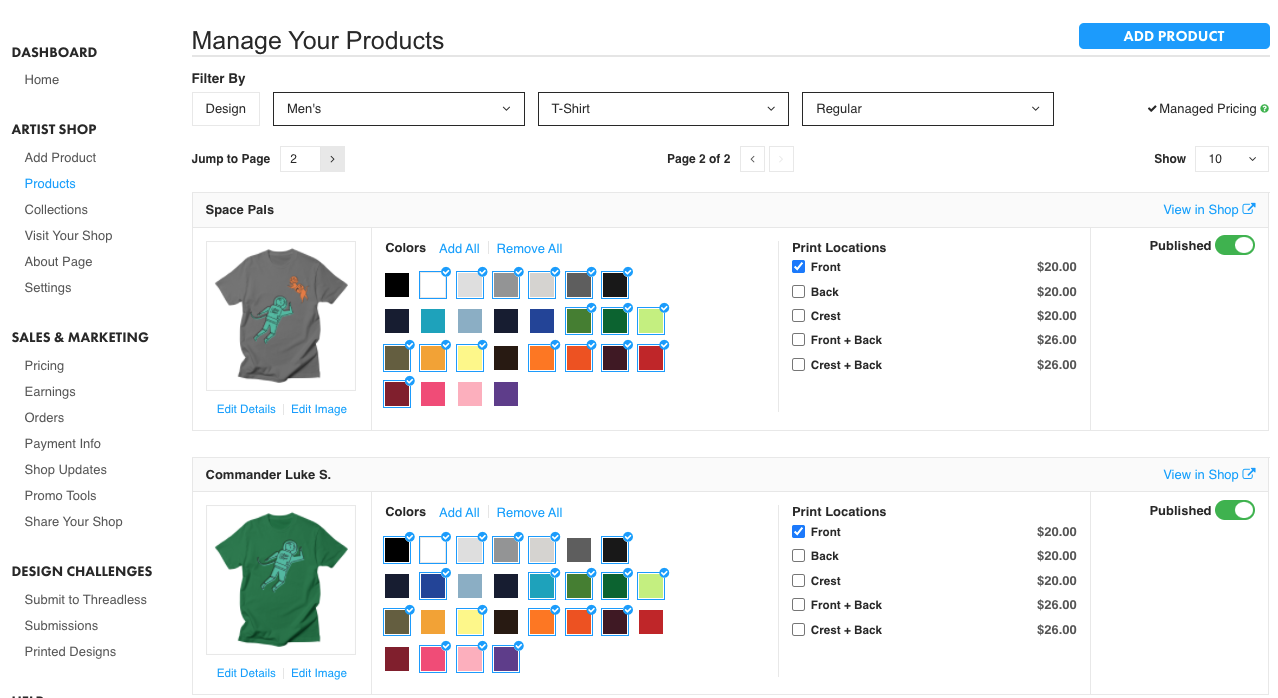 Now that alternative print locations are officially live, we encourage you to start adding new T-Shirt designs with front, back, and crest prints to your shop. Double-sided printing unlocks unique opportunities for humor, storytelling, and imaginative art. For creative inspiration, we've put together a list of five design approaches that employ double-sided printing in creative ways. Threadless artists are already making Double-Sided T-Shirts that are blowing our minds!
1. Put Your Spin on a Classic
The old-fashioned crest and back print combo is a look that'll never go out of style. The crest on the left chest is the perfect spot to put your brand logo. Meanwhile, the back print gives you plenty of terrain to let your creative instincts run wild. Artist Micah Ulrich nails this look in a way that reminds us of band tees. Speaking of, this style of print is particularly great for tees commemorating your own special events, such as concerts, tours, and conferences.
2. Tell a Story
This one's for all you comic-book artists and cartoonists out there. Plot out a story that begins on the front of the shirt and ends on the back, much like Diego Gurgell's "Zombification." Panel by panel, you see an unlucky gentleman transform into a flesh-eating ghoul. Nathan W. Pyle's "Strange Planet: Featured Presentation – Double Sided," on the other hand, depicts a movie night that starts off with excitement and ends with disappointment. We've all been there.
3. Fill All Available Space
Remember, both sides of the shirt are your canvas. Why not fill each side with as much of your art as possible? The tees shown above feature a full print design on both the front and back. In "Pyrokinesis for Beginners," Steven Rhodes uses the back print to zoom in on a specific detail of the front graphic. Also, Hillary White smartly combines two of her video game-themed pizza designs, "Pizza Punch" and "You Are Out of Pizza," onto one t-shirt.
4. Tell a Joke
It's a simple formula. The front of the shirt is the setup, the back is the punchline. This print style translates especially well with lettering and clever phrases. "Shut Up and Talk" by Shadyjibes, for example, uses the front to express a willingness to communicate, and the back to show what the wearer really wants you to do. Luis Romero's design, meanwhile, shows a dumpster fire on the front, and the word "same" on the back. Funny and impactful.
5. Use the Element of Surprise
In both of the shirts above, the front print gives a subtle hint of what's going to appear when the wearer turns around. However, the back print reveals an entirely unexpected image to a humorous effect. A yellow smiley face hides a naked skateboarder's naughty bits in Felix Pimenta's "Censored Skater," and an unsuspecting rubber ducky faces imminent danger in "Save Ducky" by Steve Ash.
---
Visit the Threadless Marketplace to see even more examples of killer Double-Sided T-Shirts. In addition to creating new designs, think of ways you can revisit and repurpose old designs to include back prints. This will help you rekindle interest in your previous work. Alternative print locations are a major addition to Artist Shops, and they'll surely excite your customers. Once you've added them to your shop, let your followers know ASAP!
Are you interested in selling Double-Sided T-Shirts, but don't have an Artist Shop? Sign up here. The platform is free to use, and it only takes minutes to create your own customized online storefront. Don't wait to sell your art on hundreds of print-to-order products!
Related Posts