To Our Artists and Friends:
Well, here we are. It's weird and unsettling to say the least, particularly for independent creative folks. For the last 20 years, Threadless has helped humans express their emotions, individualism, and rebellion through art and design.
Now more than ever, we must celebrate and support independent artists, small business owners, and all humans impacted by the current state of things. Threadless has always put art and its community first – we wouldn't be who we are without you! We want to help. Here's our plan:
Start earning more through May 31st
In response to the COVID-19 pandemic, we've learned that many independent artists, musicians, and small business owners like yourself are depending even more on additional income streams like Artist Shops.
Through May 31st, we've reduced our base fees by 20% on all apparel items sold in your Artist Shop* so you can earn even more during this time.
*This discount applies to your Artist Shop only and does not apply to items sold in the Threadless Marketplace.
Have a friend who should set up a shop, or know restaurants, bars, coffee shops, and other small businesses that could use a leg up?
Spread the word, and let them know about this initiative…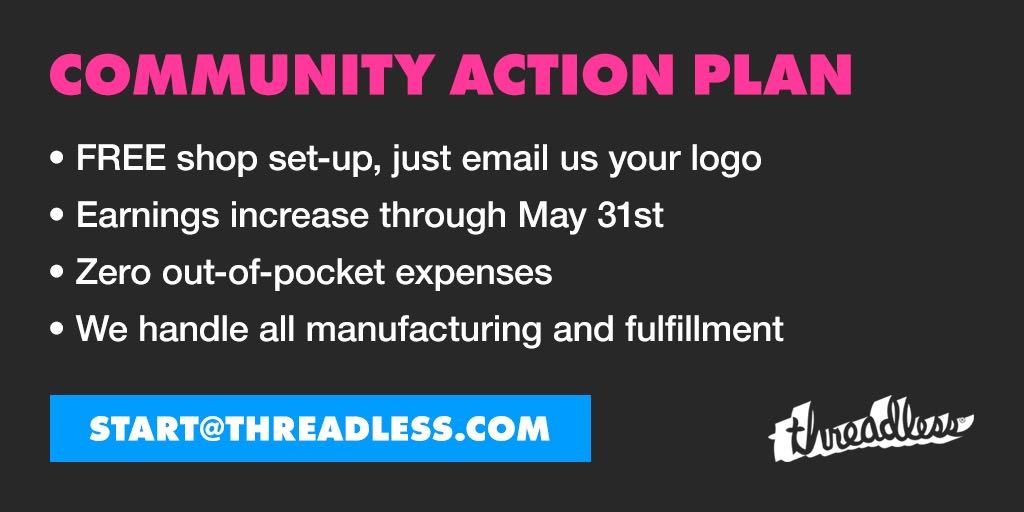 How to grow sales in your shop
The simplest formula to earning a steady income stream on Artist Shops is to regularly create and share new content. We recommend creating a new design every week and promoting your shop on social media at least once a day. More detailed tips and best practices for growing your shop can be found here, in our Creative Resources blog. We'll be sharing additional promotional messaging and assets over the next few days that are specific to helping you find the support you need in today's situation.
Supply chain update
Threadless has a network of printing facilities and manufacturers, and we have been in close communication with logistics and planning teams at each facility to ensure that Threadless and Artist Shops customers aren't impacted by any issues related to COVID-19 while also focusing on the health and safety of our network's workforce. We are taking steps to minimize risks and implement best practices as recommended by the CDC for facility cleaning, employee protections, and limiting of interactions. Given the capacity and redundancy, we do not expect a disruption in production and fulfillment at this time. As this situation is quickly evolving, we are continually monitoring and will alert as early as possible if future events change our current position. We do have potential back-up plans in place for customer communication and a preorder experience should there be longer delays in the future.
Additional resources for funding, self-care and more
We also know there's a lot to read out there about COVID-19 on all the measures we can and should do to prevent the spread of the disease. Below you'll find resources available to help independent creatives like YOU maintain a sustainable practice AND stay connected during this difficult time.
All of us at Threadless banded together to get these resources together (while we too are working from home and practicing social distancing). Some links are pulled in from this wonderful resource compiled and constantly updated here, while others we came across or were sent by friends.
Share all of these links far and wide so we can support each other in the coming weeks.
Financial resources / emergency funding
Tips for working, meeting, and gathering remotely
Fun and interesting stuff that will carry you through
Please don't forget about your mental health
Have kiddos at home?
Other big lists that will prove useful when you're at your wit's end
Let's fill the world with art, and bring joy, entertainment, and relief to everyone. In this time of social distancing, we are all still connected.

Related Posts