So you've taken the first step and decided to open an Artist Shop. Congratulations! Now what? Branding your shop is an obvious first step, and we have multiple sources to help you do that. But first, let's start with a few designs you want to offer in your shop once it launches. Once you have those designs uploaded and ready, the next step is the fun part! What products do you want to place them on? Knowing what products sell best will help you prep your shop for success. Below, we've identified the top 5 products sold in our most popular Artist Shops.
T-Shirts
T-shirts are the bread and butter of Threadless. We consider ourselves professionals in the tee realm, and with multiple types of t-shirts available in your shop, you'll easily be able to offer the types that customers are looking for, and the ones that suit your designs best. Our regular t-shirts are our best sellers, and why wouldn't they be? They're 100% cotton, pre-shrunk and have zero seams.
We also recently added ringer t-shirts to the Artist Shops catalog. These tees give a classic 70's vibe with colored bands around the neck and arms.
Another customer favorite is the Bella+Canvas extra soft t-shirt. This tee is 100% Airlume combed, ring-spun cotton, giving it an extra soft feel.
Offering every t-shirt type in your shop allows customers to find the one that is best for them and their body type. We highly recommend selecting every t-shirt type and limiting your color offering to the ones that your designs look best on.
Hoodies and Sweatshirts
Pullover and zip-up hoodies as well as crewneck sweatshirts are additional top selling apparel products. Our Bella+Canvas sponge fleece hoodies and sweatshirts are incredibly soft, thick, and extra comfortable with a unisex fit. The sponge fleece hoodie is a unisex fit, and made of a ring-spun cotton and poly fleece mix that eliminates fabric impurities, so the print is beautiful, crisp and looks great on everyone.
Wall Art
One of the easiest products to add to your shop are wall art prints which come in a variety of types, shapes, and sizes. Made from US250 Fine Art Paper that's 100% cotton hot press, these prints can be offered with or without a frame. Free of chlorine, acid, and lignin allows for an ultra smooth surface with the highest print quality and saturation.
You can choose to offer your prints in a black or a white frame. Aside from prints, there's also stretched canvas, aluminum prints, tapestries, acrylic prints, and skateboards. We suggest starting with regular prints because their $10 price point is an easy sell. Being a higher price point, framed prints are another high quality product to offer in your shop. They come ready to hang with hanging hardware already installed. The quality is outstanding.
Stickers
Looking for the perfect cart building product? Behold, stickers! They can go on anything: laptops, phone cases, guitar cases, skateboards, bumpers, the possibilities are endless! Stickers come in sizes ranging from 2" to 6" with a white or a transparent background. At a low price point, they are super marketable and are a great cart add-on for your customers. Not to mention, they make great gifts that all help drive brand awareness for your art!
Mugs
We offer a variety of drinkware, but our best selling product is our regular mug. Not only do they print well, they are machine washable and microwave safe. Our standard mugs make wonderful gifts, stocking stuffers, and are also another great cart-building option.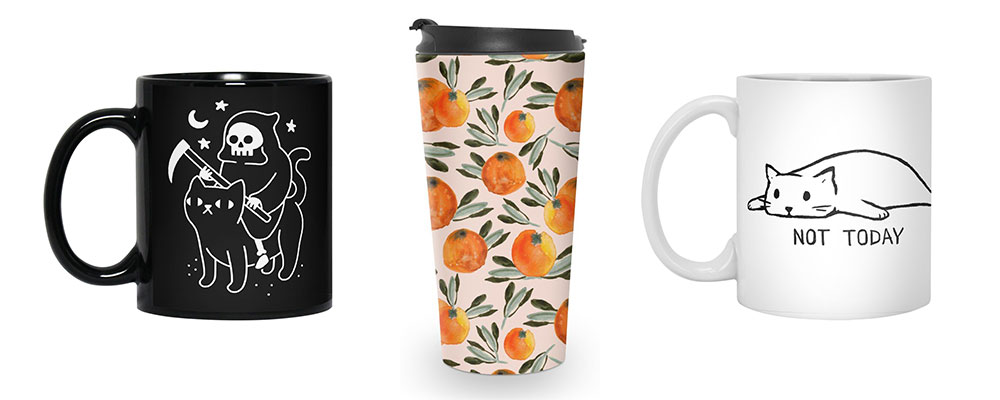 ---
Set up your shop by starting with a few of your best designs, and make them available on the above products. Then simply publish your shop and start promoting! We recommend posting on social at least once a day and always whenever you add a new design. Take it one step at a time and know that we're always here to help. Good luck!
Related Posts