We've all seen Facebook ads in our newsfeed – some catch our attention, others we keep scrolling past without thinking (or looking) twice. But how do you actually make one of these ads and get them in front of your audience? And better yet, once you reach that audience, how do you ensure potential customers don't just scroll right on by? We put together a guide that breaks down how to create an effective Facebook ad so you can add ads to your promo plan!
.     .     .
Set up a Page
Before doing anything, start a Facebook Page! You can run Facebook ads without having a Page, but it limits where you can run your ads (only on the right column, not in the newsfeed which is where you have the most freedom), you can't use more than one image, and you can ONLY use the traffic objective as far as ad type.
Choose the type of Page most relevant to you! If it's for your online store, "Brand or Product" might be best or, if your Shop raises money for a charity, try "Cause or Community". But don't be afraid to explore the categories! If your Shop sells merch for the podcast you run, for example, the "Entertainment" Page type might be perfect. For the example Page I set up, I selected "Brand or Product".
Once you have your Page filled out, you can get an ad started! Just hit the little ellipsis button at the top of the page next to "Share" and in the drop-down, you'll see "Create Ad".
Figure out your goal
The first step to running Facebook ads is pinpointing what you're trying to achieve with them (aka your campaign objective). Ask yourself, "what do I want to achieve with this ad?" Are you trying to attract people to your fan page? To gather emails and grow your subscribers? To boost traffic to your site? In this example, I want to drive traffic to my Artist Shop during my free shipping promo, so I'm going to select "Traffic".
I recommend exploring all of the ad objectives Facebook offers! For example, selecting "Lead Generation" is a good ad type to use when racking up email addresses for a newsletter list or giveaway. "Brand Awareness" is a good objective to run when you're trying to reach new audience members, and "Engagement" is a great campaign to run if you want to drive more likes/comments/shares for your Page.
You can also Create a Split Test, which allows you to test out the same ads, but with different audience types. Regardless of whether you choose to use this or just test multiple ads yourself, it's important to test different kinds of ads, images and copy, audiences, and budgets to see what works best for you. This only helps you create more effective Facebook ads in the future! To keep it simple, I'm going to skip this for now.
Know your audience!
Facebook ads are not only a great opportunity to reach these audience members – it's also a great tool to help you better learn who your audience members are. When it comes to social media and Facebook ads, knowing who is most likely to be attracted to your products, designs, services, etc. is absolutely crucial. Think of fishing: it's like having different kinds of lures in your tackle box. Sure, most fish are going to take any kind of bait – they wanna eat! But if you're trying to catch a specific kind of fish, it's best to use the lure that you KNOW that specific species of fish likes the most. It boosts your chances of attracting it.
Look at the types of products and designs you offer and think about who is most likely to buy them, what their age group might be, and what their other interests are. For example, if you're running Decorate Your Dorm Sale ads, an 18-22 age range (college age) is probably where you want to land. Or, if the designs in your shop are all '90s themed, you may want to set your age range from 19-35 to target the age group most likely to have serious '90s nostalgia. For my ad, I have just one product in my Shop: a design based on the movie My Neighbor Totoro. Seeing as my design falls in the geeky art category, I went with 16-35, which falls within the age range of convention goers and comic readers according to Danger Communications. And I based the selected interests on what fans of Miyazaki movies might also be fans of (like gaming and comics).
Images
Now for the fun stuff! Facebook allows you to do a few different types of ads, like carousels with multiple images, single image ads, etc. And because Facebook owns Instagram, Instagram ads are automatically put together for you! For this ad, I'm going to do a single image, which will let me try up to six different ads featuring one image per ad. This way, you can test what kinds of images get the most clicks.
You have two options: use your own photos or use free stock images. Thanks to a partnership with Shutterstock, Facebook has a whole library of free images for you to use. AdEspresso also has a great guide to ad creative and copy. But I would recommend using your own custom photos. Stock images are not only not specific enough to your brand, they're also available to everyone and have possibly been seen before. Stand out! Here are a few options for what to do for your images:
Our Artist Shop image templates
Did you know that Artist Shops has model and lifestyle shots you can customize with your products? We offer a few different lifestyle, model, and flat shots with transparent products that you can easily Photoshop your designs into. It's super easy! Check them out here.
lifestyle shots
You should be featuring quality lifestyle images of your own products on your social media and homepage collection anyways, and Facebook/Instagram ads are just another way to utilize them. At Threadless, we've changed our ads from featuring flat products to featuring awesome lifestyle images of our products, and it's made a serious impact on our ad success.
CANVA
Canva is a great resource (and mostly free) that allows you to create Facebook ad images using designs they offer or adding text to images (although be warned! Facebook restricts the newsfeed distribution for ad images that contain more than 20% text). It's a super easy drag-and-drop system that's worth checking out. Explore it here!
Placeit
Placeit is an amazing tool that we recommend for more image options! It's especially useful if you're not a Photoshop extraordinaire (or if you are but you just want more images) because it can automatically insert your designs into lifestyle shots for you. Try it out!
For my ads, I decided to use one of the lifestyle photo templates that we offer at Threadless! First, I created a new canvas in Photoshop that was FB ad-friendly size – 1200 x 628 pixels. Then I downloaded the lifestyle image I liked, used the paint bucket tool to make it the color of the "Heather Oatmeal" hoody in my shop, and pasted my design in the same place it falls in the product.
I set up three other ads to test different images: one featuring a lifestyle shot, one featuring just the design, and another featuring one of my products, like so:
Copy is KING
I know, I know; coming from a copywriter, this sounds biased. But good copy is super important when it comes to your ads. Your ad image is your foot in the door for grabbing someone's attention, but your messaging can be the final push that gets someone to click. Not to mention, it communicates what your product, deal, or designs are all about.
All copy should be short and sweet, but there are three different sections for copy in your ads that all demand something a little different:
HEADLINE
Your ad's headline is the largest text (but the shortest at 25 characters max) and what people will read first. This text should be short and to the point while also including a sense of urgency. Here are a few examples of ones we've used in the past for various sales:
$11.99 tees, 40% off everything else!

Snag 30% off home decor!

Hurry and get $10 tees!

It's ALL 50% off!
If you have two deals going on during a sale – for example, free shipping + 40% off your items – test out ads that mention free shipping only in the headline, 40% off in the headline, and both in the headline to see what works best. My rule of thumb? Put your best offer in the headline.
TEXT
This is the section above the ad image that looks more like a status update. This copy can be a little bit more fun (emoji usage encouraged). My rule of thumb is that here, I focus on the benefits of the deal/product being offered rather than the offer itself. Here are a few examples of ones we've used in the past:
Long weekends? Aw yeaaah. ? Gear up for cheap with our Labor Day sale!

Holy shirt! Act fast to snag some of our most popular tees for just $10!

It's a (very early) holiday miracle! Act now to save early! ?

50% off 100% of the things?! Aw yeaaah ?

'Tis almost the season to get gifting! Start your holiday shopping now! ?
CALL TO ACTION BUTTON
There are a few options when selecting your ideal "Call to Action". In the example ad, mine says "Learn More", but we recommend sticking with the sales driven ones like "Shop Now," especially during the holidays!
NEWS FEED LINK DESCRIPTION
This goes right under your headline. In this section, I try to push urgency (Limited time! Don't miss out!) and any additional details about the deal I'm offering. For example, if you're offering $12 tees AND free shipping, you might put the $12 tee offer in the headline, but add in the link description that customers can ALSO get free shipping. Here are a few examples:
Get Labor Day savings before they're gone – snag $11.99 tees and 40% off everything else!

Don't miss out on $10 tees AND 40% off everything on the site before Black Friday even arrives. But hurry! These early savings won't last forever!

From tees to totes, it's ALL 50% off! Don't miss out on this amazing deal (while it lasts)!

Get early bird savings on your holiday shopping with $15 tees, plus 30% off everything else! Don't miss out!

Don't miss out on $15 tees AND 40% off everything on the site. Hurry! These early savings won't last forever!
Budget
This 1: depends on how long your Facebook ads are going to be running 2: how much you can/want to spend. For this particular ad campaign, I decided to run my ads from now until our free shipping offer ends on December 15th. It will cost me only $5 per day ($135 max for almost a month). In my opinion, spending a little extra on your ads during the holiday season where everybody is on the prowl for deals is worth it.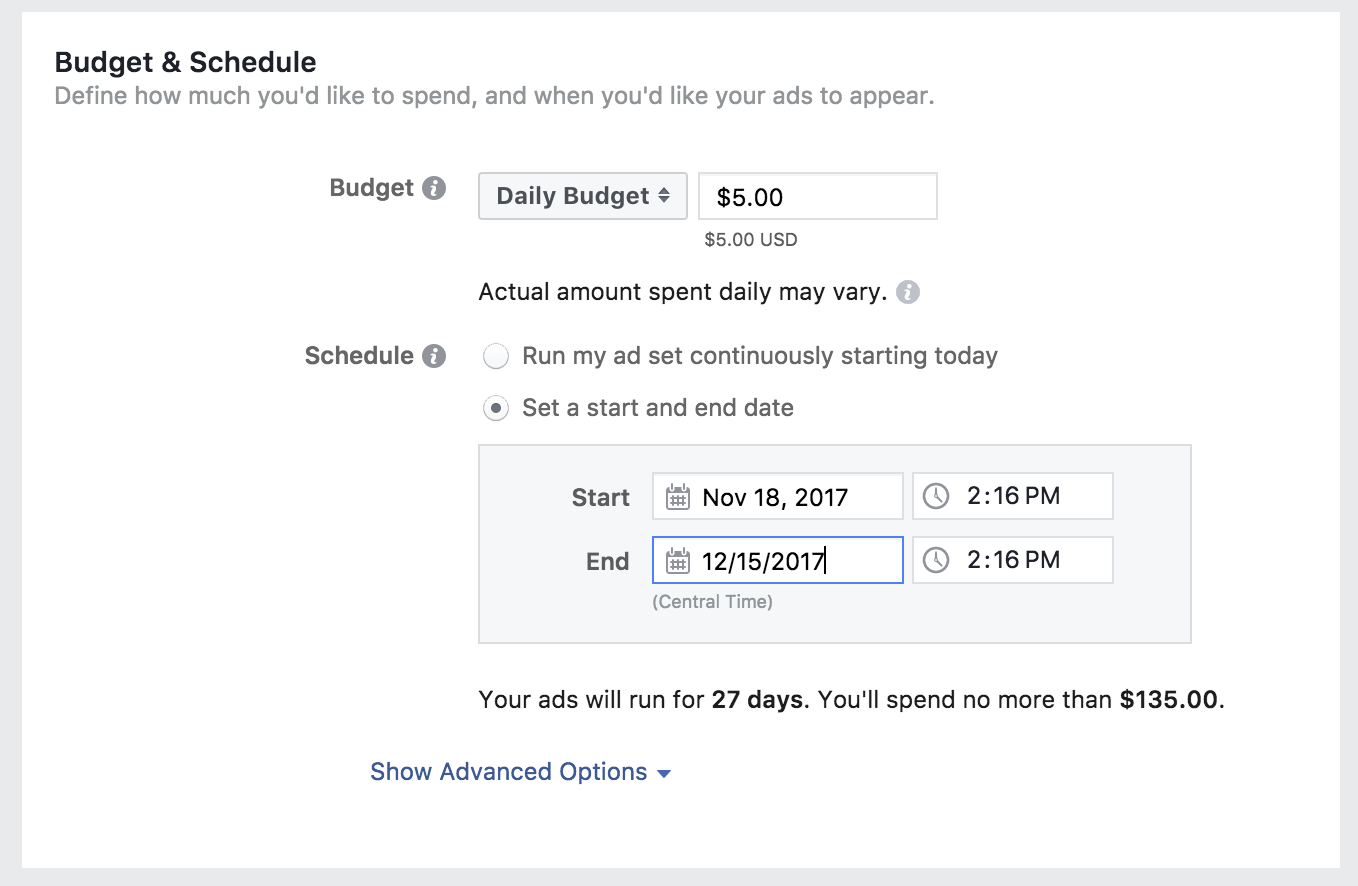 And that's how you set up a simple ad! Keep in mind, this is a basic example. What really makes an effective Facebook ad is testing what works, what doesn't, and running your own experiments with it. Keep track of what works in your Ad Manager!
SOURCES:
.     .     .
Do you have advice on creating, running, and testing Facebook ads? Leave it in the comments!
Featured illustration by Katie Lukes. Want to start an online business? Try Artist Shops for free!
Related Posts