If you're an Artist Shop owner, you have the skill and imagination you need to make incredible art. We know because we've seen it! However, no matter how adept you are at wielding a paintbrush, pen, or stylus, you might not be familiar with the online tools you can use to better sell your art. There are two tools in particular that reveal how customers interact with your shop. Read on to learn how Google Analytics and targeted ad campaigns on Facebook can help you grow your business.
Google Analytics helps you better understand your shop's visitors.
If your Artist Shop was a brick-and-mortar store, you could see exactly who is visiting, which products they gravitate toward, and what they need help with. Unfortunately, most of that information isn't obvious when you're running an online store. But that's okay, because Google Analytics can be the eyes and ears in your virtual shop. Google Analytics is a free web tool that monitors visits in your shop and collects valuable metrics that give insight into your shop's performance.
Why You Should Use Google Analytics
It helps you define your target audience. It gathers information about your visitors, including their age, gender, location, and even interests. Knowing these details can help you tailor your art and product selection to the demographics who frequent your shop most. This can be a key to boosting sales!
It monitors the behavior of your visitors. It tells you how long they spend in your shop, which pages they visit most, and the actions they take before converting into customers. This information can help you determine what's working in your shop and if you need to adjust your approach to improve conversion.
It shows you where your traffic is coming from. If most of your traffic is coming from social media or email, you might want to focus your resources on those areas or use similar content to attract customers from other areas.
How to Set Up Google Analytics
1. Sign into your Google Analytics account.
You can create one here using a personal Gmail account.
2. Click the Admin tab on the left-hand menu.
3. Select your account and create a property for your Artist Shop.
4. On the property creation page, click "Show advanced options" and toggle on "Create a Universal Analytics property."
This step is essential to retrieving your Tracking ID!
5. Once you've created a property for your shop, return to the Admin page. Then, select the property, click "Tracking Info," and click "Tracking Code."
6. Copy your Tracking ID.
It'll be right where that red rectangle is.
7. Go to your Artist Shop Settings and paste your Tracking ID into the field that says "Google Analytics Site ID #."
Don't forget to save your settings!
You're all set to start tracking! Now watch the data come in and start poking around all of the different tabs in Google Analytics to learn more about your Artist Shop's traffic. Now, let's move onto the next business growth tool that can benefit your shop—the Facebook Pixel!
The Facebook Pixel allows you to create and track targeted ads on Facebook and Instagram.
As an Artist Shop owner, promotion of your shop is a critical component to growing your brand and getting your designs in front of new customers. Targeted ads on Facebook and Instagram can help expand your audience and drive sales. The Facebook Pixel helps you identify users already visiting and engaging with your Artist Shop. Using your Facebook Pixel will allow you to create ads and target people who will most likely make a purchase in your shop.
Three Things Facebook Pixel Helps You Do
Build custom audiences. Using data collected from your Artist Shop, the Facebook Pixel allows you to target people who've visited your shop. You can then create custom audiences and retargeting ad campaigns based on pages they visit or actions they take in your Artist Shop.
Optimize ads for conversions. You can also use your new custom audiences to create lookalike audiences targeting leads who have similar interests and attributes to your shop visitors and customers. This helps drive more relevant traffic to your Artist Shop. Once these new visitors view or add one of your products to the cart, they also qualify for your retarketing ads and you can remarket to them all over again.
Track conversions for your ads. Your Facebook Pixel monitors each time a customer views any page in your shop, adds a product to their cart, and makes a purchase. This data gives you a better idea of how your site visitors are interacting with your Artist Shop and helps you gauge the success of your ad campaigns.
How to Set Up Facebook Pixel
First off, do you have a Facebook Page? If not, you can create one here. This will give you access to the Facebook Ads Manager, which you'll need to set up your Facebook Pixel. View your account information to change currency or time zones, and visit your Payment Settings to add or manage how you will pay for your ads.
Once you're done setting up your page, create your Facebook Pixel with the following steps:
1. Click on the Data Sources icon in the Ads Manager, then click "Connect a Data Source."
2. In the next prompt, select "Web."
3. Enter a name for your Pixel and your Artist Shop's URL. Then, click "Continue."
There's only one Pixel per ad account, so choose a name that represents your Artist Shop.
4. Click "Install code manually."
5. Click "Continue." You'll need to retrieve your Pixel ID, but there's actually an easier way to do that. More on that later!
6. Toggle on "Turn on Automatic Advanced Matching" and click "Continue."
7. Once you've reached this screen, you can close the window. More on the Event Setup Tool later!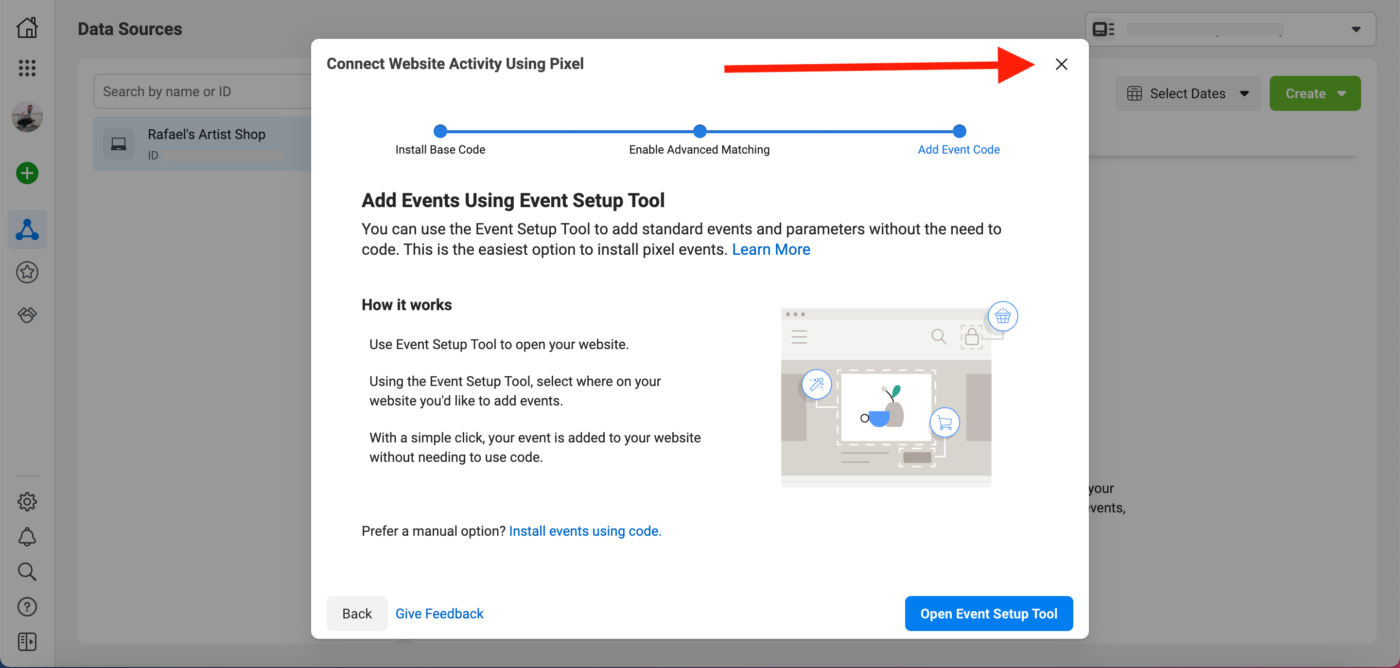 8. Go to your Pixel's overview and click on your Pixel ID to copy it.
It'll be right where that red rectangle is.
9. Go your Artist Shop Settings and paste your Pixel ID into the field that says "Facebook Pixel ID #."
Don't forget to save your settings!
Congrats! You've installed your Facebook Pixel!
Tracking "Events" with Your Pixel
Events? Like a birthday party? No, this is a bit different and sadly doesn't involve cake. Events are all the actions people take in your Artist Shop, like making a purchase or viewing a product. These events unlock advertising tools that will allow you to measure campaign results more accurately and grow your customer base.
There are a number of events you can set your Pixel to track, but to start, it should automatically measure these three:
View Content: This will tell you each time a customer views any page in your shop.
Add to Cart: This event tracks each time someone adds a product to their cart.
Purchase: This will let you know when someone purchases a product.
Before Creating Ads, Do a Test!
You can manually test whether or not your Pixel is properly tracking events by visiting your Artist Shop and adding stuff to your cart. Then, go to the "Test Events" tab in the Ads Manager to see if your Pixel tracked your actions.
Customize the Events You Want to Track
If there are events you'd like to add or adjust, you can do so with the Event Setup Tool, which is available in your Pixel's settings under Event Setup. Enter your Artist Shop URL and click "Open Website," and the tool will launch in your web browser. It allows you to add standard events and parameters to your Artist Shop without the need to code.
Now you're ready to set up ads and campaigns for your shop! Head over to our Anatomy of an Amazing Facebook Ad to learn what makes a great ad.
---
Be on the lookout for more Creative Resources on how you can use platforms such as Facebook and Instagram to boost your sales. Also read up on topics such as design trends and email marketing!
Related Posts