Creativity can be a double-edged sword (albeit a colorful one, surely). On the one hand, it's what drives us as right-brained art-makers. On the other hand? It can be just as energy-draining as it can be energy-fueling (thank you, creative anxiety and perfectionism). That's why we love Christine Nishiyama of Might Could Studios. She's made a whole career out of using her personal experiences, artistic learnings, and of course, her creative struggles as fuel for helpful posts, drawings, guides, and classes. She's built a solid following, email list, and full business out of turning her creative struggles, learnings, and experiences into a means of helping other creatives, all while creating her own artistic projects, like her children's book We Are Fungi. We talked to this author, blogger, illustrator, and educator extraordinaire all about how she harnessed this skillset and how she got her start.
.     .     .
First things first, tell us a little bit about yourself and what you do at Might Could Studios!
Hi! I'm an artist and founder of Might Could Studios. More specifically, I'm an illustrator and writer. I make books and comics, as well as resources, tools, and courses to help other artists develop their artistic styles and make more art!
You have a resource called "Share the Process". We encourage people to share WIP sketches and images a lot – what's been your experience with letting your audience into the process and showing how it all comes together? 
Ever since I was young, I've been a bit of a hoarder and documenter. I still have every sketchbook I've made since high school (plus a binder full of Pokemon and Sailor Moon drawings from middle school), and I obsessively document every project I create. At first, it was just something I did and I didn't know why or even realize I was doing it. I think I did it initially so I could remember how I did things so I could do it again in the future. I do it with recipes, too. After I cook something I track it and write down how it turned out, what I did differently than the recipe, and what I would change in the future if I cooked it again.
After a while, I realized I had a pile of information, tutorials, process work, and documentation just sitting there. That's when I started teaching and writing and sharing, and that's when my work really started to take off. The two parts (making + sharing) started feeding off each other, forming a feedback loop which has encouraged me to explore and experiment more, make more, and share more. It's also been a great way to keep myself accountable to keep it up. The process of sharing gives me a sense of purpose too—instead of just making art for me, I'm sharing my art to help other people make their own art. That's been super valuable and hearing people tell me that what I shared helped them have a breakthrough with their own art is the fuel that keeps me going.
Do you run Might Could Studios full-time? What was the inspiration behind starting it?
Yep, I've been running Might Could Studios full-time for 5.5 years! After graduating from North Carolina State University with a BFA in Graphic Design, I worked for a lil' bit as Lead Designer at a marketing studio. I learned so much about how to run a business and realized I craved the independence and control of owning my own business. I took the plunge and became self-employed in 2012, forming my one-woman company, Might Could Studios.
Over the years, my business has gone through many transitions: freelance graphic design, editorial illustration, book publishing, and teaching. After teaching 15+ classes on Skillshare with over 40,000 students, I launched my first major course on my own platform, Sketchbook to Style Boot Camp in April 2017. And after spending 3 years learning and experimenting with picture book making, I self-published my first children's book, We Are Fungi, in September 2017.
Last year was my best year yet, and I'm excited to continue growing Might Could Studios!
I found out about you, your work, & Might Could Studios on Medium. When did you first discover that you could combine your art and experience to make helpful posts for fellow creatives?
I suppose I started giving creative advice when I first started teaching on Skillshare. I was approached by Skillshare and was kind of caught off guard when they asked me to teach an illustration class. I didn't think I was enough of an expert to teach, but I decided to just go for and see what happens. That turned out to be a pretty good choice in hindsight!
I really enjoyed the research aspect behind teaching and started devouring every art resource I could find. I read A LOT of nonfiction books and I realized writing about my thoughts is a great way to crystallize the information for myself so I was really learning and storing it. Once I started writing, it felt silly to keep all that information and knowledge to myself, so I started sharing what I learned on my blog at Might Could Studios. That's now grown into a pretty substantial email newsletter list, and I send out a new resource essay every Tuesday. I also post them on Medium and other social media outlets after they've gone out to subscribers.
I've really enjoyed writing about art-making, and often I write about things I struggle with. Writing about the problem helps me figure out either what I did to overcome it (so I can keep doing that), or what I did that brought on the problem (so I can stop doing that). All creatives run into the same problems—worrying what others think, fear of the blank page, insecurity about our work—and it's helpful to be able to write about those things and be open and honest about them.
What, to you, makes a great piece of blog content or creative content?
A unique viewpoint and stories from experience make the best content. I tend to have different beliefs about art and art-making than many other artists, and I think that's why many people are drawn to my writing. For example, I don't believe people are born with innate talent—I believe anyone can learn to draw. I don't believe artists in the stereotype of the emotionally unstable "starving artist"—I believe we can aim to live balanced, healthy lives. I don't think it's taboo to talk about artistic style—I believe style is something you can develop through personal reflection and drawing regularly in a sketchbook. Other people respond to my essays often saying something like, 'Finally, someone said what I was thinking!'. It's a unique mix of vulnerability, honesty, and just saying what I think. I don't claim my way is the only way or even the best way to live as an artist, but it's how I live as an artist, and that's what I share.
Blogging and email newsletters seem to be a huge part of how you spread the word about yourself, your work, and your amazing advice – do you recommend these techniques to others as well?
Absolutely! Opening myself up and sharing my experiences and thoughts has been the single best thing I've done both for my own personal life, and for my business. It's helped me make new friends, form stronger connections with my followers, learn new things about myself and my art, and explore my beliefs and thoughts on a deeper level.
What are the most important takeaways you've learned about blogging and email newsletters?
Be honest.
Be consistent.
Be brave.
Be kind.
As an indie author, you give away your e-books for free and encourage others to print and share them – how do you balance giving away your work for free and translating that to making money with your work? 
I made We Are Fungi with so much passion and dedication and hard work, and I was so proud of how it turned out. I have a lot of strong opinions and beliefs about the book industry, and I saw a gap in children's books that my book could fill. I'm SO excited about where nonfiction children's books are headed right now, shifting from boring photo-based books to beautifully illustrated inspiring books. I wanted my book to contribute to that growth and change too.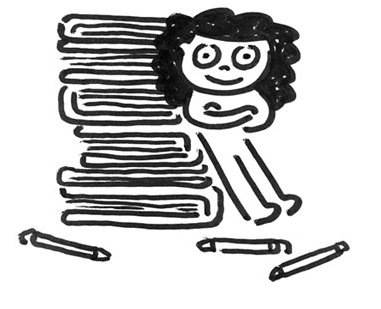 On the flip side, as children's books get more amazing, artistic, and boundary-breaking every year, they're also getting more and more expensive. Not everyone can afford a $25 children's book. Libraries are an amazing resource for sure, but there's something special about owning a book and having a little bookshelf as a kid with all your favorite books. That's not easy with how books are priced currently. With all that in mind, I priced my book as low as possible for the print edition (it's currently $8) and offer the ebook free on my website for whoever wants it.
Also, self-publishing is definitely growing and changing, but it still kinda has a bad rap. At the time, I was an un-agented, unpublished author who made this book on her own with no editor and no publisher, so why should anybody take the chance on me and shell out the cash when they could just buy the brand new Caldecott winning book instead? I wanted to offer my book free to prove myself and get my book out into the world. It's opened up a lot of paths for me so far, and the feedback has been great.
I definitely think offering a free product—as long as it's a high-quality free product—is a great way to put your work out there if you're new. Free work is a divisive subject, though, and I don't think it's always the right solution. I don't take on client work for free, and I would never illustrate someone else's book for free. But this was my project, from beginning to end, and I wanted to experiment with its production and distribution as much as possible.
What's your artistic philosophy?
Explore, make mistakes, keep your hand moving, and just draw.
What's next for you!
Eek! I have so much planned for 2018. I've been working with the students in my Sketchbook to Style Boot Camp, and am consistently blown away and inspired by their work. It's such a wonderful group of artists, and I'm so happy to have this motivational community to work with. This year I'm looking to grow the boot camp even more, and am so excited to get more people in here with us! I'm also working on my next children's book, which will hopefully be released Fall of 2018. It's still hush-hush for now.
I've also just announced my free new weekly drawing challenge, #MightCouldDrawToday that I'm super excited about. I believe consistency is the most important part of honing our art and developing our artistic styles, and it's also the thing people—including me—struggle with the most. In the past, I've guided people to other drawing challenges like Inktober, but I wanted to try to create my own and use it as a way to help other artists—and myself—hold ourselves accountable and draw and explore together! I had a big breakthrough with my drawing practice two years ago and am now drawing pretty much every day. I want to help others get there and keep it up myself too!
Then, of course, there are all those big dreams: an app, a Might Could sketchbook, a nonfiction book about art-making, more live drawing videos, a graphic novel series… there's so much I want to do! I've had to prioritize so I don't get overwhelmed, and try to just have a couple things going at a time so I can focus and get things done. Having those big dreams is what keeps me going and excited for the future. Things have grown so much though, I think 2018 might be the year I finally hire the first new member of Might Could Studios! So if you know of anyone… let me knoooow!
All in all, I just wanna make more art and help other people make more art, too. <3
.     .     .
Featured image made by Katie Lukes.
Want to start an online business? Try Artist Shops for free!
Related Posts