There was a time when I loved Photoshop. It's an incredibly intuitive and versatile tool made for creative pros. No denying that. But that level of quality comes with a price tag—one that's cost-prohibitive for a lot of folks. There's good news, however. The list of cheap and free alternatives to Photoshop continues to grow. Some work on tablets, and others even work inside your browser. And work well at that!
There are a bunch of Photoshop alternatives you can find, but some just don't feel….right. Not necessarily bad, but there are better options out there. When narrowing down my list, I considered well-known programs such as Clip Studio Paint and MediBang, but they didn't quite make the cut. I ultimately chose the four programs below for their combination of features, ease of use, and compatibility. After all, our goal is to help you create your art as quickly and easily as possible, so you can get it onto products in your Artist Shop.
There are two types of users I considered for this post:
Desktop or laptop users (either PC or Mac) with a drawing tablet (Wacom, Huion, etc)
Tablet users (either Microsoft, Apple, or Android) with a stylus
It's worth noting that some of the software options I chose are optimized for certain hardware. I provided a variety of options since some hardware can also be cost-prohibitive. I'll dive into inexpensive and alternative hardware options in a future post. But for now, let's discuss my top four cost-efficient Photoshop alternatives, and break down their pros and cons.
Top Pick: Procreate – $9.99 in the iOS App Store
The Good
This one may be obvious, but I had to include it. I've used Procreate for years now, and the newest version is incredible. It feels as intuitive—if not more so—than Adobe products, and at a fraction of the price. It's easy to use all around, features fun symmetrical drawing tools, and has easy layer and masking options. It even allows for simple frame animation that you can export as animated GIFs.
Procreate also works with an incredibly large library of aftermarket brushes, textures, and patterns—even some that help draw hair brilliantly—that you can purchase, depending on your aesthetic needs (not to mention that these packs are often cheap AND support indie artists and makers). I could go on and on, honestly.
Potential Deal Breakers
Procreate is for portable Apple devices only, and overwhelmingly for the iPad Pro. Granted, iPads and iPad Pros are impressive devices that are slowly becoming the standard, but they're far from inexpensive. For most creative professionals, the iPad Pro is the best choice. However, even if you get the entry-level 256GB model to go with the Apple Pencil 2, you're going to spend over $1,000. Making that expense back shouldn't be too big of a lift, but it's still $1,000 out of your pocket!
In addition, while the iPad OS has come a long way and feels much more like a laptop, it's still not quite comparable. You can do most everything you want to do on it, but some functions are far more cumbersome than, say, if you did the same thing on a laptop. It'll get there, but until then, keep this in mind.
The Good
Autodesk Sketchbook used to cost money, but now it's free! Which boggles my mind, but hey, here we are. More importantly, it's seriously full-featured and has everything you could possibly want in a drawing app. Watch a few demos online and you'll agree. Layer options, predictive shapes, perspective and symmetry guides, and plenty of brushes—all of which you can edit, of course. Like Procreate, it also has some pretty neat features built-in for scanning, animation, and even a Copic marker color library for you pro illustrators out there.
Further, it's compatible with ALL platforms, not just iOS and iPadOS. It's simply not my top pick because of my current hardware and software preferences, but many of my creative peers love it!
Potential Deal Breakers
While plenty of incredibly imaginative work can come from Sketchbook, it leans a little more toward industrial design and architecture (which makes sense given Autodesk's history of software). It does rigid, technical drawing REALLY well, and has features baked in to support it. Depending on your use case, this might work for you, but since my aesthetic is a little simpler and intuitive, I don't need this kind of rigidity.
While not a problem per se, the user interface in Sketchbook is also sleek and modern. But I find it less-than-intuitive, and therefore confusing. For seasoned users of this software, you'll scoff at this. Sorry, but coming from Adobe products to, say, Procreate, Sketchbook's user interface just doesn't flow as well for me. It's a preference thing.
Third Place: Magma Studio (In-Browser) – Free or $9.99/Month Pro Version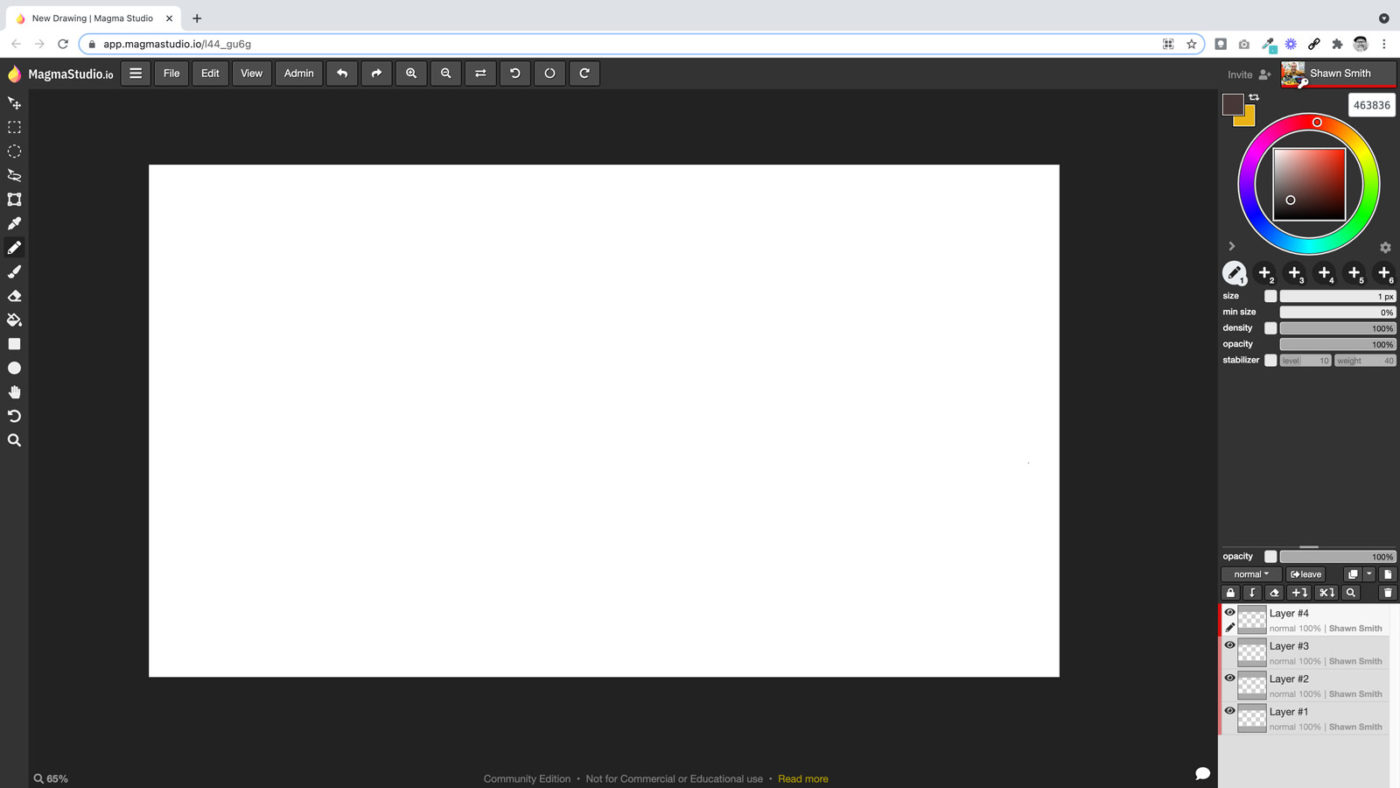 The Good
This software is a marvel! Magma Studio has a Photoshopian look and feel, so finding tools, adjusting layers, and so on will feel natural if you were an Adobe user before. If you're using it in a browser on a tablet, Magma Studio features compatibility for pressure-sensitivity with styli for those subtle lines when you're inking or shading.
Of course, since Magma Studio is browser-based, it works on all the things—a huge plus all around. And I'd be remiss if I didn't mention another killer feature about Magma Studio: collaboration. You can work with friends in real time since it's in the browser. Collaborative pieces just got a whole lot more interesting! If you opt for the Pro version, this could be super fun for streaming with a drawing chum. With that, note the usage limitations below…
Potential Deal Breakers
With Magma Studio's collaboration tool and its potential for streaming, there's a clear line in the sand if you intend to stream with it for commercial purposes. While the free version is likely allowed for small streamers who are hobbyists, it's technically not allowed "out of the box" for such commercial uses. Instead, you either need to pay for the Pro version at $9.99 per month (about $120 per year), or you can get in touch with the maker of the software to see if they'll allow you to use it in the way you intend.
In addition, like Photopea, I noticed a bit of lag and chunky lines at times when zoomed out, even on my iPad Pro. In addition, while you can turn off touch to alleviate some errant dots and lines from your palm, it doesn't feature palm rejection natively. That's a drag for pinch zooming and rotating when drawing for me, but some folks opt for this style of drawing glove which prevents palm interference (wearing a glove is gonna be a no from me, dawg).
Honorable Mention: Photopea (In-Browser) – Free or $9.99/Month Premium Version
The Good
At first glance, Photopea is also a marvel. Like with Magma Studio, how all this *moves hands around in frantic motion* exists in a web browser and is able to do what it does feels like magic! It can load and save PSD files, as well as a wide variety of other file formats. In fact, it looks and functions very similarly to Photoshop.
Because it's in-browser, there are some random limitations, but you can resize as needed, add layers as needed, save out as needed, etc. For the most part, it just works. That said, depending on the tablet you're using, you may experience some lag. For example, older iPads struggle to keep up with drawing, while the iPad Pro doesn't have as much trouble (makes sense given processors). The same applies to older Android tablets versus newer models.
Regardless, since Photopea is browser-based, it's compatible with all the things. Gold star bonus point. The core software is free, but you can upgrade to Premium, which eliminates ads and provides double the number of undo steps. Premium is $9.99 per month, or a teeny-tiny $40 per year. Bonus: you can "install" a web app on your computer so it feels like a local app on your computer!
Potential Deal Breakers
Why not more love for this browser-based marvel? Well, it's not buggy exactly, but it doesn't feel quite right all of the time. Weird issues like buttons not pressing when you clearly pressed them, pressure-sensitivity flaking a bit at the ends of lines, and a bit of chunk when I expected a smoother line. Deal breaker? Not quite, but be mindful. Outside of that, like Magma Studio, there was some general lag at times, but I've experienced the same—if not worse—in both Procreate and Photoshop, so no surprises there.
There's also a little voice in my head that says "Adobe is going to take down this site with legal action." I don't want that to happen, but it might. That said, that shouldn't stop anyone from supporting this ambitious and amazing project. Because the support of projects like this will make it better, and likely breed others—and that's good for everyone!
---
These four Photoshop alternatives are just the tip of the iceberg. This post is far from exhaustive, but I hope to unpack more software and hardware options in future posts. Needless to say, there are SO many options nowadays when it comes to drawing programs and apps, not to mention wonderful hardware that doesn't involve apples. If you happen to have tips on new software or hardware that I missed, definitely get in touch! Looking for in-depth software and hardware reviews for creative professionals? There are plenty to choose from, but I really enjoy Brad Colbow's work on YouTube. No affiliation—just a fan.
Related Posts