When it comes to getting your work out there, social media is the ultimate double-edged sword. On the one hand, you can get your work in front of everyone around the world! On the other hand, so can every other online shop trying to sell their stuff. How do you stand out in this vast sea of hashtags and cats? With a little help from our social media expert and master Craig Shimala and Artist Shop owners who are owning promoting themselves, here are some tips on how how to promote yourself on social media.
.     .     .
Giveaways
Fact: people love free stuff. Hosting a giveaway on social media is a great way to gain new customers and spread the word about your brand! Make retweeting, sharing, or reposting your giveaway post a requirement, like Billi French did on Twitter:
Another shop owner – C Salmon Design – did this on Instagram as well. Notice how along with the repost rules, she has a specific hashtag to go along with the giveaway. This makes it easier to keep track of entries, as well as raises awareness for your brand name. 
Attracting people to your brand and shop isn't all about what they can do for you; giveaways are a great way of showing that you're willing to give back too once in awhile, and that there's something in it for your followers (Plus, ordering an item from your own shop for your giveaway won't break the bank – you only have to pay the base cost!)
Relevant designs
From "Nasty Woman" to "Boaty McBoatface", it pays to be topical. Try creating a design for an event or holiday – that way, you can promote it with trending hashtags. You can even create an entire themed shop for an upcoming event, like Willoughby Goods did for the upcoming solar eclipse (August 21st: mark your calendars!)
Teaming up with a charity and creating a design for them is also a great way of tapping into a wide audience with a relevant design they connect with. The Coup Tees Artist Shop, for example, features a bunch of different artists who each create designs for various charities, as does the March for Science Chi Shop. 
Hashtag etiquette 
#Hashtags make your work easier to find for people looking for designs like yours. Using them is a great way of jumping on something that's trending and will get your work in front of the right audience! For example, if there's a trending holiday (like #NationalBookLoversDay) or TV show (like #GameofThrones), posting a relevant design from your shop and using related hashtags will get it in front of the audience it resonates with.
Also consider using your own hashtag, like #DeniartClothing does (below). It's a great way for people to not only find more of your work – it's also a way for you to find customers who post selfies rocking your gear!
David Olenick also does a really good job of using hashtags; both in the copy of his Instagram posts, as well as in a cluster of hashtags at the bottom of each post.
He's also created his very own hashtags for his brand AND for a fanart challenge he does – another great and clever way of getting customers and his audience involved!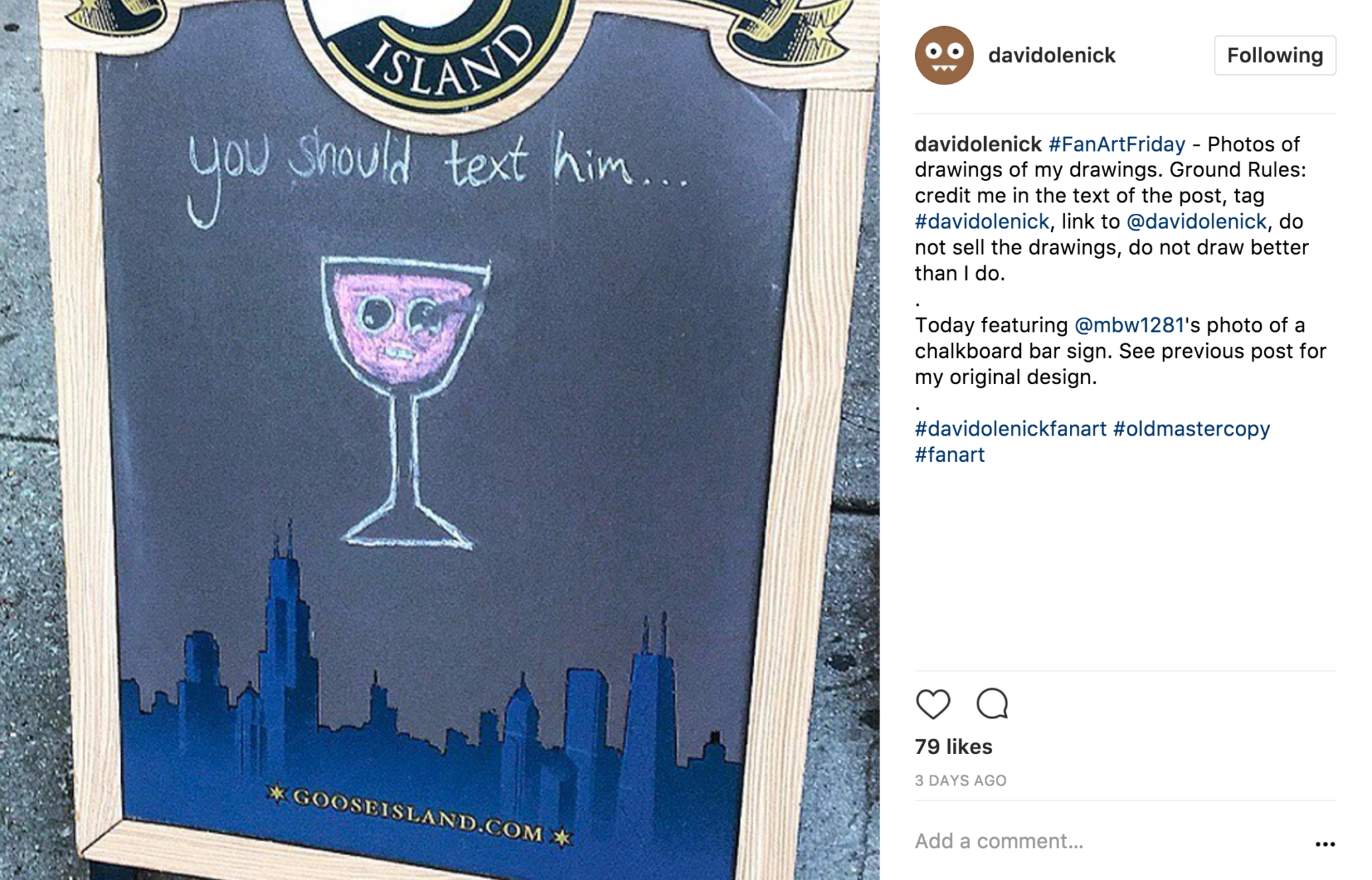 Even using #Threadless and #ArtistsShops can connect you to people who might be looking for more Artist Shops to check out on social media.
A few general tips on hashtagging etiquette:
If you're making your own hashtag for your shop name or brand, #DontMakeThemCrazyLongBecauseItsKindaAnnoying
Don't do a MILLION hashtags in a post.

Mashable says

that on Twitter and Facebook, three hashtags should be the max. And

Hootsuite

suggests that for Instagram, you should decide the number of hashtags depending on the content of the photo. Instagram allows up to 30 hashtags…but 4-6 hashtags or around 11 tends to be a pretty safe bet.
Don't make them too general; keep them specific if you can. For example, #Art is pretty broad, but #HandLettering or #RusticLettering will narrow it down for people searching for what you're offering.
Photos and visuals make you stand out
When it comes to social media and making sure your posts don't get lost in the ever-changing feed, images. are. key. Social media is a visual medium; experiment with different types of images for advertising your shop on social media and in ads as well. Try out lifestyle photography. Lifestyle photography is particularly important for online stores because it gives people an idea of what your product actually looks like out in the wild. Deniart does a fantastic job of using original (and consistent) photography, as does Jessica Fortner: 
You can also feature your lifestyle photos on your shop's homepage collection to really tie it all together, as well as to spice up your online storefront and make it look polished.
Or, use both lifestyle photography and an image of your design by adding multiple photos on Twitter for a nice side-by-side, or by taking advantage of the slideshow tool on both Facebook and Instagram. Check out what James Victore did: 
Finally, share your customers' photos as well! Whether it's a customer using your hashtag or just a pic of your Dad wearing one of your products, repost photos your customers take (with their permission of course)! It shows future customers that people dig your work, but people also feel special when you recognize, retweet, or repost their action shots!
You can also try using flat images of your products that your shop automatically mocks up for you (but try to spice those up by at least using engaging captions), or you can try out just posting images of your design on social media. There's no one secret type of image that works best: try out all of these image options and see what works the best for you!
Embracing new ways of sharing
Instagram may be one of the few places where 'swiping left' is a GOOD thing! "Going Live" and "Carousels" aren't just social media apps and sites showing off – it pays to stay current with these tools and use them your advantage. Here are a few to try out:
Instagram Carousels
From creating mini-comics, to showing off the behind the scenes process of a piece coming together, to creating a carousel lookbook of lifestyle photos, the possibilities for getting creative with the IG carousel are nearly endless (well, up to 10 photos). Check out how artist Behemot uses the carousel to show off all different types of products:
Stories
Not so much on Facebook (they're trying), but on Instagram, stories are big. Stories are great for telling people about a sale you're having, showing off the process of a drawing, or even just showing off your art space for the day! And using hashtags here will also help expand your crowd.
Going Live
If you're doing or attending something cool and share-worthy that you think people would dig, going live on Facebook or Instagram is a great way to show it off to the internet world! It lets people into your world a bit, lets them experience fun things vicariously, and if you're creating a cool art piece, it shows off the process!
Make your own marketing materials
Marketing your products, shop, and promotions is unfortunately not as simple as tweeting out "buy my cool stuff!" and including a screenshot of your product. Getting creative with how you market yourself and your sales is something that will surely set you apart and will grab attention if you put time into it. Creating something clever to market your product is attention-grabbing and intriguing – way more so than just posting a flat image of your product.
Take Willoughby Goods, for example – she makes super cool gifs to market her solar eclipse shop! They don't blatantly advertise the shop – they build intrigue as a foot-in-the-door. Some of them include her shop name, others are just cool animations.
We've launched our Willoughby Goods on Threadless in anticipation of the Total Solar Eclipse that is just a month away on 8.21.17! Kansas City is in the path of Totality and to commemorate the occasion our designers have created a series of shirts, prints, bags, etc. Go to http://willoughbygoods.threadless.com to see them all!

Опубліковано Willoughby Design 21 липня 2017 р.
Artist Juleah Kaliski featured photography on her homepage that doubles as lifestyle photos, a style guide with how-to-wear-it styled images, and as customized marketing materials with a super cool custom background.
Artist Rainbow Sauce created promotional ads for their products (and used the Instagram slider to featured more than one without spamming the feed).
And finally, artist (and Vice comic artist) Benji Nate creates super unique marketing materials for her shop by drawing them on her comic characters (the shop itself is the clothing brand her characters wear in her Catboy comic series).
Show off some WIP images
People love to see the process! Showing off how a design came together gives it even more of a life and backstory, and gets your customers invested in and a greater appreciation for the design and for you as an artist. Check out how Daniel Tabata did it (and how he's promoting a blog post he wrote about it, as well):
Spent some time thinking about how artwork evolves. Read my post at https://t.co/Rouryjd99S #art #drawing #redbubble #society6 #threadless pic.twitter.com/gM8bCyr8uF

— Daniel Tabata (@DanTabata) June 30, 2017
And you can get way more creative than just posting a "sketch -> lineart -> final" series of photos. Use the Instagram carousel to show your art piece from sketch to final image on a product. Or, get even more creative and show off your process in gif form! Threadless artist Santiago Sarquis (aka Metalsan), for example, animates his process, as well as makes fun animations of the final result!
And check out how Arkady Zaifman (@arkzai) uses the Instagram carousel to show off the finished creation as well as the WIP sketch:
Post designs with a story and share-worthy advice & inspiration to it
To grow your customer base, you have to offer your customers a little something extra that isn't in the form of products you want them to buy. Use your designs as creative content by pairing them with some life advice, inspiring quotes, or a cool story. Check out how Pretty Prismatic did this with one of their designs:
Not until the end of the post does Pretty Prismatic mention that this is a design you can purchase, and by that time the reader is hooked and invested!
Behemot does something similar, but instead of featuring any designs, he offers advice that you have to swipe the carousel to see! It's a great way of getting someone interested while also offering them something for free.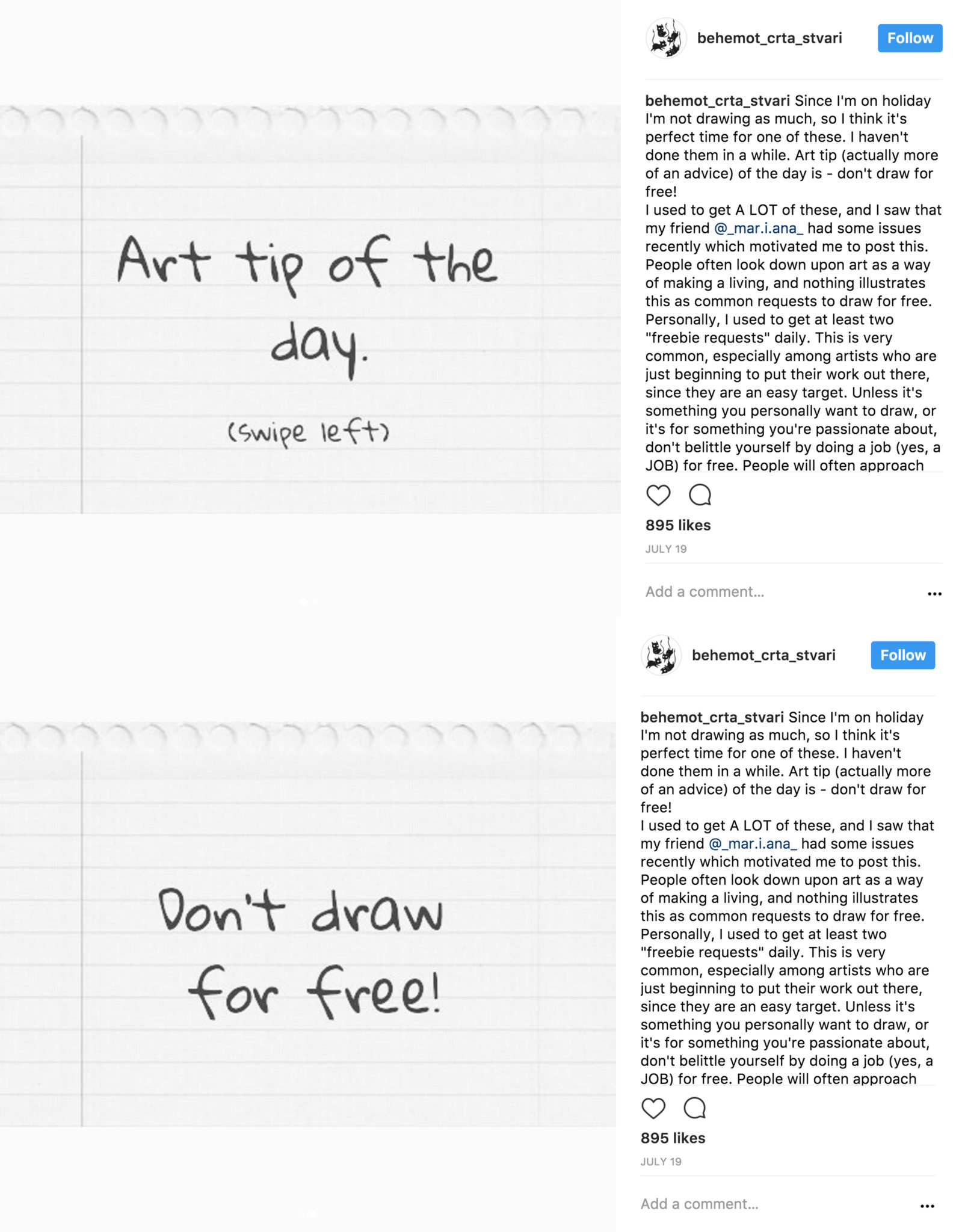 Don't forget to add…
There are also ways you can make your shop itself more social-media friendly, as well as spread the word about your social media accounts to more people! Try these tricks:
Social media links in

About page

: Your About page is a great hub for connecting customers with you on social media. Make sure you add links to your Twitter, Instagram, Facebook, etc. on your About page so people know where to find and follow you.
Include a Shop Card:

This is a mistake we see a lot of artists making – they have their shop looking 100%, their shop is live, their

About

page is solid, but they don't include a Shop Card, making their shop look a little like a broken link when they share it. Making sure you have a preview image for your shop that appears when you share it is key to getting it ready to share on social.

 Otherwise, it might just look like a broken link, or worse – uninteresting. Add in 'customize' where it says 'Shop Photo'.
Regularly update your shop with new products and designs: not only does this keep your shop fresh and keeps people checking back to see what you've added – it also puts you in front of the Threadless audience! When you upload a new design (if your shop's powered by Threadless), it will come up in the "newest" section of

Threadless's Discover page

, where anyone looking for new designs will see it!
Use Shop Updates: When you add a new product or make a change to your shop, share it on social media with a great (and automatic) preview image right from your Dashboard using

Shop Updates!
.     .     .
Featured illustration by Katie Lukes. 
Feeling inspired? Try Artist Shops for free and get creative with it on social media!
Related Posts