Building a T-Shirt Business Week 2
Artist Shops is a platform associated with creatives, designers and artists, but it can be used for anything. What I'll be attempting in this series is to build a t-shirt business from scratch within the limitations of 30 minutes a day. Expect a lot of hacks, automation, and stealing to get this done. Look for the other parts? Want to read the other parts? Week One & Week Three
Day Six
Design
Currently I'm using Affinity Designer when designing, but Photoshop has a great tool to manipulate text so I'm using that. There are plenty of free designs tools out there for both the desktop and mobile. Any design tool out there will work with Artist Shops as long as it outputs .PNGs or .JPEGs. I recommend sticking with .PNGs for everything you do. The quality stays 100% no matter how many times you save the file.
I downloaded a lot of typefaces in the prior week, so today I'm spending the first ten minutes installing them. Then, it's time to start designing. As I design, I keep my files clean and easy to navigate by naming layers and groups as I go along. This makes future work quick and easy and helps me if I open the file again months or even years down the road.
These aren't the final designs but a rough first pass. Since I'm building this t-shirt business in only 30 minutes a day I'm going fast and quick on these first designs. Everything on the site is print-on-demand so there's not a reason I can't 'George Lucas' the designs and improve them over time. Time has run out for today. Tomorrow we'll start to set up the shop.
End Day Six
Day Seven
Design 
I've set a goal to get at least four designs finished and into my Artist Shop dashboard in the 30 minutes allotted today. This will help me start to see the shop take shape and get me moving forward with a feeling of accomplishment.
These are rough but it's starting to take shape. I left out customizing the shop for now. Once I decide on a brand name, I'll start to play with colors; right now it's about finding out how things feel. Tomorrow will be more design in Photoshop with some uploading to Artist Shops.
* I use an incognito window to view my shop from the perspective of a customer.
End Day Seven
Day Eight
Brand Name
I'm still dragging my feet on this one. Part of me wants to go pretty random, weird and funny while another part of me wants to go with some that sounds like a combat sports brand. Here's what my list has gone down to:
For Glory
Fire with Fire
Super Mega Death Punch
Panther Bowl
Swordhand
Still undecided but the time is coming to make a decision.
Design
I'm still going fast on the designs but as you can see they are starting to take some shape. I'm also getting my workflow down inside the Artist Shops dashboard.
End Day Eight
Day Nine
Brand Name
The time has come to make a decision on the brand name. I'm going with 'Fire with Fire'. It's a little more serious than I would have liked but it hits a lot on a lot of angles and it'll be fun coming up with a logo for it.
One thing I'm going to do before I go too far is make sure there isn't another apparel company with the same name. I should have done this earlier on with a larger group of names but it didn't occur at the time.
Domain Names & Content Marketing
Getting organic search traffic is definitely a goal of the business along with paid advertising. I'm going to look into getting some extra traffic using content marketing. In its simplest form, 'content marketing' means providing content that's used as marketing. I'm going to do this with a mixed martial arts blog. Since I have little time to write anything, I'm going to look at automating the blog through WordPress plugins.
My content marketing plan is:
Find an on-brand domain name
Set up WordPress with automated feeds that relate to MMA
Do weekly SEO adjustments on the articles to help boost some traffic
First up is the domain name. I'll use Domainr to look through available names for 'Fire With Fire'.
firewithfire.co is available and although I don't actually need a domain name for Artist Shops, I'm going to buy it for the blog. I run all my domains through Hover and I highly recommend it. It's not the cheapest service out there, but managing sites is a breeze and it's not trying to trick you into any upsells. You simply buy a domain name and you're done.
Automating WordPress
I'm going to spend the last 10 minutes of the day researching WordPress automation. I'm getting a little ahead of myself here, but I do want to see what's out there. There are a lot of different plugins that do the same thing so finding a quality one that's free is key.
End Day Nine
Day Ten
Shop Customization
I'm going to quickly play around with some looks in my shop for the next 30 minutes. Again, this is exploring what might look good without trying to perfect it on day one.
Most of the designs I have planned will be monochromatic and I'll most likely stick to either black or white for the site color with something bright and likely orange (fire) for the buttons and call to action.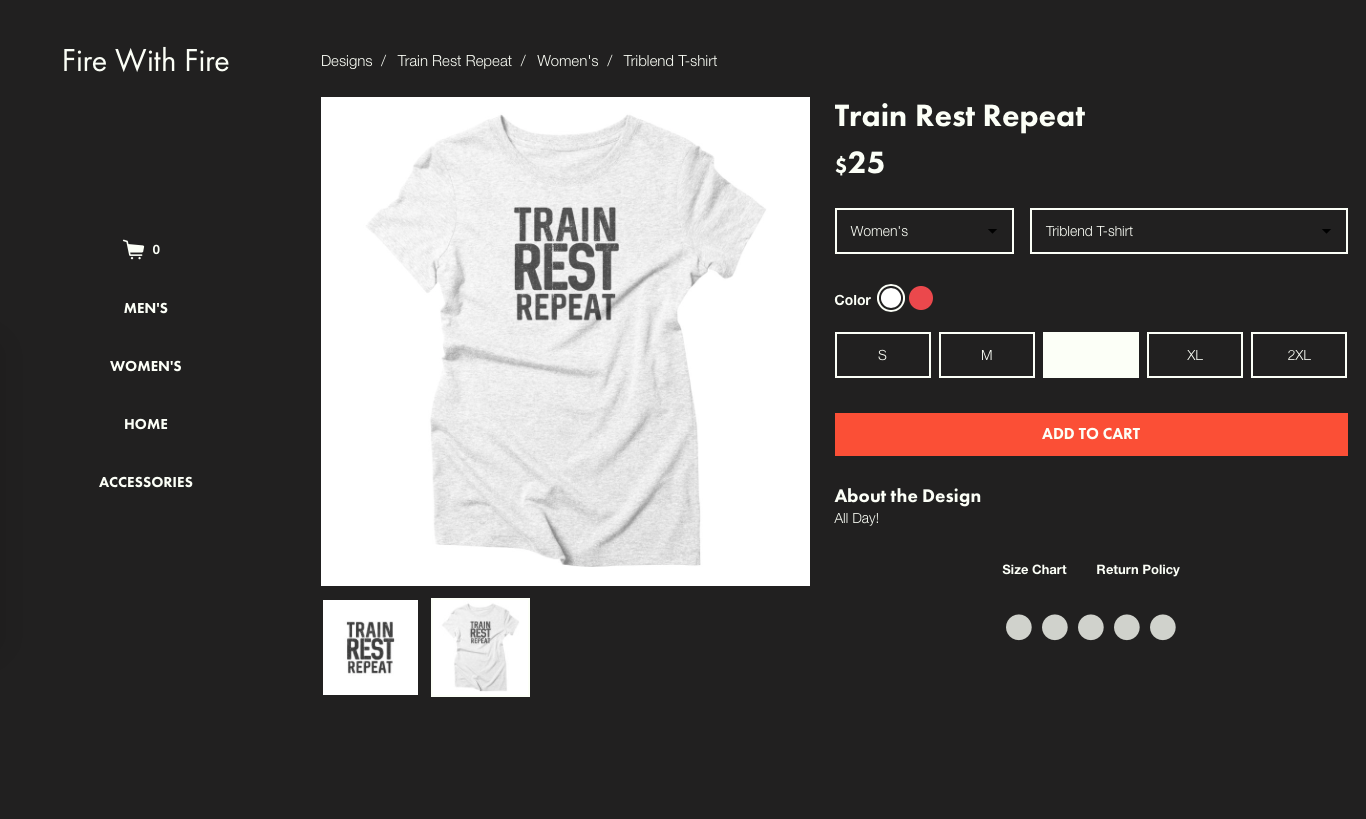 Alright, I'm out of time. So far I've spent 5 hours total and $24.95 for the domain. Not bad for a shop that is live and could start selling products today! Next week we'll continue to build a t-shirt business with just 30 minutes a day.
End Day Ten
Want to build a t-shirt business today? Artist Shops require zero out-of-pocket spending and allow you to build an online store with zero cost or risk. Open a Shop right now!
We're an artist community built on the power of helping each other succeed — if you're reading this and have tips of your own to share, please do so in the comments! Thank you!
Illustrations done by the amazing Katie Lukes
Related Posts