Trying to start a brand from scratch while still having a day job is one of the hardest things I've ever done. Some months it feels like I have all the time in the world, and others I'm lucky if I get enough sleep and food in me, let alone work towards my side hustle. Despite my obstacles, this past October, I was still able to put out Ink Tuesday content, go viral once with a TikTok video that received over 700,000 views, and most importantly, finally organize my Artist Shop.
For Month 3 of Ink Tuesday, I primarily focused on breathing life into my storefront. I customized my homepage, added an informal About Page, and created collections to make it easier for visitors to find the message that's just right for them. These things should not only make my brand more identifiable, but also improve the shopping experience for my customers. Now, let's discuss what went down during Month 3 of my year-long project.
---
Adding More POP to My Artist Shop
After reading all about the anatomy of the perfect homepage, I knew I had to add some sizzle to my store. I didn't have time to create custom graphics for all my products, so instead, I narrowed my homepage collection to my nine favorite pieces of apparel. This includes the few items that I have sold so far, plus a few that I love to wear myself.
To make my storefront feel more unique, I created custom flatlay images for the products I chose to display in my homepage collection. Since you can't save images of your products from your store directly, I used the Promo Tools feature in the Artist Shops Dashboard to download all of the flatlay product image mockups I needed. Then, I used Photoshop to remove the white backgrounds and added textures I bought from Creative Market.
Until now, I've been sticking to a mostly black-and-white color scheme, mostly out of laziness. So to take things up a notch, I figured out the colors that best represent my brand and the tone of my work. I choose to go with black, white, and wait for it…red. I know it's crazy!
Since black and red are the ink colors that I use the most, I thought it would work nicely. I was right! It's amazing how much more professional my homepage looks now.
Finally Adding an About Page to My Artist Shop
When it came time to write up my About Page, I did a ton of research on articles that are already on Creative Resources, including Increase Traffic To Your Artists Shop and How To Update Your About Page in 4 Easy Steps.
It all starts with a compelling bio that reels people in, but as an anonymous brand, I wasn't sure what made my brand special—until I broke it down. I asked myself two questions that helped make things clearer: "Why did I start this brand?" and "How does this brand benefit the world?"
While figuring out my bio, I realized that I wanted to give back with my Artist Shop. I didn't start this brand to make money. I started it just to free my busy mind and make what little difference I could. That's why I've decided to donate 50% of my proceeds from this shop to organizations I support, including the American Foundation for Suicide Prevention, The Trevor Project, and the Global Citizen, to name a few.
I also got inspiration from MAXIMOGRAFICO's About Page, which gives you so many details about the shopping experience in his shop. It includes sizing guides, shop FAQs, and even a list of new Threadless artists he'd like to shout out. But to be honest, the page overwhelmed me as a reader. I knew I wanted to give people some important details, but without the long page scroll.
Instead, I included a shorter, more digestible list of store FAQs I thought customers would be most interested in knowing. I mentioned the Happiness Guarantee that Threadless offers, how my products are printed, and average shipping times.
Creating Collections to Make Things Easier to Find
So far, I've had a pretty out-of-the-box Artist Shop with basic navigation leading to all of the major product categories I'm offering. I wanted to break down my catalog even more. Unlike most artists, I don't have various styles in my work, since it's primarily hand lettering. But there are repeating themes that I wanted to make easier for my customers to find.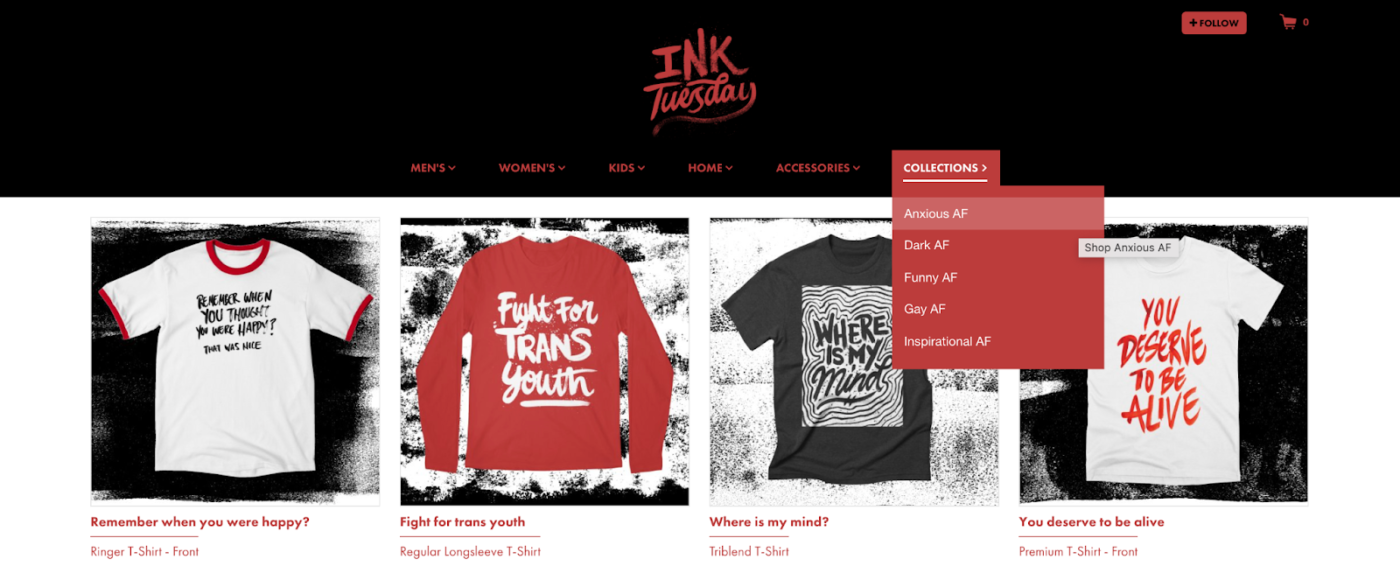 So, I decided to create five collections I believe best represent my artwork as a whole: Anxious AF, Dark AF, Gay AF, Funny AF, and Inspirational AF. For each collection, instead of just simply displaying the static design images, I featured each design on three different products to show some range. Maybe next month I'll have some time to add custom banners and textured promotional graphics.
---
What's Next for Ink Tuesday?
There were quite a few things I had mentioned in last month's article that I wanted to try, but never got around to—and that's okay. For Month 4, I plan to revisit some of those ideas with a more detailed strategy.
Here's a list of what I'd like to accomplish:
Show more products in my videos. I'll be changing up my process by working on just one piece at a time instead of in a batch. This will force me to focus more on the artwork and how I present my work on TikTok and Reels. By doing each piece one at a time, I'm giving myself time to add that artwork to my Artist Shop. That way when I make video content, I can easily include mockups of the products.
Get my TikTok audience to follow me on Instagram. I have a few ideas on how to do this, but the first one I want to try is having people DM me their stories so I can make art specially made for them. Not sure what I'll call this series yet, but I think it would be a good way to start a community of like-minded people trying to heal from trauma and bad mental-health episodes.
Make more content based on TikTok trends. The one video that went viral in October is based on a sound that hit me so hard that I couldn't help but turn it into a piece of art. I'd like to continue creating similar pieces, so I plan to write more quotes inspired by popular TikTok sounds centered around mental health. I'm curious if these videos will continue resonating with my audience.
See you next month with more updates on my 365-day quest to build my own brand from scratch.
Related Posts