Whatever the reason, whatever the season, newly launched Gift Cards for your Artist Shop are a lifesaver for indecisive and last-minute shoppers. Not only are they a quick and convenient gift idea for your customers, but they also open up opportunities to increase your brand awareness, sales, and growth.
With supply chain issues causing a rise in inflation and product shortages, more shoppers are looking for Gift Cards to fill the void. According to a 2022 survey conducted by Fiserv, 60% of consumers will turn to Gift Cards if they cannot find the products they want.1 Gift Cards are an easy solution for your customers when they run out of options.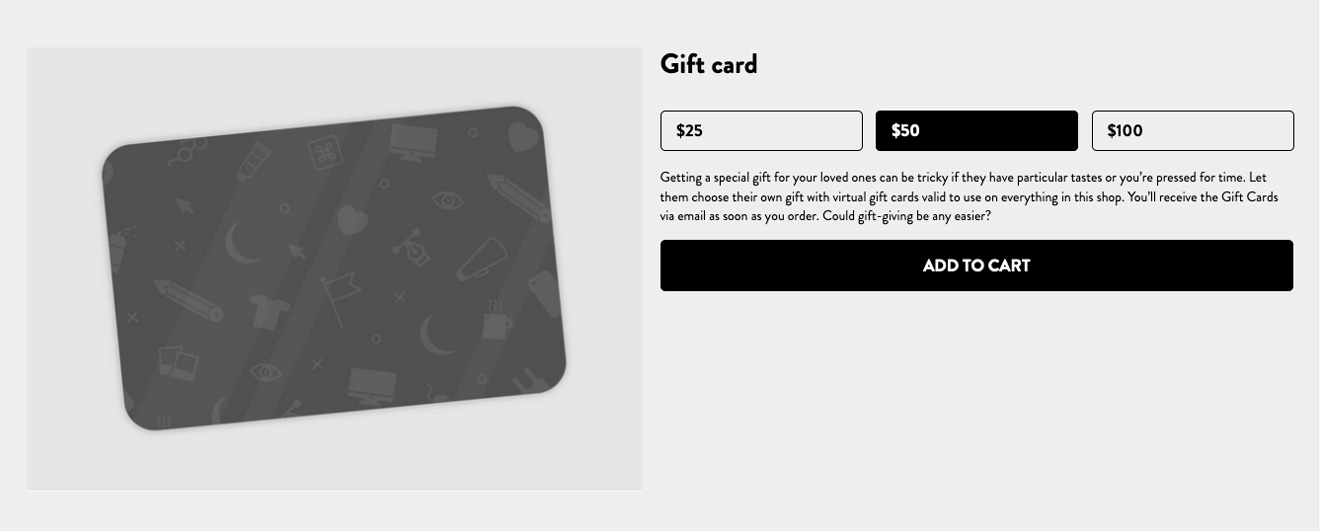 Promote your Gift Cards throughout the holiday season so your followers know that your shop is the place to go for their gift-giving needs.
---
How Gift Cards Benefit Your Shop
✓ They're a form of word-of-mouth advertising. Whenever your customers share your shop with their friends and family, they become ambassadors for your brand. Gift Cards are a vote of confidence for your art and merchandise.
✓ They drive traffic to your shop. When your customers send your Gift Cards, they invite a new visitor to your storefront who may become a loyal customer themself.
✓ They boost your revenue. According to a report by the Blackhawk Network, up to 90% of consumers are willing to spend more than the dollar amount on a Gift Card depending on the value.2
---
How Gift Cards Work in Your Shop
This new feature is already activated in all Artist Shops by default, so no additional setup is necessary. In your shop settings, you'll notice an option for you to "Offer Gift Cards." What this does is adds a tab to your homepage navigation where your customers can purchase Gift Cards with values of $25, $50, or $100.
They can also personalize the messaging inside:
Once they're finished, customers can deliver their Gift Cards to the recipient one of three ways:
Print out and deliver in-person. (Great stocking stuffers!)
Email to the recipient's inbox.
Copy the gift code and share it.
All Gift Cards purchased from your shop feature your branding and a direct link to your shop. They are also valid to use in all other Artist Shops and the Threadless Marketplace.
Please note that you will only receive earnings from Gift Cards when they are used as payment in your specific Artist Shop. For more information, visit our Artist Shops Help Page.
---
How to Promote Gift Cards to Your Followers
Whenever you promote anything in your Artist Shop, it's always important to emphasize the top selling points. Many shoppers prefer Gift Cards over wrapped gifts because they…
Relieve the stress of finding the right gift for folks who are difficult to shop for.
Make it easier to stay on-budget for the holidays.
Allow recipients to buy whatever they want at little to no cost to them.
Eliminate the time constraints and unpredictable shipping of online shopping.
These are all compelling details you can incorporate into your messaging as you promote your shop throughout the holiday season. Read our Creative Resources on Instagram, TikTok, and Twitter for tips on promoting yourself on social media.
---
Footnotes: 1. Fiserv – Q3 2022 Gift Card Gauge 2. Blackhawk Network – New Report from Blackhawk Network Examines Latest Consumer Gift Card Preferences and Use Cases in the U.S.