With a new year comes new resolutions! And with new resolutions comes…well, new ways of breaking those resolutions. We all do it. But instead of breaking resolutions in 2017, we want to break that trend by helping you achieve your new year's resolution goals. The second resolution we're focusing on? How to start your own line of and sell accessories!
Have you ever wanted a new pencil case or travel bag, looked at the options, and gone, "man…I could make one so much cooler than that." That's what Cortnie Hutchinson of LoveCortnie.com did. She couldn't find any oversized clutches she liked, so she started to make her own. Since then, she's been able to quit her job to go full-out entrepreneur.
Selling your designs on accessories isn't just a great new year's resolution to achieve in 2017; it's also a great time to start because it fulfills another resolution shoppers are trying to accomplish: "new year new me." And nothing says "new me" like brand new accessories. Here are a few tips on how to start an accessories business to kick off the new year right!
.     .     .
First things first: what accessories are we talkin' about?
'Accessories' is a big category. It can mean anything from jewelry, to purses, to little phone charms that click into your headphone jack (RIP, iphone headphone jack…RIP). But for now? Let's focus on three accessories you can't go wrong with: zip pouches, tote bags, and travel – or 'weekender' – bags.
Zip pouches
This was probably the product I was most excited about having available in Artist Shops! Anyone can use a good pencil case, but you can also appeal to the makeup artist (or makeup aficionado) and artist crowd with zip pouches. Not to mention, they're cute.
tote bags
Tote bags can be used for everything from making a fashion statement, to travel luggage, to serving as a reusable grocery bag at the Farmer's Market or food store. Everyone needs a good tote bag.
weekender bags
With spring break just around the corner and those of us who are still trying to get outta dodge and escape the winter cold for a weekend, travel is on the brain this time of year. And everyone needs a big 'ol bag to pack their lives into for a few days!
But why sell accessories?
Let us count the ways…
CAN PINPOINT YOUR DEMOGRAPHIC
Accessories like bags and zip pouches can be used by everyone. Seriously, even those of us who refuse to take two trips to bring in groceries from the car have to use a bag once in awhile. But you can also use these items to appeal to certain audiences. For example, you can sell zip pouches to a target audience of makeup artists. Girrlscout, for example, sells a zip pouch specifically meant to hold makeup, with a design emphasizing the makeup factor. Or, you can market zip pouches meant to hold art supplies to an artist demographic. 
Not as limited with color
In Artist Shops, you can offer tons of apparel colors…but that doesn't mean everyone will wear those colors. I constantly see designs against a pink background that I love, and yet would never wear a pink shirt. But with accessories, you can offer designs against all kinds of colors without apparel color preferences getting in the way.
Take zip pouches, this zip pouch in particular: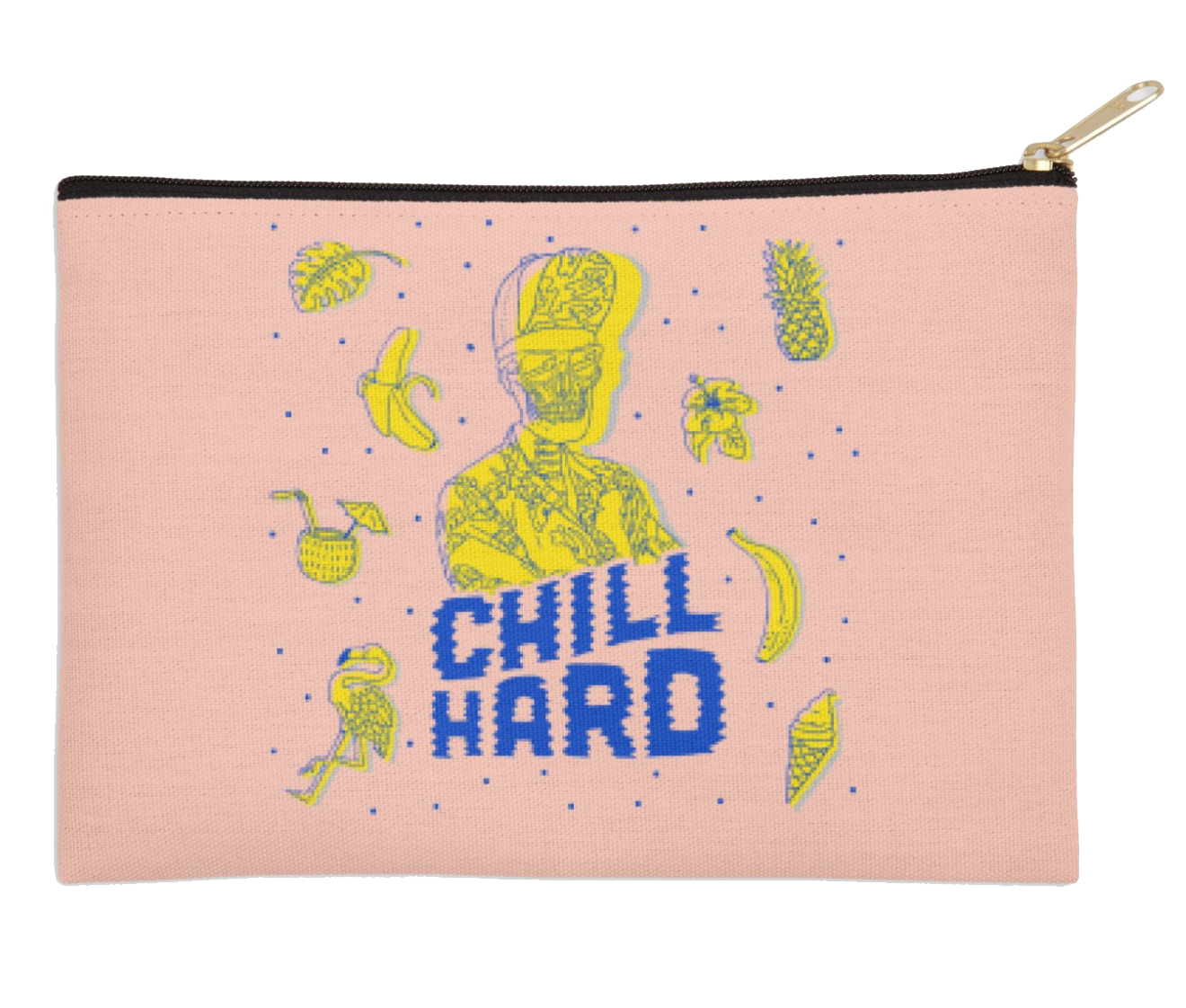 I love this design, especially against that pinkish background…but again, would never wear a pink shirt, and the color doesn't exactly go with my room as far as home decor options go. So I bought it as a zip pouch – that way, I didn't have to sacrifice the cool background color for a more neutral shirt color (as much as I dig my charcoal triblends).
NOT AS LIMITED WITH sizing
Christine Syquia – co-owner of the of successful accessories business "Charm and Luck" –  said in an interview, "We chose to work with accessories because their fit is universal." Sizing can be tricky when online shopping. But with accessories? You get exactly what you see. 
CAN appeal to the travel crowd
Between spring coming up, that resolution to "travel more" still fresh in the brain, and people getting those last-minute ski trips in, it's prime time to sell bags as travel items and appeal to the vacation and weekend getaway crowd.
easier to sell irl, or use as giveaways
Let's say you're doing a giveaway, providing items for a charity, or creating items to give away in your crowdfunding campaign. With apparel, you have to deal with sizing, color preference, and sometimes even material preference. And even when you're selling products IRL, as soon as you run out of certain sizes or colors? You're losing certain potential customers. But with bags and pouches, one size truly fits all, so you're not limited by size supply, color preference, or style preference of customers.
.     .     .
We're an artist community built on the power of helping each other succeed — if you're reading this and have tips of your own to share, please let us know in the comments! Thank you!
Illustrations done by the amazing Katie Lukes
Related Posts