Whether or not you keep up with fashion trends, pins and patches are a fun trend to keep up with. And they're super in right now.
Maybe it's because the '90s are coming back with a vengeance. Maybe it's just because they're cute and fun. Maybe it's because you can drop $10 on a pin and your wallet won't feel guilty for it.
Whatever the reason, patch-turned-tee artist Dano Brown (Danobanano) said it best when he told me:
"I think that theres something really appealing about being able to customize your hat, jacket, purse, etc. with pins and patches that are made by small, independent artists. Buying and wearing them is a really affordable way to stand out and be unique while supporting artists directly."
But pins and patches aren't just a great way for you to spice up your backpacks or shirt collars. This is also a trend you can use to your advantage.
Here are 4 ways you can use the pin and patch craze to help your e-sales out:
.     .     .
Boost Your Followers
The pin/patch craze is so strong right now that if you have a cool or cute pin that people dig? You can get buyers posting pictures of it, as well as more people following you, wanting to see what new pins you'll come out with.
I talked to Luis Romero – Artist Shop owner (and friend/Threadless co-worker!) who just started selling pins as well, with great success. When it comes to if he gained followers through his pin designs, he said:
"Absolutely! I do most of my promotion on Instagram and that leads to a lot of views, likes, and follows. I've also been in contact with a lot more of my followers because I'm now selling directly to them. It's always good to have some back and forth with customers and I think people appreciate that and follow in return."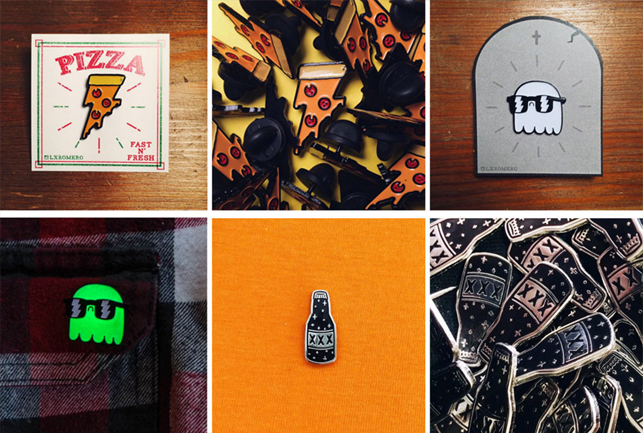 There are also a bunch of great outlets on Instagram especially that post about cool pins and patches. Patchgame and Pinlord are two of the Instagrams that I discover pins and patches on. Accounts like them are great resources to reach out to to see if you can get a shoutout.
Cross-Promo on Social
This is two-fold. Fold one: they can be a great item to sell alongside apparel because although they fulfill a different niche, they can attract people to your apparel, and vice versa. In other words, you're cross-promoting your tees through your pins, and your pins through your tees.
The second fold: you can cross-promo with your customers, encouraging them to take photos of the pins/patches they get from you to act as natural promotion, and in return, giving them shoutouts and regrams/retweets. Danobanano is just one Artist Shop that sells patch designs as t-shirts.
"Most of the time when an artist receives one of my patches, they share it. In turn, some of their fans become my fans as well. I always do the same for them. It really is like a community in a lot of ways. A lot of the guys and girls making these patches and pins are happy to help each other out and spread the love."
I've done this as well. When I got a Little Shop of Horrors Audrey II pin from KillEmWithCuteness, I shared a pic of my pin with my own Audrey II plant in the background, and they shared it on their own account. It's a great way to make the customer feel appreciated, and maybe even gain THEM some followers, which can only make them feel happy.
 IRL Promo
One great thing about pins? You can throw a bunch in your pocket. You can't do that with tees…well, unless you make a pin of a tee.
Pins can be a great thing to sell at a store in real life (ex. Luis sells his pins at local Chicago store Rotofugi, as well as on Etsy), and can be a great thing to sell at a booth if you're doing a con or art fair. Not to mention, you can include your social media links on a nice little card you include with your pin and voila! IRL advertising along with IRL product sales.
People Throw Down
Pins are a lot easier to get people to dish out quick cash for. $10 for a pin is a lot easier to get people to impulse buy or buy a bunch of. 
Of course, yes, they are more accessible. But like I said – they're not the equivalent of hitting the Staples "That was easy" button.
As Luis told me, "Pins are much more accessible than art prints or other forms of purchasable media, so that helps – but it can be a market with a lot of players in it. If you're willing to put the work into it and start out small, then I think it could work for most, but you can't start from nothing and jump right into selling pins."
A Warning
So what's the catch? While pins and patches can be a fun and potentially effective way of helping gain some followers and eyes on your tee designs. But quick warning – they ain't cheap. With pins and patches, you've got to spend money to make money. As Luis told me,
"It's not necessarily a cheap thing to jump into, and there's a lot of manufacturing costs beyond just making the pins themselves. There's envelopes, backing cards, postage, the ink to print the postage…it's a lot, and it was definitely scary to jump into it at first, but I think I'm now getting the hang of things and reached a place where I'm maximizing my profit and minimizing my costs as much as I can while still delivering a good product to the people who are giving me their money. It's definitely a market where you need to invest at first in order to get started – once you're aware of that and willing to take the risk, then it kinda sorts itself out."
It's also not a version of the Staples "easy button" – you still have to put in the work to gain an audience. You need to build a little bit of a following at least before making an investment into pins. Luis said, "I think it's something worth doing once you have something of an audience that is willing to see and like your stuff."
So, the choice is yours! Is it an investment? Yes. Is it an easy way out of putting work into gaining followers? Nope. But if you can strike some happy medium, then this might be a good option.
Here's some info all about the pin-craze:
– "Enamel Pins Are Taking the Internet by Storm" (The Creators Project)
– "Pin It to Win It: How Pins Became Cool Again" (Complex)
.     .     .
We're an artist community built on the power of helping each other succeed — if you're reading this and have tips of your own to share, please do so in the comments! Thank you!
Illustrations done by the sensational Katie Lukes
Related Posts