From starting your own online business to starting an online shop for your business, Artist Shops provide a fantastic way to sell your art and designs on products online. But Artist Shops don't just provide an online 'gallery space' for your art – you can also use Artist Shops to prepare for a gallery show by ordering and printing your own art (plus, because you get your own products at the base fee, you're saving money too!) And Artist Shop members have already started doing this. And most recently, we were pretty excited to find out that the Chicago Design Museum printed work from their Artist Shop to take all the way to Hong Kong for the "Great Ideas of Humanity" exhibition, commissioning artwork, organizing printing and shipping from their Shop, and putting together their travels in just four weeks – no small feat!
We're so excited that ChiDM used their Artist Shop for such an incredible purpose, and we wanted to find out more about how they did it. So we talked to the Chicago Design museum about this exhibition, how they prepared for such a quick turnaround time, and whether they recommended using Artist Shops to print your work and to prepare for a gallery show, or just to display IRL. Check out what they had to say!
.     .     .
First things first, tell us a little bit about the show! 
Earlier this year, Chicago was selected as the official Partner City for the 2016 Hong Kong Business of Design Week (BODW) by the Hong Kong Trade Development Council (HKTDC). As a component of the conference, World Business Chicago along with the Chicago Design Museum (ChiDM) organized an inspirational exhibition that would showcase the dynamic work of some of Chicago's best studios, designers, and artists. The exhibition would center around the theme: "Great Ideas of Humanity".
The Great Ideas of Humanity is a re-imagining of an historic advertising campaign by the Container Corporation of America that ran from 1950 to 1975. The original campaign, titled "Great Ideas of Western Man", featured quotes from great thinkers and philosophers of western culture, which were visually interpreted by artists and designers to create the final advertisement.
When we proposed the exhibition, we re-titled it "Great Ideas of Humanity" as acknowledgment of the increasing globalization of the world and the recognition that great ideas are not limited to gender, nationality, culture, race, etc.
For the Hong Kong Business of Design Week we featured 26 11 x 14″ plates from the first two years of the original campaign (1950-1952) contrasted alongside 24 newly commissioned works including 16 24 x 36″ posters printed with the Threadless Artist Shops (you can find more detailed info on the responses and images of all the work on: www.greatideasofhumanity.com)
I imagine that ChiDM is no stranger to creating a gallery space! How was this unique, especially with all the travel involved?
This gallery show was different in that we organized the entire show in about four weeks from commissioning artwork, printing, shipping, and organizing travel and insurance. We had never been to Hong Kong before and due to the tight turnaround time, we had no opportunity to visit the exhibition site beforehand. All of the design and layout was done via phone conversations with our counterparts in Hong Kong and electronically exchanging renderings, drawings, paint colors, floor selection, etc. We had to put a lot of trust in the process, our colleagues overseas, and hope that it would turn out as expected. Which indeed it did, the show was fantastic!
Wow, that's a fast turnaround! Did you use designs that were previously in your Artist Shop or did you add some new ones just for printing for the show?
We had previously commissioned seven Great Ideas ads for a project earlier this year with the City of Chicago. Those designs were featured in our Shop already, but we added nine new commissions for the Hong Kong exhibition.  
How did you budget your time so that you'd get your prints in time? What do you recommend as far as planning ahead for preparing prints for a show? 
Because we were on a tight deadline, we had to work backwards from our exhibition date to engineer a schedule that would work. We left about two weeks for each artist to work on their prints, and then another two weeks for printing. There was very little time to leave a buffer for any hiccups. I would always recommend a buffer of about 3-4 weeks for printing, shipping, and any issues that might arise throughout the process.
"I would absolutely recommend Artist Shops! The quality, price, and service were all phenomenal. Threadless really helped us to showcase some amazing Chicago work to an international audience."
In regards to that tight turnaround time, what kinds of things did you need to consider to get everything ready quickly? How did it help having Artist Shops for that clutch time?
I'd like to note that Threadless was absolutely fantastic to work with on this. We communicated with the team regularly regarding our timelines and constraints and they were very helpful in getting things to us when we needed them. We planned for about a two week turnaround, but of course there were some delays with getting artwork prepped in time. In the end, everything arrived on time and looked fantastic!
How did you choose the number of prints to feature in the show?
The number of prints selected was mainly due to space constraints in the gallery and as well as time constraints for the project. Because we were asking each artist to create new work in response to a quote, that created a some difficulty in everyone's schedules in terms of deadlines. Especially since we were right in the midst of the holiday season! We ended up with a wonderful selection of work.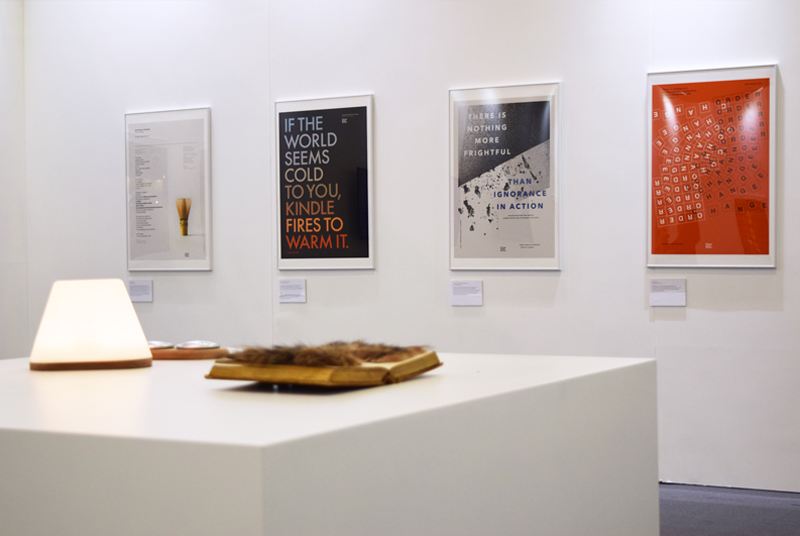 Did you get pre-framed, stretched canvas prints, or just paper prints? What would you recommend artists go with for their first gallery show?
Because our end product was posters, we decided to go with paper prints, which is more traditional. I'm a big fan of prints being on paper—as opposed to other materials—but that's just my preference. We also didn't get the pre-framed options because we needed to cary the posters with us on our plane so framed prints would have made that difficult. If we had time, we would have ordered the framed versions.
For a first gallery show, it really depends on what feel a particular artist is going for. Framed prints, of course, have a much more finished and polished feel whereas paper prints can be hung simply with clips to feel a bit more like a studio setting. It's really a matter of personal preference and feel of the experience one is going for.  
What tips do you have for artists regarding how to prepare for a gallery show?
Plan ahead as much as you can and get samples of everything and anything in advance. Prototype as much as you can so that you can make good decisions on how to best showcase and layout the work. Think about the layout ahead of time but don't be afraid to change things around when you're looking at work in situ. We didn't have the luxury of that with this particular show, but working at a museum allowed us to rely on past experience to make informed judgements on what we could and couldn't do and how things would look.
Would you recommend people use Artist Shops when trying to prepare for a gallery show? How did having an Artist Shop help?
I would absolutely recommend Artist Shops! The quality, price, and service were all phenomenal. Threadless really helped us to showcase some amazing Chicago work to an international audience. And Threadless itself is a great local story so we were excited to have Artist Shops be a part of our exhibition.
SOME KEY TAKEAWAYS: 
Plan ahead: Murphy's Law shows us (and life proves it over and over again) that whatever can go wrong will go wrong. Luckily, that didn't happen here! But ChiDM also planned ahead, even with the tight deadline they head. Allow yourself a buffer of 3-4 weeks for printing, shipping, and any unexpected issues that might arise.
Order samples beforehand: Due to the tight turnaround time, ChiDM couldn't order samples ahead of time. But when you can, order samples before the gallery so that if there are any printing issues, you have time to fix them.
Know what vibe you want your show to have: Do you want it to seem more like a studio show? Like a refined art show? Like a casual gallery display at a bar? Knowing what feel you want your show to have will help you determine whether you want to order just paper prints, framed prints, or stretched canvas – all of which you can get through your Artist Shop.
Plan for your travels: This will also help you decide what to order your art on. If you're flying to, say, Hong Kong, ordering pre-framed prints might be a little un-wieldy, and you might not want to take them out of the package and risk the prints getting damaged.
Be organized: One of the reasons this was pulled off so well is because ChiDM and everyone they worked with were on top of their game, communicative, and organized.
.     .     .
We're an artist community built on the power of helping each other succeed — if you're reading this and have tips of your own to share on how to prepare for a gallery show or anything else, please let us know in the comments! Thank you!
Illustrations done by the amazing Katie Lukes
Related Posts