Selling your designs on custom, handmade-to-order shoes is a unique way to offer customers your wearable art. But if you don't have a background in apparel, product design, or fashion, designing and marketing your own shoes can feel daunting. Breathe deeply, and read on. There are plenty of good reasons to include custom slip-ons as a product in your online store. Take the leap and read our tips for designing and marketing your own custom shoes.
---
Scope Shoe Specs
Start designing for the product by learning more about it. All Bucketfeet shoes are handmade-to-order, featuring a classic slip-on silhouette, rubber sole for traction, removable cushioned in-soles, and machine-washable material. The soles and heels highlight the much-loved Bucketfeet brand. Designs are sublimation printed on the fabric for high-quality, long-lasting colors.
---
Consider Design Layouts
Now that you're comfortable with the product specs, it's time to think about designing. Each pair of Bucketfeet is printed in sections, then assembled, meaning there are four separate printable areas per shoe or eight areas in total. How you choose to lay out your design is completely up to you, but there are several popular layouts that tend to drive the most sales.
All-Over Designs
Separate Quarter Designs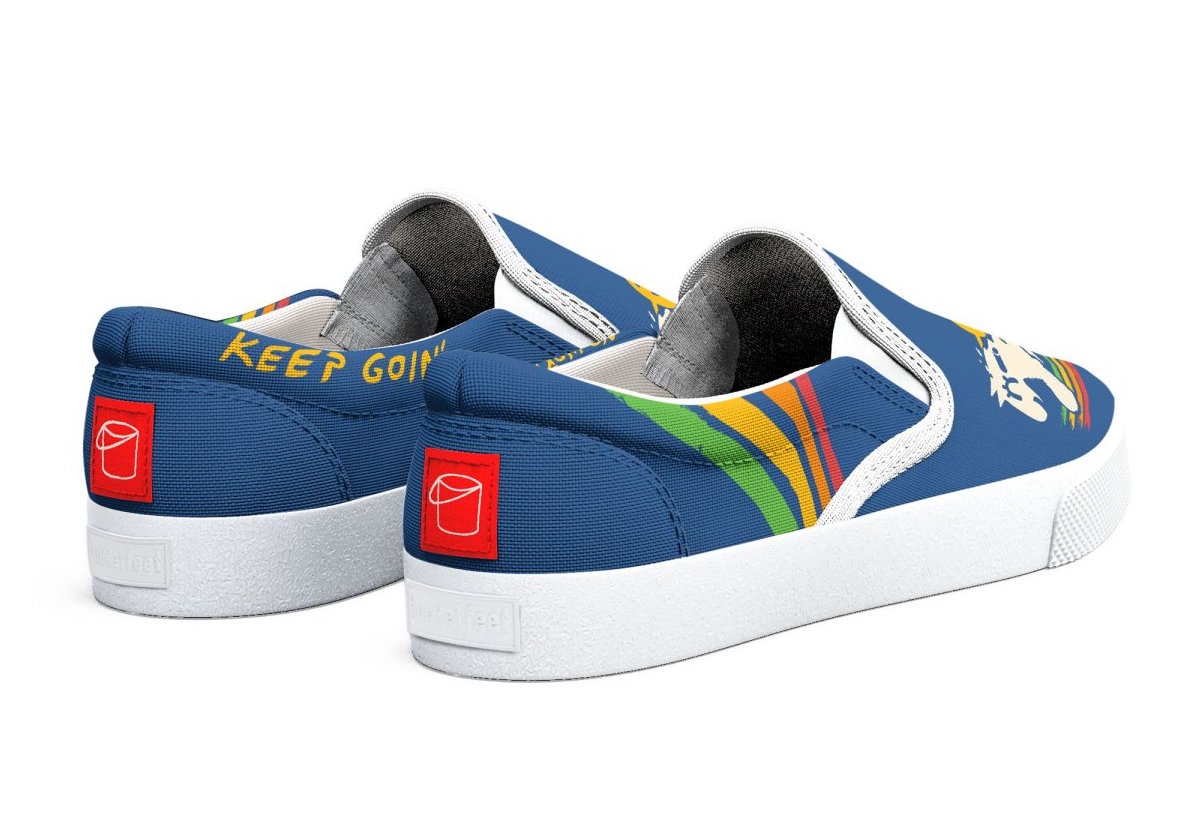 Complementary Designs
---
Set Up Design Files
With your preferred layout determined and your design ready to go, it's time to set up your design files. You'll need to download and use the shoe file template in any program that can edit a .PSD file (Photoshop is recommended, but GIMP or similar programs work too). The all-over design layout makes art files easy, since the same design file can be used for all shoe sizes, but don't let that stop you from getting creative. The product preview in your shop will use the middle-sized template for the shoe mock-up. If you're adding shoes for the first time, you'll need to upload the primary file as a design preview. Need more help with design files and product setup? Read more in this in-depth article.
---
Take Pics of Your Kicks
Lifestyle photography is a powerful tool to encourage online sales. It's an easy way to help people imagine what it's like to wear your designs as shoes—and see how you recommend styling the shoes as part of a complete look. Good photography puts your products in context and creates a larger story for the audience to get excited about.
You don't have to be professionally trained or have a fancy camera. Think about the story you want to tell with your design and where the best location would be for that photo. While it's fun to shoot outdoors, sometimes the best and easiest product images happen indoors. Ask friends to help you as models, make a list of the shots you want to capture in advance, and start your product photoshoot.
---
Promote Your Shoes
New photos of your products are perfect for sharing on social and in email campaigns. Let your customers know whenever you've got a new shoe design available by posting on Instagram (consider posting and featuring the post in Stories also). Curate your feed to be a mix of new work, customer favorites, other art you love, and inspiration you take from the world around you. Remember to share a link in your bio to your shop, so followers can find out more about your designs and products in your online store.
---
Think Seasonally
You want to refresh how you market and promote your shoes as the seasons change. Since consumers tend to buy shoes in preparation for fall (back-to-school sales) and again in the spring before summer, it's important to share fresh photos and creative marketing for those seasons. Think about posts that feature your designs in seasonal backdrops like the beach, on a picnic, or in the mountains hiking. You don't have to give up on marketing your slip-ons in winter, just style them with quirky printed socks and pants featuring designs that elicit a colder weather vibe.
---
Looking for more inspiration? Head to the Threadless Marketplace to peruse Bucketfeet shoe designs from our artist community.
Related Posts