If anyone has ever told you a graphic tee can't make a meaningful difference in the world, they're flat-out wrong. Since 2020, artists on our platform have used their designs to help raise more than $900,000 for charity through Threadless Causes. Those funds have gone to nonprofits doing critical work around the world, from delivering humanitarian aid to fighting systemic racism. With Mental Health Awareness Month coming up in May, artists have a unique opportunity to support mental health organizations while growing their following.
Throughout May, Threadless will be pushing Mental Health Awareness designs in email promotions and across the marketplace, blog, and social media. If you're an Artist Shop owner who'd like to improve your chances of Threadless featuring your designs, do the following:
Go to your Artist Shop settings and toggle on "Allow my shop's products to be considered in the Threadless Marketplace."
Publish new Threadless Causes designs donating to any Mental Health Awareness charities of your choice. The more designs you add, the more likely you'll earn a feature.
Beginning today, you have about a month to make new designs inspired by the theme of mental health. If you're looking for a place to start, we've put together a list of ideas that might get your creative juices flowing. We're excited to see what you create for Mental Health Awareness Month!
---
Send an uplifting message.
We all need words of encouragement from time to time, especially when we feel alone or trapped in our own thoughts. Consider incorporating a word or phrase that'll help lift the spirits of those who are going through a tough time. These designs by artists Michael Olson and Lucy Azzarello radiate so much positivity, it's infectious!
---
Spread awareness.
There are many misconceptions about mental health that you might feel inspired to address. Artists Kooky Love, goliath72, and Agrimony do a great job of expressing how a person can look perfectly healthy on the outside while still experiencing serious internal conflict. There's a lot that can weigh on a person's mind, and you never truly know what they're going through. More reason for all of us to be kind to each other!
---
Aim to be relatable.
Many people feel comfort in knowing there are others out there who are going through the same trials and tribulations. If you've ever felt at war with your mind or live with a mental condition, consider sharing a part of that experience through your art. Anxiety and fatigue are a few of the relatable symptoms that Rodrigobhz and Luis Romero focus on in the designs below.
---
Share what works for you.
If there are any methods or routines that help you calm the storm in your mind, consider sharing them with your Mental Health Awareness designs. Kooky Love's meditation-themed "Find Yourself" shows that the path to inner peace is through self-discovery. Meanwhile, Aidadaism stresses the importance of breathing exercises in "I Survived a Panic Attack."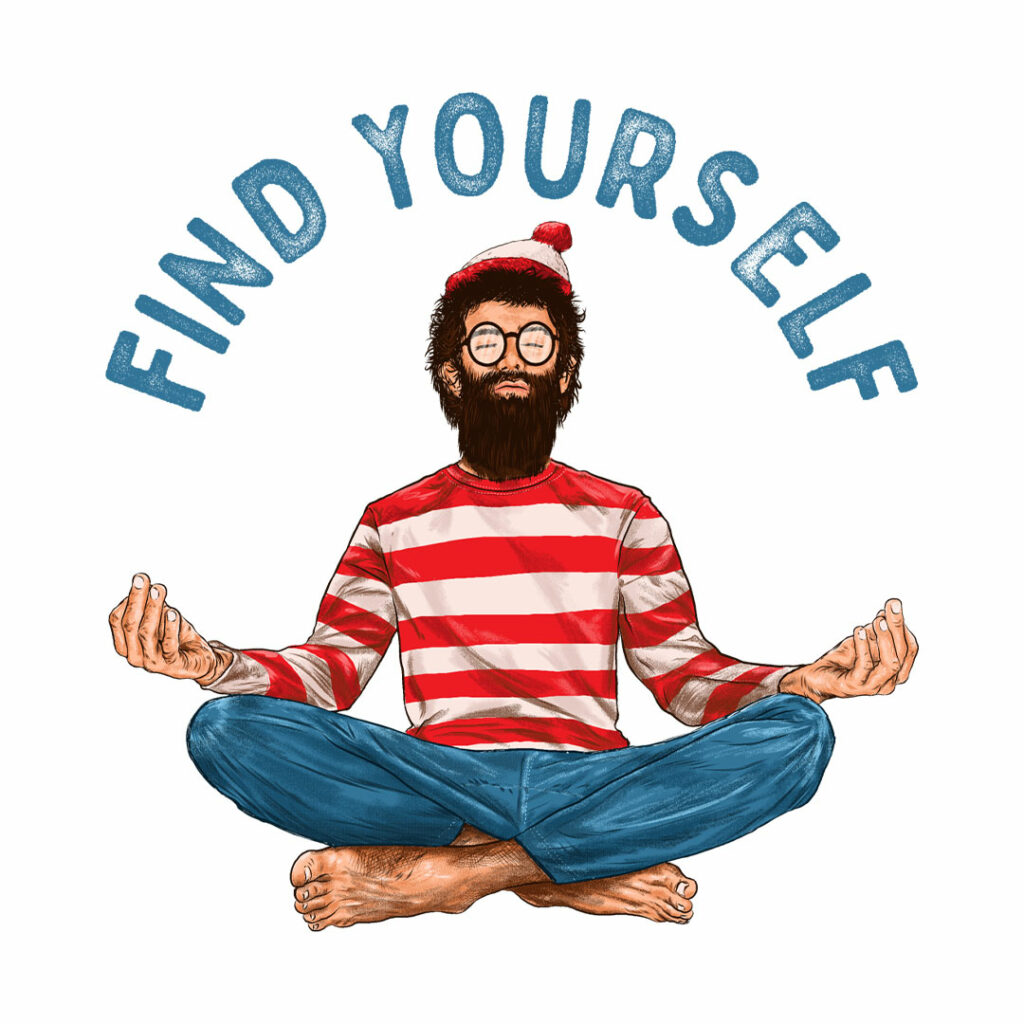 ---
Show, don't tell.
You don't have to incorporate text to get your point across. In fact, sometimes a strong visual speaks far louder than words. For example, Ninhol illustrates how self-care fosters growth, while von Kowen shows that we all have our own inner demons. If you'd like to take a similar approach, let your design's symbols and striking imagery do the talking.
---
Lighten the mood (tastefully).
The last thing you want to do is make people who suffer from mental health issues feel even worse about their situation. Keep those folks in mind if you choose to include humor in your designs. Think about what would make them laugh. Artists Rodrigobhz and Jake Edward Lange do a good job of finding the humor in mental health without being offensive or distasteful.
---
Now that the gears are turning in your brain, start creating new art for Mental Health Awareness Month and increase your chances of earning a feature! Come back to Creative Resources for more design inspiration and tips on how to market and promote your Artist Shop.
Related Posts