Have you ever attended a huge event like San Diego Comic Con (SDCC) and thought about exhibiting your own art at fan conventions? Or maybe you've never been to a convention, but are curious what it entails and how it could grow your following. This guide shines a light on the exhibitor experience with insights from Threadless team members Lance, Dustin, Anna Lisa, and Lucho, all of whom participated in conventions this summer.
Lance and Dustin recently represented Threadless alongside Strange Planet creator Nathan W. Pyle at San Diego Comic Con (SDCC). Meanwhile, Anna Lisa and Lucho exhibited their own art at this year's Chicago Comic & Entertainment Expo (C2E2). Read about their experiences and glean advice from regular exhibitors at fan conventions.
Skip to…
What Are the Vibes of a Fan Convention? | Benefits of Being an Exhibitor | Applying to Be an Exhibitor | What You'll Need for Your Booth | Potential Challenges | Fun Stories From Past Conventions | Closing Thoughts
---
What Are the Vibes of a Fan Convention?
Anywhere you see 32 different Spider-Men in the same place is bound to be eventful. (Are you also picturing that one Spider-Man pointing meme?) Conventions like SDCC are places where people gather in mass to bond over their intense passion for comics, movies, TV shows, books, video games, and more. Every convention is different, but you're bound to meet event goers who are ecstatic to meet the people behind their favorite entertainment. Unleash the cosplayers!
Here are some words to describe what conventions are like from an exhibitor's point of view:
Exciting and Energetic
"Every single morning when the doors opened, people poured in like it was Black Friday at a big-box retailer. The energy was absolutely amazing. It didn't slow down until the venue was packed with thousands of people. Being the first SDCC since before COVID, you could palpably feel the excitement that literally everyone associated with the event had." – Dustin
---
Up Close and Personal
"There was so much fun at the booth. I haven't laughed that much with other people (especially in person) in a very long time and it was rejuvenating. Working the Strange Planet booth you get a lot of personal stories of how the comic has affected people's lives. Some of it was heavy, but those moments teach you a lot about the importance of creativity and the difference your work can make." – Lance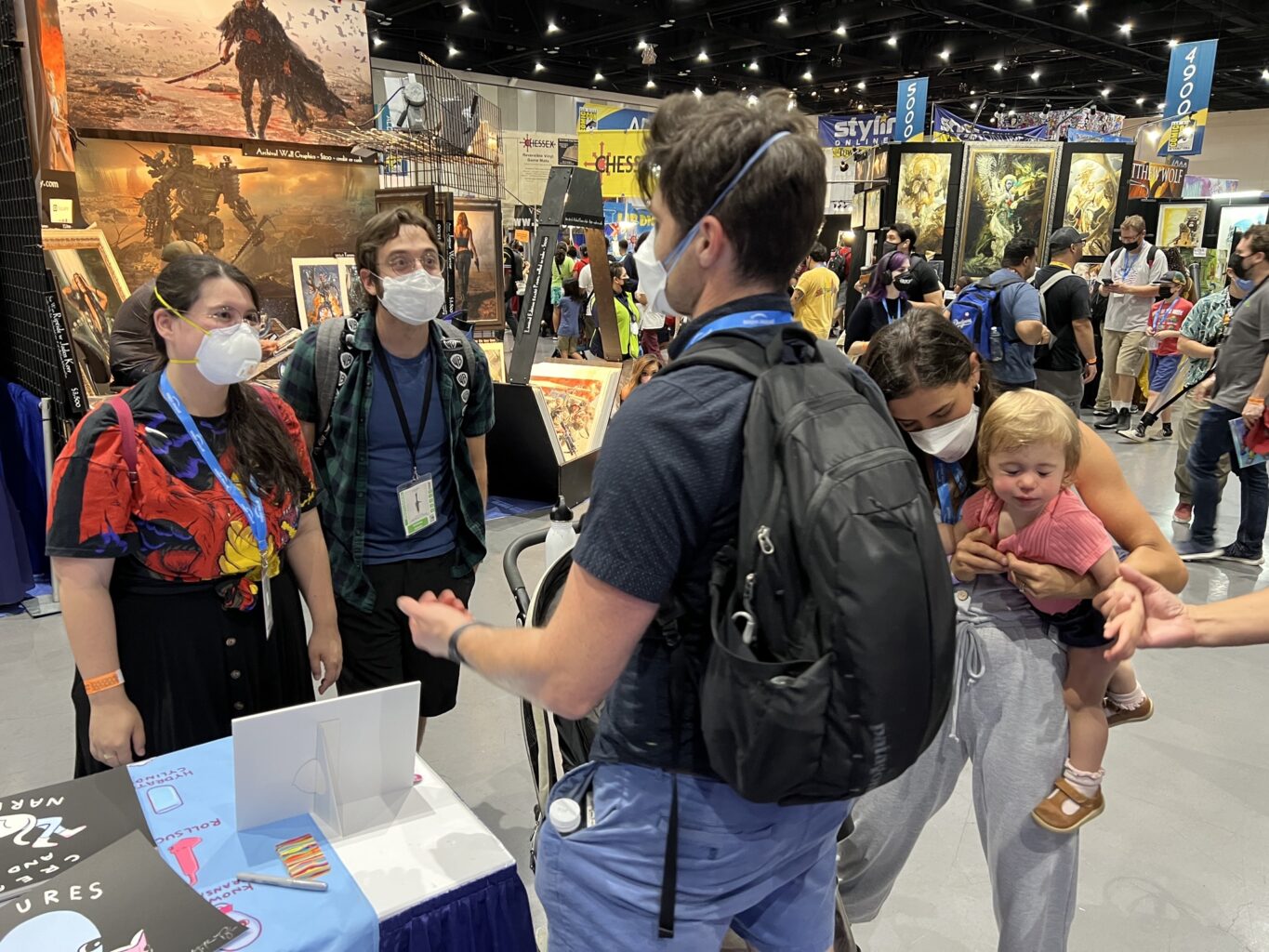 ---
Hits You Right in the Feels
"Honestly, getting to see someone have a connection to my art is such a wonderful feeling. I love it when people walk past, stop and just start laughing at whatever ridiculous thing I made and come back to my table to talk to me. Also getting to meet artists I've been following forever and getting to fangirl at them." – Anna Lisa
---
A Community Atmosphere
"It's always nice to see folks and hang out with people who value art." – Lucho
---
---
Benefits of Being an Exhibitor
Of course, exhibiting at fan conventions could expose your art to hundreds of attendees who may potentially become your customers. But aside from being an additional source of income, conventions are all about making connections. There's always chances for meaningful conversations that increase your visibility within the artist community and lead to bigger opportunities.
Here's what our team had to say about the benefits of exhibiting at fan conventions.
Endless Opportunities to Network
"Networking is the best part of cons. There are lots of folks I consider 'con' friends who I may only see in person once a year (pandemic made it much longer) but we are always excited to see each other. You meet other artists, you meet fans, you make new fans, and you have brands stop by looking to work with you. Cons are a great way to grow and test what resonates.
Then, even after the show, finding the hotel bar or after hours events and mingling is where I've made some of my best friends and opportunities." – Lance
---
Inspiration from Industry Leaders
"​​It's great to see what's trending in the nerd world. Getting to pick the brains of your art heroes is also an absolute treat. I usually get so excited and inspired after being surrounded by the best in the industry for a whole weekend. Also, it's a nice excuse to travel." – Anna Lisa
---
Strengthens Your Bond with Your Fans
"The benefit is to hang out with customers and get one-on-one time with people buying your art. It lets you sell a wider variety of products but it's also just nice to talk to people." – Lucho
---
---
Applying to Be an Exhibitor
If you're completely new to exhibiting at fan conventions, now is the time to do research and plan for next year. It'll take time and a considerable amount of planning to reach the convention floor, but we believe it's a worthwhile endeavor for artists.
The Application Process
"If it's your first comic con ever, it might be a good idea to start at a smaller, local comic convention so that you can figure out what works best for your table set up. Typically there's an application process months before the show. Find a con you're interested in and sign up for Artist Alley newsletters and alerts so that you know when to apply.
You might not get into the first show you apply to, and it might take a few years! Don't give up, just keep applying to different shows, reach out to other Artist Alley people on social media, and (politely) ask for tips!" – Anna Lisa
"There are a lot of Facebook groups that share information on coming cons and when to apply. Typically, bigger conventions also announce when applications are open for Artist Alleys or exhibitor booths." – Lucho
---
Financial Commitments to Consider
"The table alone, depending on the size and popularity of the show, can cost between $50–$400. Most cons allow an artist to share the cost of the table with someone else. So grab an art friend and display your work on your half of the table. Just be a good neighbor!
Also factor in travel and transportation. Is the con local, out of state, or out of the country? How much will it cost to get there? Do you have to get a hotel or do you have somewhere to stay? How much would parking at the convention center cost vs how much would it cost to get a cab there?" – Anna Lisa
---
---
What You'll Need for Your Booth
Think of your booth as your miniature storefront. When planning your layout, think about what will get passersby to stop, look at your merchandise, and strike up a conversation. Put your best work at the forefront and make it as easy as possible for event goers to buy it. Now, some tips from Anna Lisa, Lucho, and Lance:
Make Your Booth Look Professional
"Business cards (people love them), signage, display setups (you can build your own or buy them), banners, and tablecloths are great to make your table stand out. Also, have your contact info and socials visible throughout so people can easily find you." – Anna Lisa
"Make sure your booth or table is easy to navigate and showcases your items properly." – Lucho
---
Think Strategically About Which Merchandise to Sell
"Prints are usually a good, affordable way for people to get your art. Other merchandise such as buttons, pins, and stickers are also great price points, but sometimes don't have a great price margin for you.
Do some research on what other artists are pricing their work at. You don't want to undersell yourself, or other artists. Also, keep product turnaround times in mind as you will want to have all your stuff with you before you go to the show." – Anna Lisa
---
Offer As Many Payment Methods As Possible
"Have all the payment options you can. Bring cash as well as a card reader, like Square, that supports contactless cards and tap-to-pay methods such as Apple Pay and Google Pay. The easier you make it to buy, the more you will sell." – Lance
---
Show a Mix of Original and Fan Art
"Be sure to have a good balance of fan art and your personal art at your table. I know a few cons recommend doing at least 70% original and 30% fan art. Over the years, I've found the original art and comics in Artist Alley far more interesting than yet another drawing of 'Popular Anime Character.' Plus, with original work you don't need to worry about treading on any copyright laws." – Anna Lisa
---
---
Potential Challenges
Artist Alley isn't Easy Street. When you're exhibiting at fan conventions, the days can be long and draining. But if you arrive ready to face these challenges, you will get the most out of your exhibitor experience.
To Bring or Not to Bring, That is the Question
"It can be rough getting all your stuff in and you have to really make some tough choices on what to bring because your hope is to not have merchandise left when you leave." – Lance
---
Be Ready to Talk All Day Long
"You're going to have to talk. Probably a lot. I always lose my voice at shows. Keep in mind, people are just as nervous to approach you. Saying hello and being friendly goes a long way to getting people to stop by and check out your work." – Lance
---
Dealing with Uninterested Visitors
"Can you handle people not buying your work or ignoring you? It can be a little discouraging if you don't get many sales right away. What's your quick elevator pitch to sell yourself and your art to people looking at your table? You'll get a lot of practice talking to all sorts of people so you can really fine tune your pitch. Can you be nice and courteous to potential customers for 2–4 days straight?" – Anna Lisa
"A lot of people are going to come and look at your booth and not buy anything. Don't let that get you down. Find ways to engage them, like a QR code signup for your newsletter. Keep in mind, a lot of folks like to walk the whole show before making purchase decisions, so the more you can stand or give them something to stay top of mind the more likely they'll come back." – Lance
---
Be Diligent About Your Health
"The 'con flu' was a real thing before the pandemic, but now it's even more serious. Bring hand sanitizer, drink lots of water, and wear a mask if you can." – Lance
---
---
Fun Stories From Past Conventions
After exhibiting at fan conventions, the hope is that you go home with fond memories instead of leftover merchandise. You never know which celebrities you'll run into, what epic costumes you'll see, or what hijinks will unfold. Expect the unexpected! Here are some moments that stuck out to our team:
A Case of Mistaken Identity
"Everyone assumed that I was Nathan Pyle (or that Lance was). This wasn't a problem unless they shared extreme gratitude and told touchingly personal stories about how the Strange Planet characters impacted their lives. I had people run up and hug me, for example. I corrected them most of the time, but there are definitely a few nice folks out there who believe Nathan looks just like me." – Dustin
---
Surprise Encounters with Your Heroes
"You never know who might suddenly show up at the booth. One of your favorite celebrities might pop by, like back in 2012 when Anthony Bourdain stopped by a booth. You might meet some of your heroes, like for me, meeting writers/artists like Joe Hill, Grant Morrison, Scott Snyder, Jill Thompson, Cliff Chiang, and the list goes on and on. One time I ran into Seth Green at the hotel bar after the show and found out he was a big Threadless fan." – Lance
---
Wait, Did We Just Become Best Friends?
"Another cool thing was when Nathan Pyle and Aaron Reynolds of Effin' Birds sat next to one another at dinner and sketched each other's characters. They'd never met before and we work closely with both of them. It was awesome seeing them interpret a famous style/character that wasn't their own and the air had that of two pro-level athletes playing a game of catch. They're both the absolute nicest dudes." – Dustin
---
A Summer Camp for Nerds
"The best experience I had was at SPX when I split my table between an internet friend (we met for the first time ever at that show) and got to meet so many art heroes of mine. After the show was done for the day, the hotel would turn into what was basically a summer camp for all the indie comic artist nerds, and it was so much fun." – Anna Lisa
---
---
Closing Thoughts
Our team highly recommends conventions as a way to grow your art business. It's an exhilarating experience that'll put your work in front of hundreds of event goers excited to bring all sorts of merchandise home. Here are some closing thoughts our team gathered from exhibiting at fan conventions this summer:
"My main takeaway is that this kind of in-person interaction between everyone is super important for any creative. You will learn and grow and walk away with new opportunities, and hey, you may just make some money along the way.
Being present at cons also builds awareness. The more people see you at shows the more you start to stick in their brains. It's like the billboard effect." – Lance
---
"I thought I would burn out after a few days, but the energy of the fans and cosplayers coming by the booth was as uplifting as anything I've experienced. Not a single person was mad about being there, and hearing people thank us for coming and appreciating Nathan for creating his Beings—that's the stuff that fills the soul." – Dustin
---
"Absolutely do it! Being in Artist Alley has been one of my favorite ways to get my art into the eyes of the public!" – Anna Lisa
---
---
If you're planning on exhibiting at future fan conventions, Threadless Artist Shops is ready to be your merch partner! It only takes minutes to create your own unique online storefront and make your art available on hundreds of products. Plus, you can order your own merchandise at wholesale prices for special events just like these.
Are you looking for an upcoming fan convention to exhibit your art? FanCons.com has an exhaustive list of major events happening all over the world. Or, just do a simple Google search of local conventions in your area.
Lastly, if you're attending this year's DesignerCon in Anaheim, California on November 18–20, the Threadless team will see you there! There's still time to register for an exhibitor booth if you're interested.
Related Posts