Whenever anyone wears your company's swag in public, they're exposing your brand to potential new customers. That alone makes branded merchandise a worthwhile investment for most businesses. However, managing your company's swag yourself can be time-consuming and distract you from your main focus—your actual business. That's why your best option is to start an online Swag Shop powered by Threadless Artist Shops.
The free-to-use platform makes it easy for you to upload your company's logo and sell it on a vast array of apparel styles, accessories, and home decor. Plus, you can fully customize the look and feel of your shop to suit your brand's unique aesthetic.
Once your Swag Shop is up and running, anyone from your customers to your loyal employees can buy merchandise supporting your business. You can also purchase your own swag as gifts for clients, partners, and employees. Keep reading to learn the seven benefits of building a Swag Shop for your company at Artist Shops.
---
1. Threadless handles all of the logistics.
After you upload your designs and build your product selection, Threadless takes care of everything else—manufacturing, shipping, customer care, and more. All you have to do is spread the word about your Swag Shop to your customers and employees.
2. You don't have to worry about storing inventory.
Threadless prints all of your products on demand and ships them directly to your customers. That means you don't have to make space in your office to store boxes of t-shirts, mugs, and whatever else you decide to sell.
3. Your product selection can be as diverse as you want it to be.
Of course, tees are a no-brainer. But at Artist Shops, you can slap your company's logo on anything from Travel Mugs and Drawstring Bags to Phone Cases and Skateboards. How cool is that? Take a look at all of the products you can add to your Swag Shop.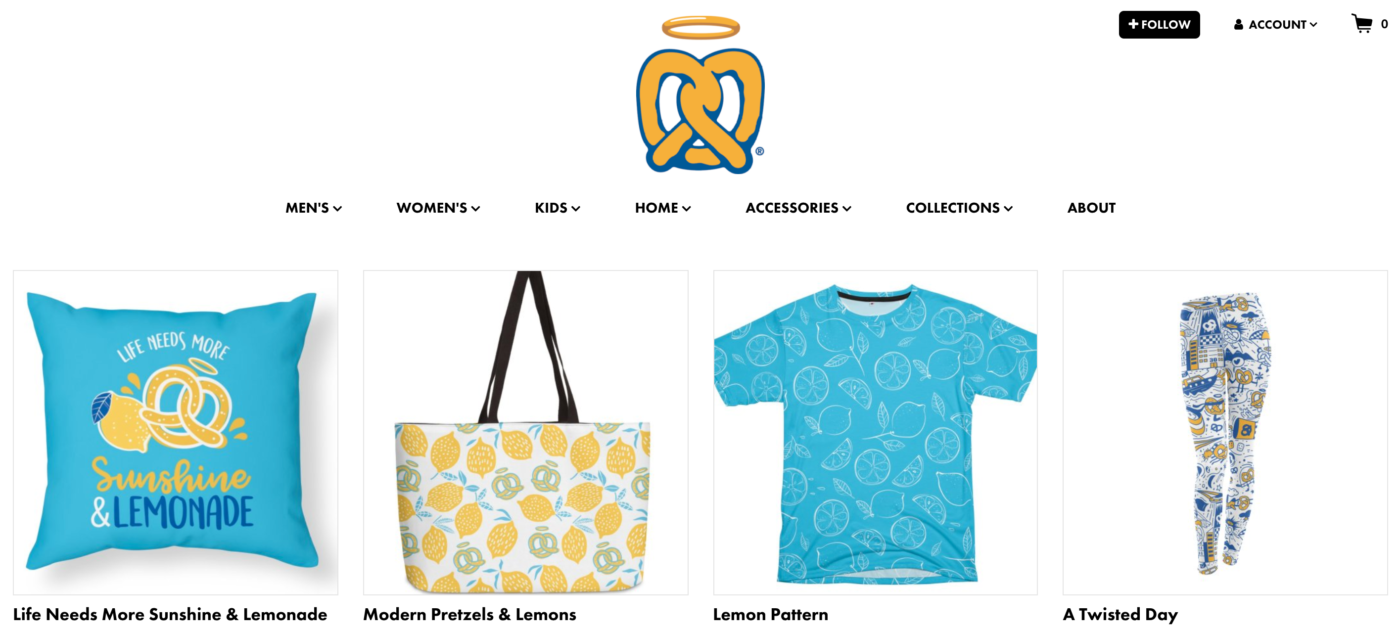 4. Your employees can order the exact apparel style, size, and color they want.
Oftentimes when companies buy swag in bulk for their employees, they end up ordering the same men's t-shirt in medium and large sizes. That's problematic, because those sizes only fit certain people and not everyone wants to wear a boxy tee. With a Swag Shop, your employees can choose their preferred garment, their appropriate size, and their favorite color. That way you only manufacture what is desired, and you won't get stuck with a bunch of unused inventory.
5. You can order products from your own Swag Shop at base cost.
Sometimes it makes sense to have branded merchandise on hand, especially if you're representing your company at a convention or special event. At Artist Shops, Swag Shop owners can buy anything from their own shop at the base free required to manufacture the product. To stir up excitement for your company, consider ordering swag as gifts for your employees, partners, and customers. Who doesn't like a free t-shirt?
6. Branded merchandise is a powerful marketing tool.
It's all about increasing your brand awareness. When your employees wear your company's merch in their everyday lives, they're showing a sense of pride in where they work. When customers wear your merch, that's a signal that you've done enough to earn their loyalty. Both scenarios speak volumes about your business and help your brand get seen by potential new customers.
7. A Swag Shop gives your business an additional stream of revenue.
If you run a pizza joint or excavation business, selling merch probably isn't going to be your main source of revenue. But like we mentioned before, Artist Shops is completely free to use. That means whatever money you make selling official merch is just icing on the cake. That's an easy win!
---
Threadless Artist Shops is for everyone, whether you're a graphic designer, musician, social media influencer, or entrepreneur. If you're ready to start a Swag Shop for your business, visit Artist Shops today!
Related Posts