The holiday season is your Artist Shop's time to shine. According to a recent survey conducted by the National Retail Federation (NRF), more than half of consumers plan to do their holiday shopping online in 2021. They also expect to spend an average of $998 on holiday gifts and other items. With today's shopping trends, your online shop has potential for great success this holiday season. But you must have a comprehensive holiday game plan in place—and we can help you with that!
Over the years, we've shared several Creative Resources to help Artist Shop owners achieve holiday success. For this especially unique holiday season, we put together a review of six posts we believe will help your shop stand out in the sea of ecommerce. As you know, this is the busiest shopping season of the year. If you prepare accordingly, you could earn new customers, significantly grow your brand, and ride your momentum into 2022.
There are so many to-dos for an ecommerce business during the holiday season that it's hard to figure out where to start. Refreshing the look of your shop? Strategizing promos? Mapping out your social media schedule?
Our new edition of the Holiday Checklist will help you navigate the chaos of running an Artist Shop during the busiest shopping season of the year. We broke it up into four sections of tasks in order of importance. This allows you to concentrate on the most essential stuff first before moving on to smaller, but still important tasks.
Once you're finished reading this Creative Resources post, download the desktop-friendly PDF version of the Holiday Checklist and keep it handy. Each bullet links you to a different resource that'll help guide you through the task.
Getting featured in Threadless promotions during the holiday season exposes your art to thousands upon thousands of online shoppers looking for gifts. This visibility could boost traffic to your shop when it counts the most, and might give your sales a nice shot in the arm.
So how do you get featured in Threadless promotions during the holidays? Increase your chances by aligning your shop with the Season of Giving. In our recent Creative Resources post, we shared the look, feel, and spirit of our holiday campaign this year. Most importantly, we are emphasizing Threadless Causes designs, which allow shoppers to give back to…
Their loved ones. Your art makes an incredible gift for people who vibe with your unique style and aesthetic.
Independent artists like you. Each design sold directly supports the artist who created it.
Communities. Threadless and participating artists donate a portion of proceeds from the sale of Threadless Causes designs to charities serving communities and conservation efforts around the world.
The more Threadless Causes designs you add to your Artist Shop, the better chance you'll have of appearing on our homepage, our blog, our social media, and other platforms. And of course, it also gives you an opportunity to use your art to fundraise for Causes and charities you support. That's a win-win!
The Collections feature in your Artist Dashboard lets you create a unique landing page in your shop for designs and products that share a common theme. Collections improve the shopping experience for your customers by making it easier for them to find what they're looking for quicker. This is especially useful during the holiday season when shoppers are desperate for gift ideas for loved ones with specific interests.
This Creative Resources post shows you how to use the Collections feature to create gift guides for different kinds of holiday shoppers. You'll find a brief profile of each type, along with ideas for Collections that suit their needs. For example…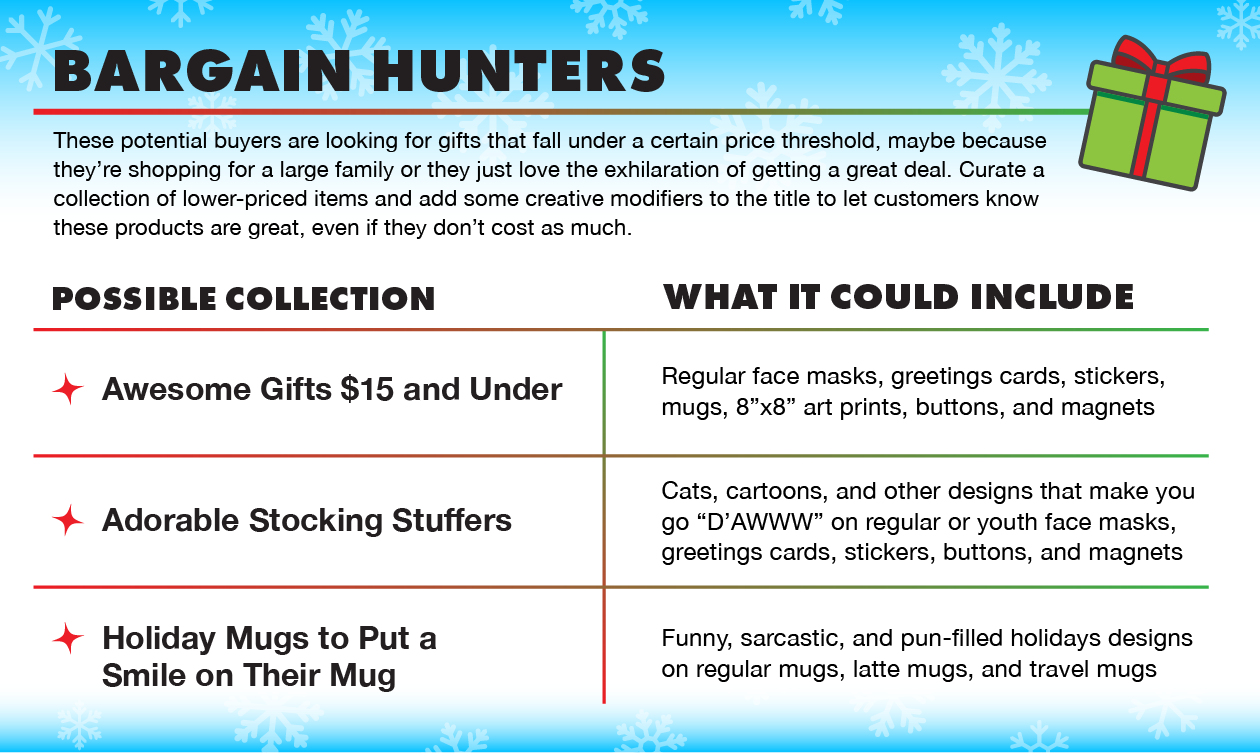 As the seasons change, so should the products and designs you promote on your homepage and social media. Regular T-Shirts remain the most popular product across all Artist Shops, so it's always a good idea to prioritize those. But don't forget about the products that holiday shoppers typically look for during the winter season.
From layerable apparel such as Longsleeves and Sweatshirts to stocking stuffers such as stickers, this Creative Resources post covers seasonal products that will stand out to your customers. Make sure your followers know these products are a part of your winter lineup!
Creating your own seasonally relevant lifestyle images is a proven strategy to help boost your sales. According to an annual survey by the National Retail Federation (NRF), 64% of consumers find sales and price discounts important while shopping during the holiday season. While you promote your holiday sales, lifestyle imagery helps your customers envision your products as gifts. The discount might be what grabs their attention, but the festive imagery could be what actually motivates them to make a purchase.
Keep in mind, you can get a lot of mileage out of your holiday lifestyle photos. Display them in your shop's Homepage Collection. Share them on social media. Include them in your email newsletters. Read this Creative Resources post for ideas on staging and which elements to include in your holiday lifestyle photos.
You know what your followers love most about your brand? You. While building your email-marketing plan for the holiday season, it's easy to fall into common pitfalls such as going off-brand or missing major shopping events. This Creative Resources post lists six cardinal rules that'll help you optimize your email marketing while keeping your brand true-to-self.
---
If you're thinking about selling your art during the holiday season but don't have an online shop, you aren't too late! It only takes minutes to create your own Artist Shop and make your art available for purchase on all sorts of apparel, accessories, and home decor. Sign up today and urge your followers to give the gift of art this holiday season!
Related Posts